The Indigo 50 is the newest addition to The First Years family.  This modular stroller has a couple standout features such as a reversible seat and large basket and is definitely budget friendly. 

The Indigo has a wide seat at 14" to accommodate heftier kids but with a shorter 23" inch seatback to canopy measurement, your taller riders may hit their head on the canopy.  While the weight capacity is a high 50 lbs, the height limit is 40".  If you have a 50 pounder, they better be short.  We found that our 5 year old, 42 lb tester at 43" was definitely too tall for the seat.  Her head hit the canopy and her legs were too long for the leg rest.  Normally a 5 year old would hardly ever ride, but we wanted to test the seat near the weight capacity to see if a 50 lb child would really fit.  And we are going to have to say…probably not comfortably.  A child up to 35 lbs will be comfortable in the seat but know that the stroller is probably capable of withstanding more weight.
The seat sports a non-padded, 5-point harness.  There is a belly pad that protects your child from the one-touch, way-to-easy-to-do-for-our-liking buckle.  There is a padded baby bumper bar but no baby cup holder or baby tray.  We like that the baby bumper bar is covered in the seat fabric and not foam.  Our baby riders like to chew on bumper bars and there is nothing worse than digging foam out of a baby's mouth when he get a little aggressive on the bumper bar.  Plus, the fabric on the baby bar is removable with a zipper for cleaning.  Speaking of cleaning, the entire seat pad comes off easily (it's attached with Velcro) for quick cleanups and major washing.  We were disappointed that the manual says the seat pad is spot clean only because we would have expected a machine washable pad for something that is so easy to remove!  There is also an adjustable foot rest with 5 positions will ensure that your little rider legs will be comfortable but we found it quite short for a taller child.  Luckily there is a lower footrest for your taller riders to set their feet.
There is a two-handed recline on the Indigo with 3 positions including what we would consider flat for a newborn.  Instead of the just the back of the seat reclining, the entire seat reclines back keeping its wide "v" shape.  The seat is also reversible – something that is usually unheard of at this price.  Your child can ride facing you or facing out at the world.  The seat is very easy to reverse with two red buttons on the sides of the seat. We do want to mention that the seat has a lot of give.  We don't know if it is because it can reverse but your child will be able to rock the seat back and forth quite a bit.
While the handle is taller at 40" from ground to handlebar, it is not adjustable.  If you are average to a bit taller height, the handle will be great.  If you are super tall, check it out first. 
The canopy on the Indigo is quite small and is missing a peek-a-boo window.  You will definitely need a canopy extension for more sun protection for your little rider.  If a taller child wanted a ride, we would recommend removing the canopy to give the rider enough room in the seat. 
There is a large basket underneath the seat that will accommodate a large diaper bag or many baby essentials.  The basket can be accessed easily from the front or back even with the seat fully reclined.  First Years didn't forget mom or dad with the Indigo.  They included a storage console that snaps to the top of the handlebar.  The canvas console includes FOUR bottle holders and a rather large zipper pocket to secure parent essentials.  It also has four small mesh pockets on the front of the console. 
The frame of the Indigo works as a travel system with The First Years Via Infant Car Seat.  The infant seat snaps right on to the frame without any additional adapter needed.  If you prefer to use a different brand infant car seat with the stroller, there is a universal car seat adapter included.  We love that the universal car seat comes in its own storage carry pouch. 
There are 7″ rubber wheels in the front and 8″ rubber wheels in the back.  While these tires may be larger than some other stroller tires, they are still not all-terrain tires.  This is a stroller meant for smooth surfaces.  That's not to say you can't take it off-roading.  You can.  We were able to navigate the Indigo through grass and playground mulch and over cobblestone streets but it was much easier if the front wheels were locked.  Yep, the front swivel wheels give you great turning radius for tight corners but have the ability to lock straight to tackle a bit of all-terrain if need be.   It's important to note that this stroller has no suspension, so if you take it off roading, your little rider is going to be bounced around quite a bit.  There are individual brakes on the rear wheels though we would have preferred to see a one step linked brake bar to make it easier.
The Indigo has an easy one-handed fold but be careful if you fold the stroller one-handed as it will go crashing to the ground.  It doesn't have a standing fold but does have an automatic lock that we really appreciate!  The folded stroller is compact and will fit in a small trunk easily.  For an even more compact fold, you can remove the seat and stack it on top of the frame to shorten the folded length. 
The stroller is easy to transport because it only weighs 22 lbs.  That is lightweight for a stroller with these full-size features. Unfolding the stroller is simple.  Unlock the automatic lock…pull up on the handlebar…and step on the rear basket until it locks open.  Easy as that. 
Now, the First Years Indigo retails for a very reasonable $149.  This is a great deal for a stroller with these features.  Even though it has a reversible seat, we do not consider this a "luxury" stroller.  It's a great budget-conscious stroller with a few stand-out features, but we don't think it has the heavy-duty construction and other features such as an adjustable handlebar, more rugged tires and luxurious fabric to put it in the same category of the much higher priced luxury competitors.  We don't want to compare it against a luxury stroller because it's like comparing apples to oranges.  And we shouldn't because you aren't spending near what you would on one of the other high-end strollers. 
While we would like to see the handlebar adjust, a bigger canopy with peek-a-boo window, and a suspension system, we do appreciate the reversible seat and the large storage basket on the First Years Indigo 50.  If you are looking for a very budget-friendly stroller with a reversible seat, you may want to take a look at the Indigo 50.
To watch our full video review of The First Years Indigo 50, click the video button below: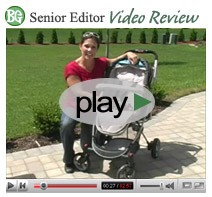 *Thanks to The First Years for sending us the Indigo 50 to review!