The best stroller accessory to have is the Valco Baby Hitch Hiker.  The Hitch Hiker takes your favorite single stroller and transforms it into a double.  The Hitch Hiker fits a large variety of strollers from cheap umbrella to Baby Jogger's City Mini to an all terrain stroller like Bumbleride's Indie.  This board can even fit some side by side doubles meaning you can stroll with three kids and still fit through doorways.  And, of course, the Hitch Hiker works great with all of Valco Baby's strollers!
The board has 2 small wheels similar to scooter wheels that give the board a smooth ride at the mall or on even sidewalks.  It even rode across grass with ease however it was a pretty bumpy ride across cracked sidewalks.  The board sits up nice and high off the ground so even the tallest parents won't be kicking it. 
The Valco Baby folks have thought of everything when it came to designing this board.  There are two brackets that install easily onto your stroller frame.  These pieces stay on the stroller even when the board is not in use.  The board then easily slides into these brackets and you are ready to go in seconds.  Time to fold you stroller back up?  No problem the board slides out just as easily with the push of two safety tabs.  If your lil bugger is jumping on and off while you stroll you can hinge the board up and use the included clip to keep it out of your way and bring it back down when he is ready to ride again.  This board fits so many strollers because of all the adjustment options Valco Baby gave the user.  There is an adjustment for the width of the stroller legs, the angle of the board, and the length of the arms which determine the distance of the board to the stroller.   The board doesn't block the function of the rear breaks but it does however block your access to the foot brake.  It may be a bit inconvenient at times to bend down and use your hand to break the stroller but there are more then enough pluses to overlook this minus.
Valco Baby recommends the child riding on the Hitch Hiker be over 2 years old.  However it will probably fit kids 2.5 or 3 better since they are a bit taller and more coordinated.  This board will continue to grow with your child from toddlerhood on with a 66 lb weight limit.  We love this ride along board for its universal design, easy installation and smooth ride.  We love it most of all because it saves us from having to buy a sit n stand stroller.
SHOP Valco Baby Hitch Hiker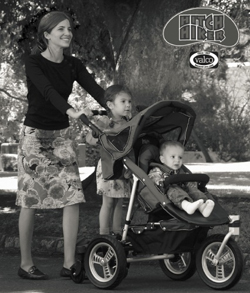 – Contributed by Melissa