The Tri Mode EX Twin is sporty, fabulous and functional all at the same time!  This side-by-side, double, all-terrain stroller can be your everyday stroller, your double pram (with the optional husssh bassinettes), double jogger and triple stroller (with the optional toddler seat) all rolled into one.  So, basically you are getting four strollers for the price of one.  You can't beat that!
The Valco Baby Tri Mode EX Twin is a great all-terrain stroller.  It's called "Tri Mode" because the front swivel wheels can be changed to three different positions.  Full swivel for turning in tight spaces, like stores and busy malls.  Fully fixed that locks the front wheel straight for light jogs and trails.  And 45 degrees for long walks with minimal tight turns and use with the toddler seat.  The wheel position can be changed easily with a two knobs on the footplate. 
Besides its versatility, we love the look of the Tri Mode EX Twin.  With the 4 color choices, there is an option for all different tastes.  The large, air-filled tires, rounded hoods and tons of storage give this stroller a fabulous, chic but sporty feel.
First, when we are talking about a full-size, side-by-side stroller, we want to know how wide it is. Is it going to fit through doorways? You bet! The Tri Mode EX Twin is a slim (in the world of doubles!) 29 inches wide, making it glide easily through standard doorways.
Does this narrow side-by-side skimp on the roominess of the seats? Nope! You get 2 roomy seats that hold up to 90 lbs total!  Each seat is 12" wide with a 20" seat back and a tall 26" seatback to canopy measurement.  The seats are tall enough for our 3 and 5 year old testers to fit with no problem. Each seat is complete with a padded, adjustable, 5-point harness for safety. We love the great Valco Baby buckle that requires mom to push the buckles down while pushing the release button in.  Easy for mom…hard for our toddlers!  We are happy to report that our 3 year old tester could not get the buckle undone!  Yeah!  A headhugger infant head rest and a perforated, metal footplate that is easy to clean are some other fabulous features of the seats.
Each seat reclines with a one-handed strap system that is easy to do and allows you to place the seat in any position from upright to flat. With a flat recline you can use this stroller from the time you take your bundle (or bundles!) of joy home from the hospital. 
The handle bar is adjustable up and down from 27" to 40" (ground to handlebar) for taller and shorter parents, which is great.  It's easy to operate with two push buttons on the sides.
There are two independent canopies that are huge!!   They made them even larger for 2010 and they extend almost to the baby bumper bars!!!   Now that is full coverage!!  They are complete with peek-a-boo windows and are rounded to allow for more headroom.  Valco also offers an optional zip in sunshade/insect net (it zips to the front of the canopy) that is great option as well. 
There is tons of storage space, with a large basket underneath featuring two pockets on the sides, and great zip off storage pockets on the back of each canopy.  The storage pockets zip off to be used as a small diaper bag on the go or can be hung by its stroller straps on the handlebar for easy access.  When you take off the storage pockets, you will find large mesh windows that allow air to circulate through the stroller, keeping baby cool.  We love this feature especially for the summer! 
The basket is very large, but like most strollers, can be tricky to get things in and out while the seat is completely reclined.  Plus, there is a bar in the center of the opening of the basket that makes getting anything large in and out nearly impossible.  For this reason, even though the basket is spacious enough for a very large diaper bag, you will probably only get a medium one in and out. 
The Tri Mode Ex Twin is a large stroller.  There is no way around that!  But the maneuverability on the Tri Mode Twin  is incredible and allows strolling with this stroller a breeze.  The full swivel mode allows this stroller to turn on a dime and we were able to maneuver around the tightest corners with ease even fully loaded. 
There are four large, 12" air filled tires with rear wheel shock absorbers (or suspension) that provide a really smooth ride for baby even on rough or rocky terrain.  These ultra rugged tires allow parents to go off-roading with the kids aboard.  The front wheels swivel for easy agility as well as has the ability to lock for added safety and control while jogging or on rougher terrain.  There is even an added bonus that the wheels can be locked to only go to a 45 degree angle for use with the toddler seat.  It has a one-touch wheel brake that is easy to apply and keeps the stroller locked in place.
While other companies are forgetting (or refusing!) to include a tire pump with their all-terrain strollers, Valco Baby gladly includes one with the Tri Mode EX Twin just in case the tires need a little extra air. Plus, it hangs in a nice little pocket under the seat and it is a pump that actually works!  That's right, the pump actually works easily to pump up the tires.  Thanks, Valco Baby!!
A great unique feature of the Tri Mode EX Twin is the optional toddler seat that attaches to the front of the stroller for another child to hitch a ride turning it into a triple in no time at all.  We found this seat is great for closely spaced siblings when they all need a ride.  Perfect for twin babies and a toddler!  The toddler seat attaches and detaches easily so that you can have the option of a triple when you need it and a double when you don't. 
There is also an optional Husssh bassinet that is available for the Tri Mode EX Twin that turns the seat into a bassinet environment.  You could even do a Husssh bassinet in each seat accommodating twins perfectly! 
Valco offers optional car seat adapters to use the stroller as a travel system with Graco, Peg Perego, Britax and Maxi Cosi infant car seats.  The stroller only accommodates one car seat at a time and cannot be used with the toddler seat at the same time though.  The car seat adapter does go into the same slot as the toddler seat would, so you cannot use the toddler seat and the car seat adapter at the same time.   
As all side-by-side, all-terrain double strollers can be awkward and heavy while lifting into a vehicle, we at least found that the locks on the Tri Mode EX Twin insure that the stroller won't open up on us when we are picking it up and putting it in our trunks. (Note: Just like most double strollers, the Tri Mode EX probably will not fit in a very small vehicle trunk.)
Weighing in at 39 lbs (yep, we weighed it!), this isn't your lightweight stroller!  But we accept the weight because we love that the Tri Mode EX Twin acts as 4 different strollers!  Plus, it's all-terrain – we expect it to be a little heavier! It folds easily and the wheels can be removed with the push of a button.
Like other higher end strollers, Valco Baby has left off the cup holders and parent/baby trays.  They do however offer a cup holder as an optional accessory for those of us moms that like a place for our Starbucks.
Other optional accessories for the Tri Mode are:  foot muff, hitchhiker board, cup holder, travel bag, diaper bag, snack tray, car seat adapters, zip in sunshade/insect net, and husssh bassinet.
With four color options, Raven (black), Candy Apple (red), Arctic (blue/grey), and Hot Chocolate (brown), there is a choice for everyone.
It's by no means a cheap purchase, but for the versatility of getting the equivalent of 4 strollers in this sturdy, well-made, loaded stroller, we definitely think it's worth it.  This stroller will definitely last you from the birth of your second child through the rest of your stroller years. 
SHOP Valco Baby Tri Mode EX Twin at Joggingstroller.com
To watch our full video review of the Valco Baby Tri Mode EX Twin, click on the video link below: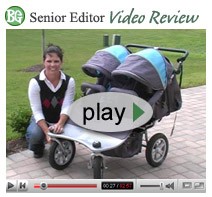 *Thanks to Valco Baby for sending the Tri Mode EX Twin for us to review!