St. Patrick's Day Traditions
For St. Patrick's Day I have a few traditions that don't involve wearing green or drinking green beer (though I do still wear green for fear of being pinched). I will have to put a little disclaimer on these though (because I live in Michigan and we've had these freak winter storms that last well into April lately) that some of these traditions will have to be revamped for indoor activities.
One of my favorite things we did as a kid that I still catch myself doing is seriously searching for that 4 leaf clover. I have found a couple over the years, and we used to have huge patches in our backyard as a kid. Of course, when I was a kid, we weren't just searching for 4 leaf clovers though. We were looking for that elusive leprechaun.
Another outside tradition is doing a scavenger hunt. This can easily be moved inside if need be. Just get a bunch of individually wrapped Reese's Peanut Butter Cups or chocolate coins and hide them. If you move it indoors, I think maybe instead of leaving clues, you could leave a "leprechaun trail" of paper cloves or a string rainbow that leads to a big pot of "gold."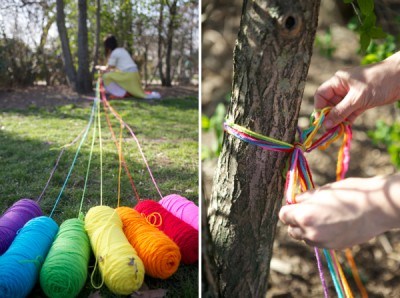 It seems that for every single holiday, my mom would have us bake. Cakes, cookies, brownies, whatever. Now, after having to deal with a very adventurous toddler who becomes bored very easily, I understand why. Baking is like the easiest thing to keep him entertained for a little while. So a tradition I will carry on is baking. For St. Patrick's Day, we will be baking green cupcakes with green frosting and green sprinkles. And if I can find them we will even add those chocolate coins on top.
Sticking with green food, a tradition that I started at a place I used to work was green floats. Have you ever had that Sherbert punch that's usually served at baby showers? Um, yum. Anyway it's just Lime Sherbert and some Ginger Ale/Sprite. It's delicious, and green.
Of course throughout the day we play all sorts of shenanigans on one another and we do lots of St. Patrick's Day Crafts. However, when the night is almost over we can't forget dinner. I'm not a corned beef fan, so I like to stick to the Shepherd's Pie dish. There are some other great Irish dinner recipes here.
What will you be doing this St. Patrick's Day? Share your ideas in the comments section!