According to legend stocking stuffers were the original Christmas gifts hidden inside drying socks on the fireplace mantle.  We have collected a few quality items that are sure to fit in your stocking and last for many Christmases to come.  Everyone dreams of a white Christmas but we tried to keep this Christmas list as Green as possible.
Stocking Stuffers for Babies
Vulli Sophie the Giraffe Teether: a wonderful teether for babies.  This little giraffe can put up with any abuse.  Thing 2 loves to chew on Sophies legs, mouth, ears, butt, basically every single centimeter of Sophie's adorable body.

Wonderworld Peek-a-boo Ball:  This little ball fits perfectly into babies little handles.  The little heads pop out as it rolls along the floor making for a fun game of catch or roll may be a more appropriate name.
Kringelring: Besides the adorable Christmas sounding name this ring makes a great teether and toy for babies.  Its entertaining for baby and quiet for mommy, the perfect combination.
Push N Pull, Elephant: These adorable push n pull toys from Maple Landmark are perfect for crawlers and prewalkers.  The integrated handles makes handling a breeze even for the most uncoordinated of users.  A bunny and truck are also available for the non-elephant lovers.
Stocking Stuffers for Toddlers and Preschoolers
Train Wood Whistle: These little whistles look like and sound like trains.  Perfect for on the go use.
Eco Playdough: This playdough has a great feel and look to it.  Made with all natural ingredients and dyes.  The colors are vibrant and the feel is soft perfect for future playdough creations.
Jumbo Triangular Colored EcoPencils: These are an excellent first colored pencils for little hands.  Triangle design makes them easy to hold.  The colors are vibrant, the lead is soft and easy to write, and the animals on each pencil are fun.
Kids Chopsticks: Every kid wants to be like their parents and eat like them too!  Living in the pacific northwest we frequent sushi and teriyaki places often.  Our son loves being able to use his chopsticks and with this set I don't have to worry that he will give himself a splinter.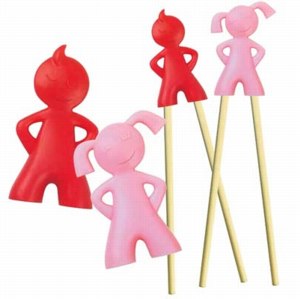 – Contributed by Melissa