StrollAir CosmoS Stroller Spotlight Review (VIDEO)
StrollAir has added a new addition to their full-featured line of strollers and it's pretty cool. This lighter-weight, single stroller comes fully loaded with things like a matching diaper bag, rain cover, mosquito net, and foot muff so parents don't have to buy everything separately.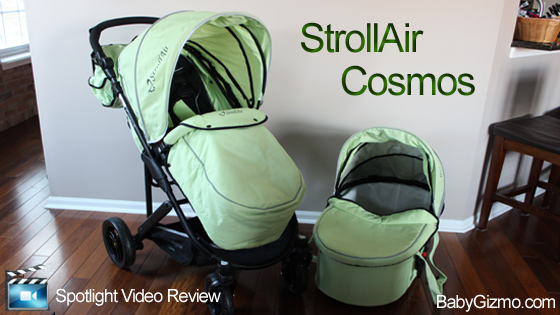 The CosmoS comes with a roomy, deep reclining, reversible seat, a gigantic canopy, adjustable handle, lightweight aluminum chassis, large basket and a compact fold that stands when folded.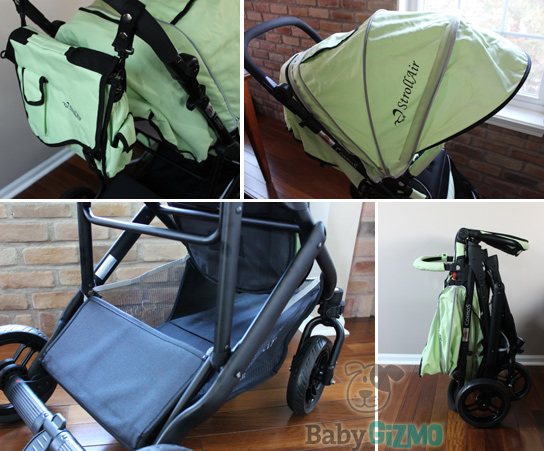 With all these luxury features included and extras such as a matching diaper bag AND bassinet, you'd expect to pay $700+ if you were comparing the price to other similar luxury stroller brands. But that isn't how much the CosmoS costs! All this retails for $499. Yes, five hundred dollars is a lot for a stroller, we know, but it is definitely much more reasonably priced than many of its competitors, because of what it includes.
Take an in-depth look at the new StrollAir CosmoS in our Baby Gizmo Video Review below:
StrollAir CosmoS Features:
• lightweight aluminum chassis
• front and back suspension
• fully reclining, reversible seat
• automatic click-in system
• multi position seat adjustment
• adjustable handle height
• 5 point multi position harness
• removable, flip-open front bar
• large hood with mesh vent and extension
• 360 rotating front wheels with locking mechanism
• large shopping basket with 2 pockets
• very compact fold
• stands when folded
StrollAir CosmoS Weights and Measurements:
• chassis with seat 20 lbs
• chassis with wheels 16 lbs
• stroller seat 4 lbs
• bassinette 5 lbs
• width 24.5 inches
• handle height adjustable from 38 to 41 inches
• wheel size: back 10 inches, front 7 inches
• frame folded 30 x 25 x 11 inches
• maximum weight limit 50 lbs