Support Small Business: 20 Rad & Kids Clothing Brands
Although it's great to shop at big box places like H&M and Baby Gap, I think it's just as important to support small businesses whenever possible. So I've compiled a list of 20 up and coming kids clothing brands that I think you will love. All of these 20 places have a few things in common: they are rad, they are all made by mothers, fathers, local men and women, who are trying to get their name out there to support themselves and their families. When you shop small business, you support someone who really needs it, and you buy unique items that not everyone on the playground is wearing. That's what I think fashion should be all about. So take a look at these 20 amazing shops. Click the links, look around, and discover some new sites you probably have never heard about! You're going to love these!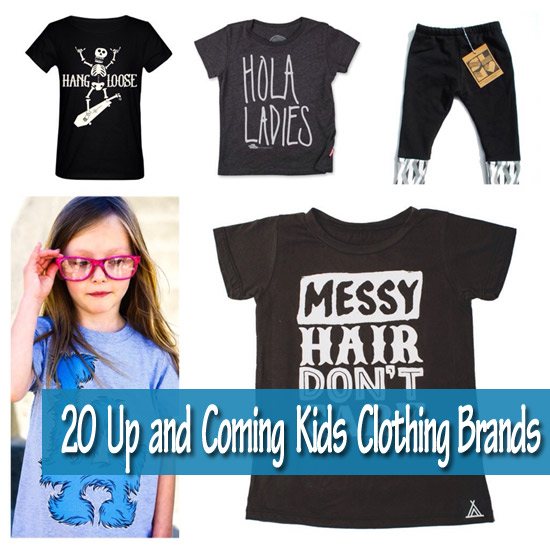 1. Tiny Whales. Tiny Whales is a shop run by a husband and wife duo in Orange County, CA. Their clothes are trendy and one of a kind. Being a mom of a boy, I always appreciate when shops have cool things for my son, and this place REALLY does. They have a great selection of tees that you will love and your kids will adore wearing.
2. Prefresh. This totally awesome shop claims that all of their clothes are made from 100% pure magic so they must be amazing. The tees are clever, witty, and hip, something every parent looks for in clothing. Check out their hilarious "Lets blame the sugar" tee here!
3. Quinn And Fox. Quinn and Fox is an up and coming shop that has serious style up their sleeves. They only make a certain amount of each tee they release so you're truly getting a one of a kind and unique item that not everyone in the world has. I love that! Their designs are cool, clever, and sure to be a hit!
4. Carly Megan Shop. Carly Megan is a talented creator who makes equally clever and brilliant clothes for your little ones. Her etsy shop is stocked full of harem pants, leggings, bandanas and more. Her patterns are simple with a twist- I've never seen anything quite like them before! Her clothes are perfect for kids of all ages, both boys and girls.
5. Salt City Emporium. This shop is is a lifestyle brand for the modern family. They specialize in cool and fresh designs, that are bold and not for the faint of heart. Salt City Emporium clothes are comfortable, fashion forward and of the highest quality possible. This is a great place to shop for Christmas gifts for the whole family!
6. Whistle And Flute. This up and coming shop may not have a huge selection, but what they do have is cute and fun. Their designs are fashionable, happy, and will have you doing some serious smiling.
7. Sweet Luka Mo. Sweet Luka Mo's clothes will have you wishing they came in your size. For now, they've got fun and comfortable styles for your children. Based in Philadelphia, PA, they make modern, sustainable baby and kids' clothes built to withstand fun times.
8. Raygun. This site had me in stitches. They are based in Iowa and are proud of it. They make clothes for the whole family, but you've got to check out their kids stuff. From tees that say: "You've CAT to be KITTEN me" to "Part Time Model" this store is just as cool as they are witty.
9. Little Cocoa Bean. Check out this shop if you're looking to get one of a kind, quality items for your baby! The prints are bright and colorful, and the momma behind this shop is talented and creative.
10. Trendy Ragz. Trendy Ragz is a super cool store that is just releasing their line. They come at affordable prices perfect for the fashionable mom on a budget! Be sure to snag a pair of leggings or harems for Christmas gifts or the next baby shower you are attending!
11. Raine And Monet. Raine and Monet is a group of creative minds who believe in nurturing the free spirit of unique children. They claim to be "your wildest imagination brought to life through style and art." Their "Always Be Loud" tee would be perfect for my son because, well, he's always loud.
12. Little Bow And Arrow. This shop strives to produce organic, quality items that are sure to please all of the tiny people in your lives. It is run by a wonderful momma from Utah who sure knows a thing or two about style. And just like her name says, her shop is full of some of the best arrow prints and designs I've ever seen!
13. Hatch For Kids. Hatch For Kids is definitely the shop that makes a statement. They are a clothing company inspired by music, art, and culture. They make trendy and hip clothes for both boys and girls and are based out of Portland, OR.
14. Little Boogaweezin. Little Boogaweezin hasn't been around for very long but they are gaining popularity and momentum very fast! And for great reason. The mom behind this shop gets inspiration from her adorable son and creates pieces for both kids and their wonderful moms. Her signature "Milk Drunk" tee is probably her most popular item and comes in all different sizes for babies and kids alike.
15. Candy Kirby Designs. Candy Kirby started out making leggings and has just recently expanded to making crib sheets, blankets, and so much more. I hear she may even start making dolls soon for the sweet little girls in your life. Her signature plus three print is very popular and stylish and she has many new clever designs that she just released.
16. Loola. Loola Baby has a wide selection of clothing for your littles. From leggings and pants to swim clothes, dresses, skirts, and tops, they are basically a one stop shop for everything your kids' wardrobe is lacking.
17. Mason And The Tambourine. Mason And The Tambourine strives to create clothes that suits kids best. All of their clothes are handmade in California on organic cotton, hand painted with non-toxic soy ink by a very creative mom! Her leggings are amazing and one day I believe I will see every kid on the playground wearing a pair.
18. Crew And Lu. Crew & Lu is a gem of a brand hoping to fill your lifestyle with joy. It features modern glam and encompasses the feeling of fresh, hip, and versatile wear for your little one. From moccasins and leggings, to headbands and more- this shop has it all and is definitely one you should check out.
19. Passive Juice Motel Passive Juice Motel features creative designs that are handmade in the USA. They've got Bill Murray shirts, Tu PAC pillows, and more. Sold yet? All of their stuff is golden!
20. Jennifer Ann. Jennifer Ann's store makes personalized name leggings and blankets for your little ones. These are going to blow up soon, I just know it! Besides that this mom always makes the cutest knot headbands you've ever seen, and other creative leggings perfect for your little ones.