When I found out I was expecting my third baby I made the mistake of telling my husband that there was practically nothing we needed to purchase. We already had a son and a daughter so no matter baby's sex, we were covered. A car seat was truly the only 100% necessity. But then, oh yes, BUT THEN, I fell into the amazing land of swaddle blankets.
From my first two kids I had acquired a small collection of Aden + Anais swaddles, both the muslin and bamboo versions. I still love them and use them often with my third, but for my latest little darling I've added some pretty fantastic swaddle blankets to our collection.
Here's a peek at some of my favorite swaddle shops. You'll be amazed at the quality and completely floored by the uniqueness of the print options!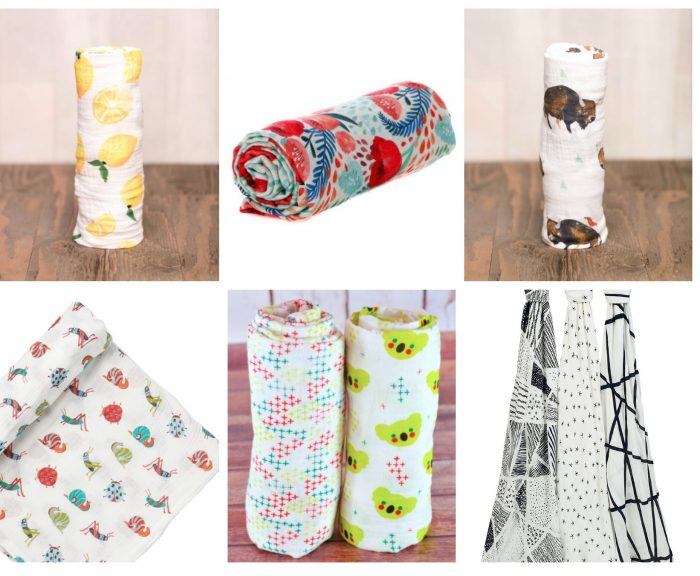 Lemon Cotton Swaddle from Little Unicorn — My oldest is a big fan of lemons so she definitely has this on her wish list … maybe for her, maybe for the baby.
Secret Garden Blanket from Tula — Yep, these are love (you can read my full review on Tula Blankets here). I cannot get over how beautiful this new print is!
Bison Muslin Swaddle from Spearmint Love — I visited Yellowstone while pregnant so it was a given that my little guy needed this one!
Bugs Swaddle from Petit Pehr — We have the polka dot one from Petit Pehr and this bug print is going to be next.
Signature Cotton Swaddle Duo from Oliver + Kit — Koalas aren't the only animals on Oliver + Kits radar. Plus, if you're looking for a punch of color, this is where you'll find it!
Midnight Silky Soft Swaddles from Aden + Anais — The design team over at A+A is brilliant. And I especially love that you can buy coordinating packs from them. Keep all 3 for yourself or split it between a few friends and you'll all save a bit.
Do you swoon over swaddles too? What are your favorite shops and prints?