Even with frequent sunblock use sunburns can still happen when playing at the beach or pool.  This is why I love the new rashguard trend.  Not only do I save money by not having to invest in gallons of safe (and expensive) sunblocks but I can minimize the time it takes to lather the sunblock on.  I am not sure why but Thing 2 hates having sunblock applied and her very fair skin needs it dearly.  Finding adorable rashguard sets for girls is a bit harder but not impossible.  Some of our favorite retailers offer some very cute options.  Here are our favorites for the ladies in our life:
For babies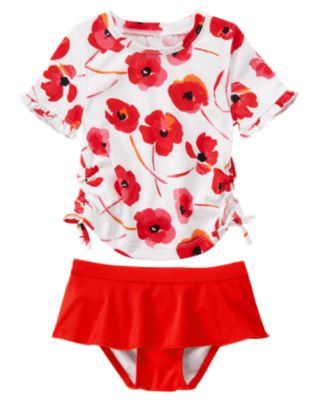 Janie and Jack does not disappoint with this gorgeous red poppy set.  On sale now and available in 0-3 months or 3-6 months.  SPF not specified.
This floral sun suit from Snapper Rock is available in 3 sizes up to 24 months.  SPF 50+.
This Gymboree suit comes in two pieces and has a built in swim diaper.  Available in 12-18 months and on sale now.  SPF 50+
For Toddlers and big kids
This Old Navy Swim Set has longer sleeves then most covering up the elbow on most girls.  This swim set is available for babies and toddler up to size 5T.  SPF 50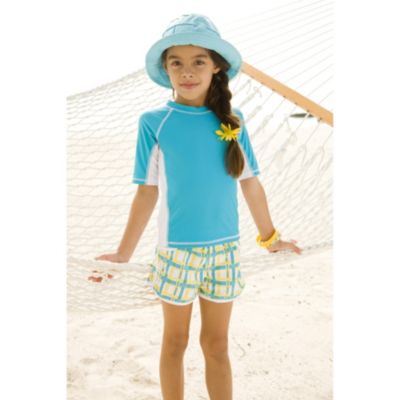 We love the shorts with this set from The Company Store.  A set like this can be worn all day comfortably even if spending time off the beach.  Available in 2T through size 12. UVP 50+
Land's End has some great mix and match options for girls including this Ruffle SwimMini that I paired with their Classic rash guard.  They have sizes from 2T to girl's XL. UPF 50
Frankie & Daisy has a nice selection of beautiful and unique rash guard sets.  This popular style is available in size 5.  SPF is not specified.
This adorable set from OshKosh B'gosh is available in sizes 4 to 12.  UPF 40
Rashguards seem to be the one arena where boys actually have more options then girls.  Most sites are mix and match but by utilizing my own mediocre fashion skills we present our favorite boy rashguard sets:
For the Babies:
Another one piece set from Snapper Rock.  What can be easier then a zip up romper for our littlest ones.  Three sizes available up to 24 months.  SPF 50+
For some patriotic flare check out Carter's Firecracker swim set for infants.  This set is available in 7 sizes up to 24 months.  SPF not specified.
For Toddlers and Big Kids:
Old Navy has these adorable Motorcycle Swim Shorts and Shark Logo rashguard.  There are 10 different rashguards to choose from in sizes 12M to 5T.  Check out sister store The Gap for even more options.  SPF 35
Land's End has 15 different rash guards to choose from in a rainbow of colors.  These swim sets have a large range of sizes from 2T to Boy's XL.  UPF 50