Whether for religious reasons or not, fuller coverage swimwear is something that we all can love. Given that most companies haven't figured out that not every woman wants to wear a thong at the beach, however, finding swimwear with a bit more coverage can prove challenging. But, with some thought, and creativity, it doesn't have to be.
Here are some great swimwear ideas for ladies looking to show a bit less skin:
Swim shorts.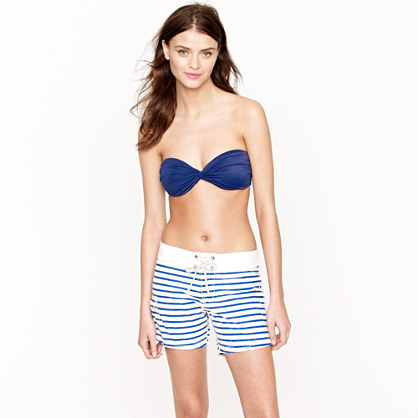 You don't have to be a surfer to rock out in a pair of knee length swim shorts. So why swim shorts? Well, they're versatile. They're comfortable and they look great on almost any body type. These Deck Stripe Board Shorts by JCrew can easily be paired with bikini tops or tankini tops.  ($68, jcrew.com)
Swim dresses.
I love swim dresses because they remind me of the bathing suits that women donned at beaches and lakes of yester-years. Today, swim dresses come in a variety of lengths and colors and are manufactured by most mainstream companies. This Shirred Halter Swim Dress by Newport News is super sexy, very classy, and perfect for any woman looking for more coverage. ($79; newport-news.com)
Swim Skirts.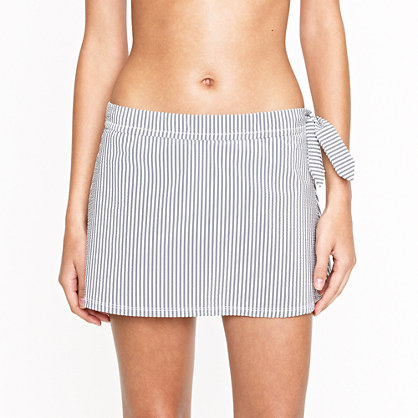 This is another great alternative to the standard bikini bottom – Swim Shorts. This Seersucker swim skirt by J Crew features an attached bikini underneath. ($68, jcrew.com)
Rash Guard Tops.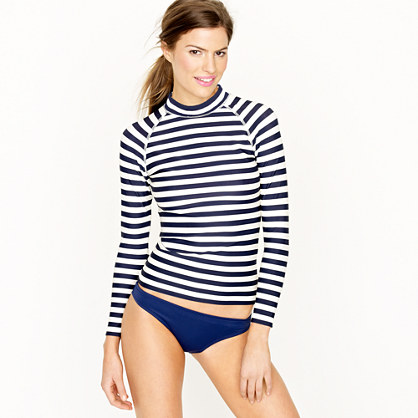 Here's another surfer's necessity that has now crossed over into mainstream swim wear. These tops offer maximum coverage and are great for the water. I love the bold print of this Striped Rash Guard made by JCrew. ($68; J Crew)
Swim pants.
Have you ever heard of swim pants? No? Well, they're the hottest "thing" among women looking for the fullest coverage possible of their legs. These swim tights are made by Coolibar and come in a design for men as well. ($55; coolibar.com)
Cover-ups and Wraps.
Remember when the only cover-ups available were those fishnet thingies that usually came in neon colors? Yeah? Well, that's not the case anymore. Today there are many beautiful and stylish cover-ups and wraps on the market that can be found in most any mainstream clothing store. This O'Neill 'Blake' Hooded Tunic Cover-Up from Nordstrom is perfectly adorable. ($39.50, Nordstrom.com)
Swimwear when you have to cover up can be fun and stylish, too. The key is to remember to be creative and be open to the possibility of mixing and matching!