Swimsuit season is fast approaching, but we all know how difficult it can be to fit in a workout when you have little ones. To make it easier, we've rounded up seven national fitness centers that offer childcare at many of their locations. Contact your local club to see if the service is available. Rules, fees, and amenities will vary by location.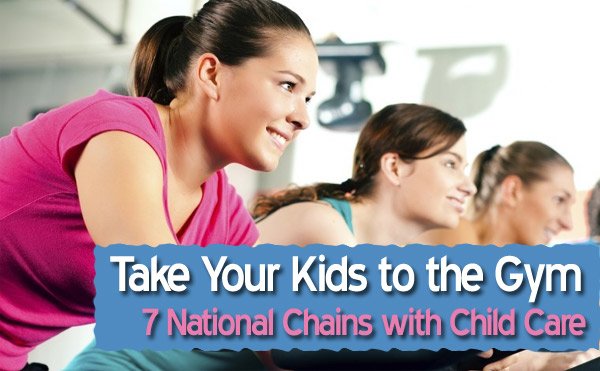 Once you find a gym with childcare, visit before joining to get a feel for the babysitting area and staff. Be sure to ask whether childcare providers are certified in CPR and First Aid, what the provider to child ratio is, if the staff changes diapers, and any other questions you may have. Here's wishing you happy workouts!
24 Hour Fitness: There are more than 400 24 Hour Fitness locations across the country. Parents can leave children ages 6 months to 12 years at their Kids' Clubs. Kids' Clubs includes games, toys, movies, and other amenities that vary from club to club. Go to www.24hourfitness.com to find a club near you.

Crunch: This chain has locations in 10 states, many of which offer Kids Crunch childcare. Find one near you at www.crunch.com/childcare.
Gold's Gym: Gold's Gym has more than 700 locations across the U.S, some of which are franchised and others that are corporately owned. Of those that are corporately owned, 66 offer Kid's Clubs for children ages 8 weeks to 12 years. Visit www.goldsgym.com to find one.

LA Fitness: Many LA Fitness locations across the U.S. offer Kids Klubs for children ages 3 months to 12 years. Amenities and activities vary by location, but can include play mazes, games, study stations, and reading sessions. Find an LA Fitness near you at www.lafitness.com.
Life Time Fitness: Life Time has one of the most innovative kids' programs in the country. While parents work out, kids can climb walls, take swim lessons, participate in sports and fitness classes, or attend special camps. Life Time has 105 locations across the U.S. and Canada. To find your local Life Time Fitness, go to www.clubs.lifetimefitness.com.
MySports Clubs (New York Sports Clubs, Boston Sports Clubs, Washington Sports Clubs, and Philadelphia Sports Clubs): MySports Clubs' babysitting service is available for kids ages 3 months to 10 years. The service is open to both members and nonmembers. Some New York, Boston, and Philadelphia Sports Clubs also offer Sports Clubs for Kids. These are fitness and recreational programs including summer camps, swim academies, sports leagues, and more. Go to www.mysportsclub.com to find a club near you. (You can check the boxes next to "Babysitting" and "Sports Club for Kids Programs" to filter your results to locations that offer these services.)
YMCA: Your local YMCA is always a fun and affordable option when it comes to fitness. Many locations have pools, fun classes for kids, and baby-and-me classes for parents and their children. YMCAs also offer childcare while you work out. Find your Y at www.ymca.net.