Tell Your Story With Photos That Rock!
Tell Your Story With Photos That Rock!
By Ashbey Riley
When I think back to the day I first learned to ride a bike, I can immediately recall a few very specific details: It was summer, the air was hot and thick. I was wearing purple Mary Janes. My handlebars had the most awesome glittery pink streamers. My left knee was bright red and skinned. And finally, I remember the feeling of freedom that coursed through me as I rode down the block unassisted for the first time.
Clearly, I'm a sucker for small details. But aren't we all? Think about what you remember most about baby's first trip to the zoo. It isn't the family shot of all of you in front of the zoo sign. No, it's the look on your little one's face, full of glee and wonder as they saw a giraffe for the first time. What do you remember about your newborn? Most parents will gush Everything! Details so tiny, each and every feature perfectly stored in your memory forever.
Our lives are full of so many moments, many of them fleeting, forgotten in an instant. So the next time you bring out your camera, take a look around. Tell your story by focusing on the details you usually miss. Trust me, they're everywhere. Here are a couple of easy tips to show you how…
Get caught up in your surroundings…
The funny thing about memories is that we tend to take the strangest details with us. Familiar smells and colors can revive the most vibrant memories. Try pulling out parts of the scenery to focus on. When you're outside take advantage of landscaping, try shooting flowers or trees with your family off in the distance. When your children are  going gaga over something, don't make them pose, instead catch that natural excitement even if they're not looking. You'll find a great opportunity to capture pure emotion if you take a fly-on-wall approach and just take it all in.
I met the B Family in the park for an early morning session. The flowers had just started to bloom and were super pink and fragrant. As they sat on a bench beneath this tree for part of their set, we all remarked about them so I couldn't help but grab a shot as were on our way out.
Late last year I met a different B family at the Lily Pond. The lilies were long gone, but the ducks remained, swimming around and delighting the kids. For most of the session, the two had acted like pretty typical siblings, both were in their own little world. But when they saw the ducks their excitement was full blown and suddenly, there they were: side by side, laughing and pointing and having a total blast together.
Red bean rice cakes are an important part of Baek-il, the Korean celebration for a baby's first 100 days.  I just love that the focus in this image is on the little cakes but your eye can't miss the family in the background. It was a very sweet and spontaneous moment that really summed up this little family's joy.
The beauty in little details…
Wisps of curly strands, tiny pink lips, eyelashes, get 'em while you can! Kids grow at lightening speed, capturing those little features is a must. It definitely takes the element of surprise to pull off but it's worth it! For the most natural effect, wait until your little one is distracted, the best time to click away is when they're engrossed in a toy or looking at a book. Nap time is another good time to strike, especially when you want to capture those teeny tiny features like little lips, eyelashes or wiggly toes.
I just adore these curls. Her brother could have passed for her twin but he didn't have these darling ringlets. At this age, the kids can be hard to catch, but we had stopped to check out the flamingos during this zoo shoot and the timing was just right.
Baby M was such a doll. Despite being just days old, she was pretty much a pro. She peacefully slumbered through the entire shoot. This one of her little lips is definitely one of my faves.
Baby O was also a great sport. At just over three months old, he was full of bouncing smiling energy. We played and giggled a lot and all of a sudden he just tuckered out. I like to walk around sleeping subjects, catching them at different angles. I love the ultra shallow depth of field in this image making it super soft and drawing you right to his eyelashes.
A new perspective can be inspiring…
Get low, get up high, go long. On shoots I'm always on the move, sitting still is not an option. Try getting down and shooting up, everything looks different from three feet! Don't be afraid to cut your subject off. One of my favorite things to shoot is colorful shoes and hands, I'll often ask subjects to hold items in their open palms. Also try to getting way back, making your subject small creates a fabulous dynamic.
I met Baby M's Family in the Honeycomb structure. The crisscrossing wood construction is so magnificent. Many times I get way back and shoot through to capture the entire structure and the skyline. This time I got way down and when his mom gave him a good toss, I shot up.
The day I met this recently eloped couple the sky was grey and had been threatening to snow all morning. As I was shooting, these giant fluffy snowflakes began to fall and I wanted to capture the canopy of trees with the speckles of white so I cropped the smooching pair just below the neck and filled the frame with the season's first wintry show.
Navy Pier is magical to just about any four year old, including this one. On our little Mommy and Me shoot, I was making adjustments while the pair stood above me on a landing. When I looked up at them, I noticed they were perfectly placed in front of the giant ferris wheel. I backed up until I was able to get most of it in frame along with the colorful peak of the carousel. This has to be one of my all time favorite shots, especially the way they're looking at one another. Magic.
♥        ♥         ♥         ♥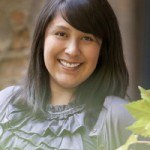 Ashbey Riley is a Chicago based photographer/filmmaker. After hitting the grind as a hospital administrator and therapist, Ashbey switched gears and tapped into her creative side, founding Bum Bul Bee Photo + Films. As her company continues to bloom, Ashbey enjoys a quiet life with her boyfriend and their two "furry" kids, occasionally lecturing on her old specialty and doing Voice Over for local businesses.