Well, my husband and I have met one of the hardest parenting challenges we've faced to date: we just announced to our four-and-a-half-year-old that we're moving. It went pretty well. We told her while we were waiting for dinner at our Friday night pizza place. She said, "Oh. Well, we can come back to our house." We said, "Noooo… not really…" She said, "Okay," and we were done.
It's kind of fortunate that a quarter of her preschool class—and another friend in a different class—moved after the end of the school year. Clearly, this is just what happens when you're done with preschool, right? And to be fair, my husband and I have been talking about the move between the two of us for months and we know our daughter's heard.
But we were excited that, given that we still don't know exactly when we're moving or where we're going, the whole announcement went pretty smoothly. (We had been planning to wait until we had more concrete details, as recommended by the staff at her preschool, but my husband is a minister and once the announcement of his contract buy-out was made to the congregation, we kind of had to loop the kid in.)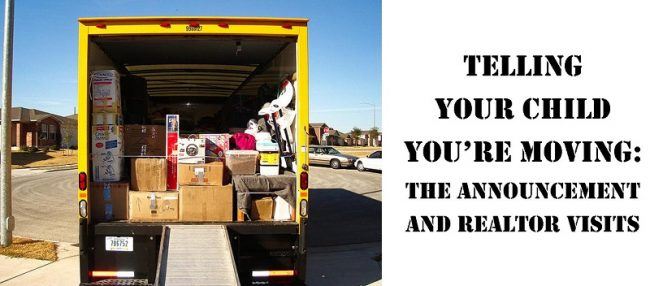 Anyway, we thought we were all set until we started interviewing realtors. Meeting with realtors and getting advice on what we need to move into storage has led to more conversations with our daughter. I've been decluttering—slowly and unaggressively—since we first learned of the possibility of a move five months ago, but I've ramped things up now, which is started to disturb the kid. We've also had to work very, very hard on keeping our toys put away.
I read somewhere years ago that leaving toys out, rather than insisting on putting every little thing away the moment a child switches gears, will encourage pretend play. This is something I've seen proven true in my daughter's play, as the princess figures she was playing dress-up with move into the Lincoln Log house she built when she abandoned them earlier in the day, or when the stuffed animals she left piled on the couch sit down to soup and snacks at the table she set after cooking in her kitchen.
Unfortunately, with realtors coming in and out of the house during the interview process, we've had to keep a pretty tight ship. This new militant clean up routine has led to tears and whispers of, "I don't want to give my house to someone else. I just want to stay here." Oh, hello there, knife to the heart. And it's not like we've never worked with her to purge toys before, but apparently, she's starting to worry about what she gets to keep.
The day after she was born, one of her aunts and a cousin showed up at the hospital with a pink teddy bear named "Sweetie Bear." Sweetie Bear was the same size as my newborn baby and she's always been one of my daughter's favorite snuggles. The other night we were rocking before bed and she was holding Sweetie Bear. She said, "Momma, I don't want to give Sweetie Bear to someone. I want to keep him for my children." I said, "Of course! Some toys are forever toys and we keep them for always," and I listed some of her most cherished toys. She brought it up to my husband the next night, naming more forever toys. Poor kid.
We're moving into the "hiding things that make us look weird and/or interesting" phase of preparation. All the pictures and shelves on the wall go. Bookcases go. Books go. (Apparently, seeing what we read encourages prospective buyers to wonder about what kind of people we are. Given that I'm a sex educator and have a whole closet converted into a library for my books, yeah, I guess I could see that.) Her clothing storage system has to go because it takes up too much wall space. The easel and the toy kitchen go. I tried that conversation today and got stunned silence, so I suppose we'll be having it again, but with the whole mom-and-dad-team.
A couple of days ago, my daughter's aunt invited my daughter to come stay for a few days while the big cousins are back from/off to college. I think right now that this is one of the best possible things to happen to the kid! (Although it's a reminder for my husband and I that this is one of the things we'll lose in the move…) Admittedly, it's easier for me if she's not around while I'm trying to shove her life into boxes, but I think it will also be a little bit easier for her, too.
It's kind of funny. I had intended to write a helpful post with tips about telling your child you're moving. However, we've had to go and mess it all up, and we're adjusting on the fly now! But I'm sure I'll be back with some fabulous books—reading someone else's well-chosen words can be such an amazing way to talk when you don't know what to say—as well as ideas for involving your child and getting them excited about their new home. Anyway, thanks for listening! In the meantime, we have some other fabulous posts about moving here, here, and here. Check them out! (And if you have any tips, tell us all in the comments.)