Let me start off by saying, I'm sorry. So very, terribly sorry if there is not an IKEA within driving distance of your home. It's truly a shame and you may want to just skip this post – it could make you sad and that is not my goal at all.
You see, IKEA is God's gift to new parents. Technically, IKEA is God's gift to anyone who has a home, it's that fabulous. IKEA is modern, budget-friendly and the perfect place to gather staples for your little one's space.
So, go ahead … add IKEA gift cards to your registry and get your shop on!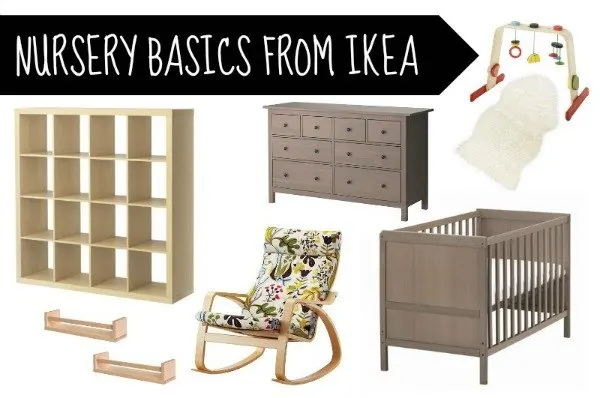 I'm a big supporter of purchasing baby basics in gender neutral colors and styles. It's smart for future siblings, not to mention resale, and IKEA totally gets this train of thought. I mean, just look at these options:

SUNDVIK crib ($119) | One, I adore this color. Two, the price can't be beat! Chic lines and the ability to transition into a toddler bed make this crib a win!
HEMNES dresser ($299) | Plenty of storage for your darling's clothes and the top can easily double as a changing pad location.
EXPEDIT shelving unit ($159) | Oh the places this piece will go! First stop, nursery, next up, play room, then, back to the kiddos room and perhaps the living room one day down the road. Talk about a versatile investment! Don't forget to add baskets (ranging from $5-$17 depending on the style).
POANG rocking chair ($199) | With a tall back and soft cushion, this rocker is the perfect landing place for early mornings and late nights.
TEJN faux sheepskin ($10) | Who wouldn't want tummy time on this?
LEKA baby gym ($30) | Babies don't need many toys, so make the ones you do get count for something. Baby gyms provide the perfect stimulation for developing hand-eye coordination.
BEKVAM spice rack ($4) | Paint these puppies to match your color scheme and create a little reading corner.
You can't wait to hit up IKEA, right? I mean, for less than $1,500 you'll have a gorgeous, modern nursery with pieces that will grow with your family over the years. What's not to love about that? Accessorize with your chosen color palette and patterns and just like that, your nursery space will be set for your little man or sweet lady's arrival.
What did you do to keep your nursery budget in check? Share your tips and tricks!