Yep, it is that time of year again! Last week was the ABC Kids Expo 2017 in Las Vegas where brands with juvenile products all debut their newest gizmos, colors and fashions. We headed to Vegas with our walking shoes on and got to work combing through two floors of the convention center to find the some of the best and worst of the show.
Okay, we aren't going to tell you a lot of the "worst" products because that's just not our style. We like to focus on the good things rather than just bash brands in an attempt to make ourselves look more important or influential.
If you are the type of visual person who likes to watch a video to get the scoop, you are in luck because we did a LIVE Facebook Chat last Friday discussing some of our favorite ABC finds.
If you are more the read and look at photos kind of person, we are here for you too! Without further adieu, here are some of our favorite new 2018 products:
BRITAX B-FREE STROLLER
This is Britax's newest lightweight stroller that will be available on November 6, 2017. Yep, this one is coming out soon and it's pretty fantastic. This stroller features a large seat with a 65 lb weight capacity (yes, you read that correctly!!), a huge canopy, easy to access basket, adjustable handle, superb no-flat, rubber wheels and a super simple fold! It will be available in three different color options and retail for $359.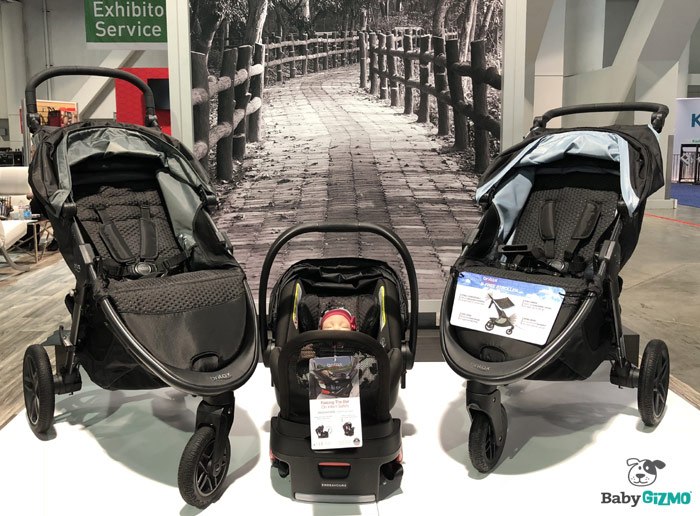 VEER ALL-TERRAIN CRUISER WAGON
Welcome to your new "Swagger Wagon"! If you have a big budget, this might be the wagon for you! Yes, we had to address the elephant in this virtual room that this isn't your cheapo wagon because it has a hefty price tag of $599. That being said, it has some fantastic features like the ability to hold an infant car seat (with sold separately car seat adapters, of course!) turning it into a "wagon travel system". It also features two seats (with safety belts!), a snack tray, cupholder for parent and the ability to push or pull with the heavy-duty, charge-through-all-the-terrain wheels. And if that's not enough, the wagon folds down for easy travel and storage. This beauty is available now and you can order one on Amazon.com.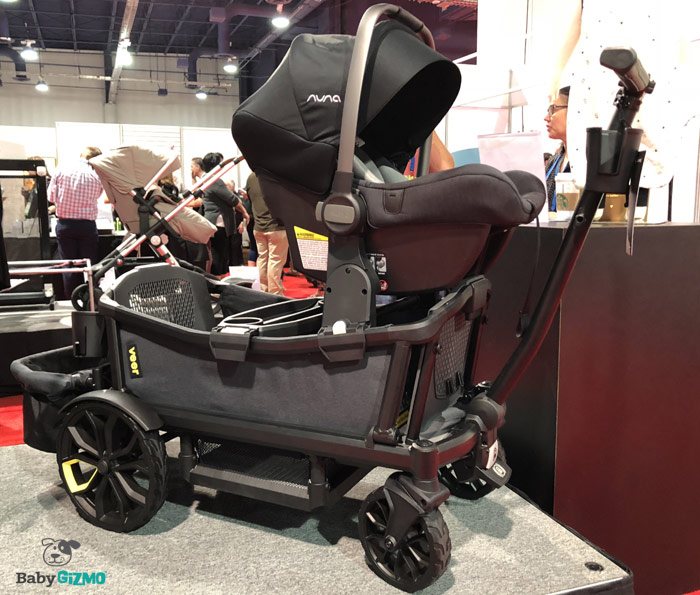 CYBEX COLLAB WITH ANNA K
This isn't a new stroller but a new Cybex collaboration with up and coming designer Anna K that we absolutely adore! It's called "Space Rocket Popstar" and it features whimsical space-themed graphics on a cool blue fabric. You can expect this collab to hit stores in 2018 and will come featured on products such as the Cybex Cloud Q infant car seat and the Cybex Priam.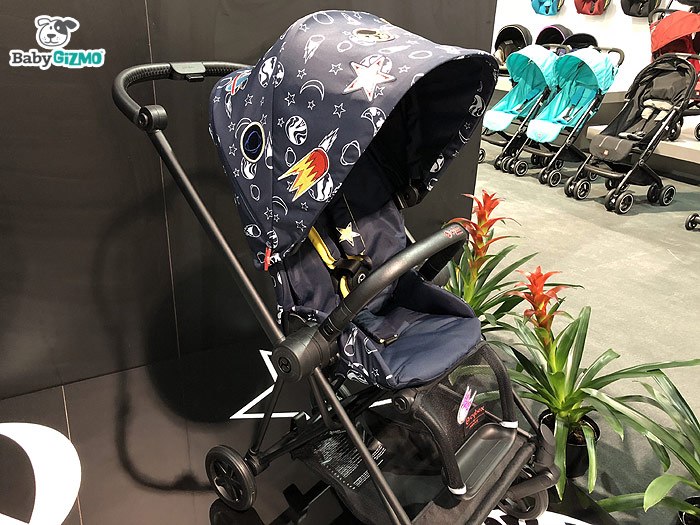 HALO BASSINEST TWIN SLEEPER
We know we have a huge twin audience, so moms (and dads!) of multiples, you want to see this! Yep, HALO is coming out with a Bassinest just for your twinnies. You know we love the Bassinest but this time it's twice as nice for two bundles of joy to sleep side by side but in their own sleeping environment with the handy divider. The HALO Bassinest Twin Sleeper has all the great features of the single such as height-adjustable base and 360 degree rotating sleeper. The mesh walls offer maximum breathability and the soothing center offers 3 soothing sounds, 3 lullabies, nightlight, 2 levels of vibration and nursing timer.
The Halo Bassinest Twin Sleeper will retails for $449 and be available in February 2017.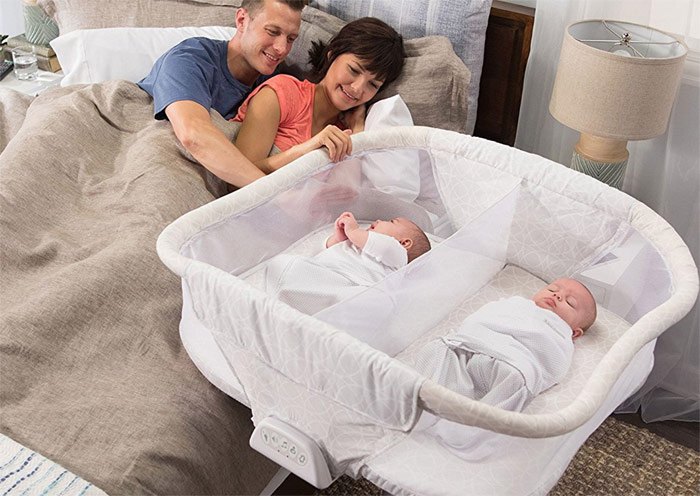 GRACO TURBOBOOSTER TAKEALONG BOOSTER SEAT
This may look like just a regular high back booster seat, but it's so much more because it is even better for on-the-go and travel than the traditional booster seat. It features two cup holders, a machine-washable seat pad and seat belt guides to help properly position the seat belt. But that's not all, the base of the booster folds up to 50% off it's size for easy storage! It will be out in 2018 and retail for $49.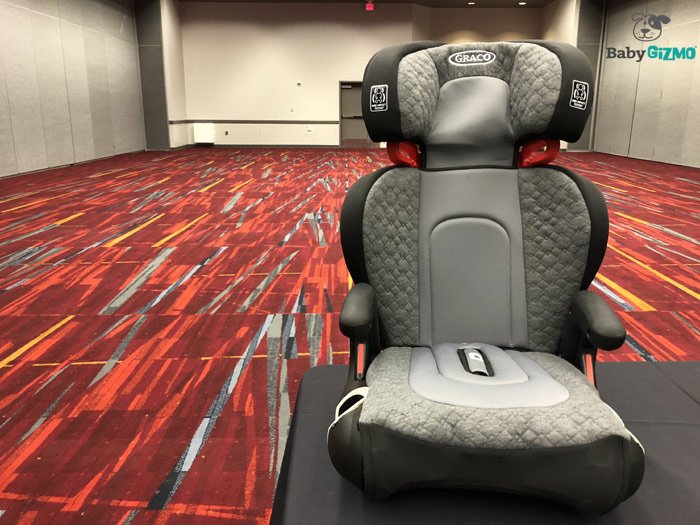 UPPABABY MINU STROLLER
The Minu is UPPAbaby's newest lightweight stroller weighs in at just 14.5 lbs and features a roomy seat, large canopy, easy push and super compact fold which is great for travel. It is expected in March 2018 and will retail for $399.99.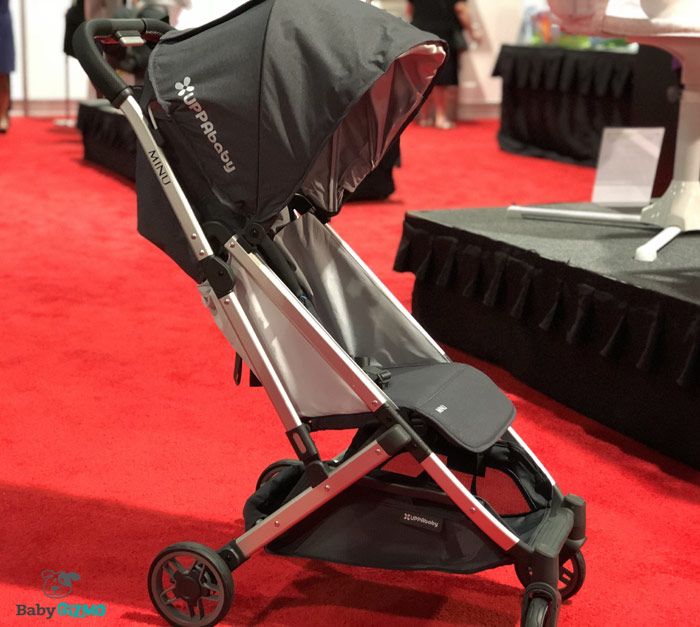 THULE SLEEK STROLLER
We are really excited about Thule's new single to double stroller called the Thule Sleek Stroller! It features a high weight capacity of 48.5 lbs PER SEAT (yes, both seats have the same weight capacity!), adjustable handle and footrest, large canopies, all-wheel suspension and the ability to become a double travel system. There is so much more about this stroller we'd like to share with you but you'll have to wait for our full in-depth review in Spring 2018.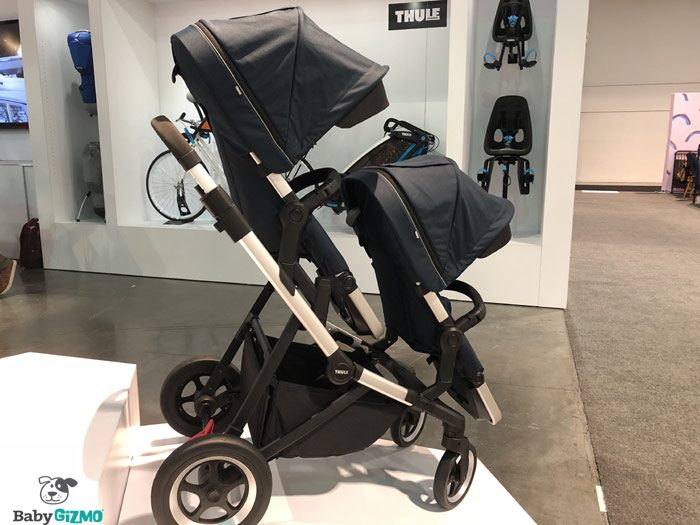 TWISTSHAKE MAT
We know many of you are big fans of the EZPZ Happy Mat Placemat but we think we found one that is even better. The new Twistshake mat that is expected in January 2018 features a no-slip silicone placemat that you will want for your toddler's mealtime. Sure, we've seen no-slip silicone mats before but THIS one has three different bowls/plates that twist onto the mat for dining. Why is that awesome, you ask? Well, not only are the bowls/plates stackable for meal prep to store in the fridge, microwave and dishwasher-safe but the ability to remove the bowl is brilliant for cleaning and storage!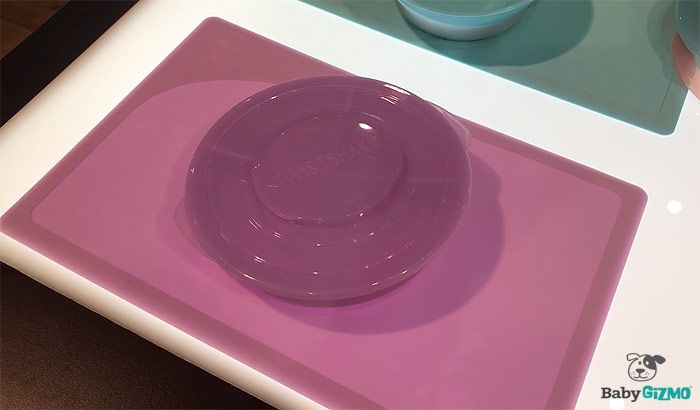 PETUNIA PICKLEBOTTOM SPRING LINE
Who doesn't love a pretty bag, right? We sure do! That's why we just wanted to share one of the gorgeous, new prints for the Spring 2018 Petunia Picklebottom line. Cute, right?!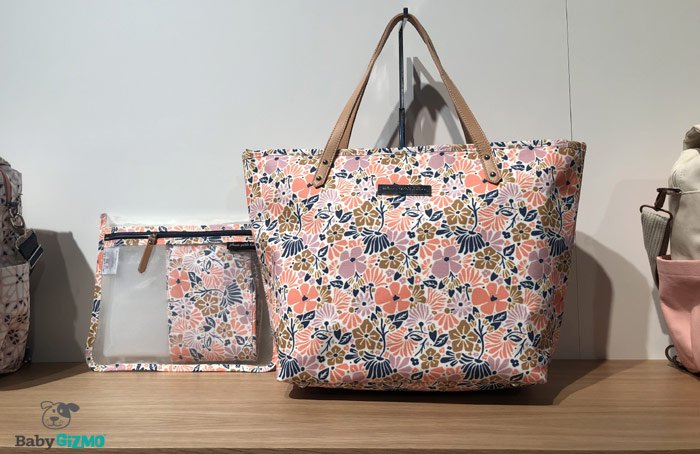 VALCO BABY SNAP ULTRA TREND STROLLER
We have always been big fans of Valco Baby and the new 2018 models won't disappoint. One of our favorites is the new 2018 Snap Ultra Trend Stroller weighs in at a light 19 lbs that features a reversible, roomy seat that transforms to a bassinet, huge canopy, adjustable handle and footrest and easy fold. It will be available in Spring 2018.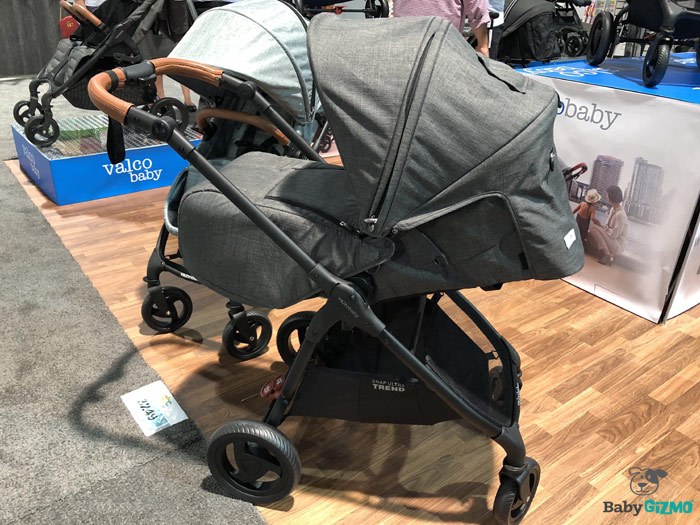 NUNA PIPA LITE INFANT CAR SEAT
We put this product at the bottom of the list because while we were originally super excited about it, we found out it that it missed the mark majorly on a key feature and we know many people/sites will just breeze right over that. The new Nuna Pipa Lite will be the LIGHTEST infant car seat on the market at an impressive 5.5 lbs. When we heard that, we rejoiced for all moms (and dads!) out there with aching elbows from carrying an extra heavy infant car seat. That excitement quickly faded when we found out that Nuna removed the belt paths on the Pipa Lite to get the weight down to a gimmicky weight for publicity.
What?!? What does that mean, you may ask? It means that the car seat can NEVER be used without the base. That's right, no public transportation (cabs, UBER, airplane etc.) without schlepping the heavy base around with you! (And I can guarantee that they didn't bother to lighten the weight of the base because no one talks about base weight.) You may not have known that you can install an infant car seat without the base with pretty much every other brand, BUT you need that belt path to do it.
Nuna claims it is a "lifestyle option" but we all know that parents-to-be have NO idea what type of lifestyle they will have once baby arrives. Sure, you might not think you'll want to travel without the base until you do. Then what? You'd have a car seat that you would be schlepping the base around with it no matter where you go is what would happen. Nuna just missed the mark on this one. Everyone is looking for that record-breaking product to get the attention of the media, but when you remove a key feature to get that attention, it's definitely a fail in our book. If you are a big fan of the original Nuna Pipa, that still weighs in at an impressive 7+ lbs, then I would say stick with that one since it has the belt paths! Oh, and the original Nuna Pipa is cheaper. You're welcome.