I have always loved birthdays. Maybe it's because my parents always made a big deal of them. Cake, presents, making it a point to stop what we were doing at the exact moment that I was born, having friends over, you name it. That has just always stuck with me. My son has only celebrated two birthdays so far but I have gone big on both of them. Birthdays are a BIG DEAL! Not just for your child, but for you, too! It's a chance to celebrate, to remember and to give them the most special day of their whole year and show them just how much they are loved. And here's the thing, going big doesn't have to mean spending a lot of money.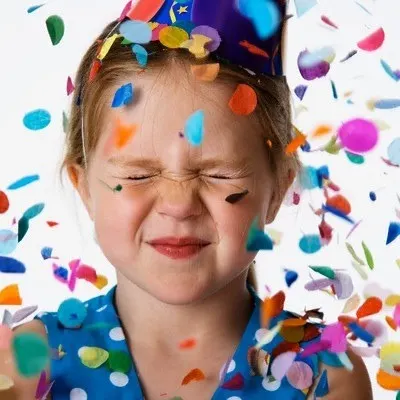 Why should you go big on your child's birthday? This phrase comes to mind- "Go big or go home". Every year is a new milestone to be celebrated. A new chance to get all of your family and friends to celebrate this huge event. Any excuse to see all of my extended family is reason enough for me to throw a party.
I think the most important reason to go big on your kid's birthday is to make them feel special. To let them know that they deserve to be celebrated! Whether that means a huge, elaborate party or an intimate affair complete with balloons from the Dollar Tree and a cake you made from a box. That part doesn't matter nearly as much as everyone getting together to make your child feel amazing and giving them a day to remember!
It was never so much the gifts I received that made me remember each birthday, but the love I felt and the people I was surrounded by who were making me feel so special. I hope to give that to my son each year as he grows up, too. The feeling of excitement your kids get when they get out of bed on their birthday, the element of surprise throughout their day, and the enthusiasm surrounding them is what they will always remember. Because I think those things are so important, I've compiled a small list of ways you can go big without breaking the bank AT ALL on your child's birthday.
-Build the excitement with a countdown.
There are lots of different ways you could do this and so many great ideas online. Let your child countdown each day until it's here!
-Decorate the house.
Draw on the mirrors, put up balloons, make signs. Get creative and have any other kids in the house help.
-Candles on their breakfast.
Serving up pancakes that morning? Put a candle and some sprinkles on top. Why not?
-Put water balloons in their bath.
They can even celebrate when they have to take the dreaded daily bath.
-Sneak a few small presents into their backpack.
If your child is in school, sneak a few small wrapped presents into their backpack or lunch pail so they will have a fun surprise to open while they are at school.
-Retell their birth story.
Make it all about them. Share something they may not know.
-Have siblings be their helpers all day.
If you have other kids have their siblings take on their share of chores for the day.
-Talk about them.
Have everyone share their favorite things about the birthday boy or girl.
-Let them choose dinner.
Or, if you're going out, let them choose the restaurant.
-Bake them a cake and let them choose the flavor.
More than anything else, the most important reason you should go big on your child's birthday is so that they know that they are the biggest joy and the biggest blessing in your life. Chances are they probably already know that because you tell them constantly, but it doesn't hurt to tell them a few extra times on their birthday. They will remember it always and they will probably grow up and do the same wonderful thing for their children.
Now leave us a comment and let us know just what special things you do to go big on your kid's birthdays! We would love to hear!