Things You'll Never Know Until You're a Mom
There are a few things I always thought I knew at least a little about but when I became a mother, I realized I didn't really know that much on the topic. Today I wanted to share a few things with you that I don't think a person really knows until they become a mom.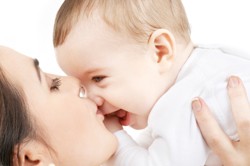 Sacrifice. Sacrifice of your body, your time, your sleep, your days, your things, your self. You will never know what true and complete sacrifice is until you have a baby.
Strength. You will never know how truly strong you are until you have a baby. Labor is no joke. Getting absolutely no sleep is no joke. Raising a child is hard work. But you do it anyway. When you have a baby, you will dig for inner strength you never knew you had.
Pain. Every bump and every bruise your child gets is like a stab in the heart. You wish you could take away their pain and  you would do it if you could in a heartbeat. Thinking your child is going to grow up and leave you one day leaves a sting in your heart and a lump in your throat and it's painful knowing you can't stop time or prevent it.
Love. I loved my son the moment I knew he was inside of me. And I loved him even more when he was born. It was instant. He was mine, and I loved him. As your child grows, so does your love for them. A huge, amazing love you never knew you were capable of. A love that would climb mountains, cross oceans, and do anything for your child.
Of course, you also won't know just how much a child can poop and spit up until you have your own, too. But those are things you will learn, too and a topic for another day.
What would you add to the list? Leave us a comment and let us know.