Three Things I'll Tell My Sisters About Breastfeeding
My sisters don't yet have children, but while I'm in the thick of mothering, specifically breastfeeding, I wanted to log away a few of my thoughts and feelings. This is everything I'd tell a good friend or an expectant mama with a listening ear too, so I thought, why not share here?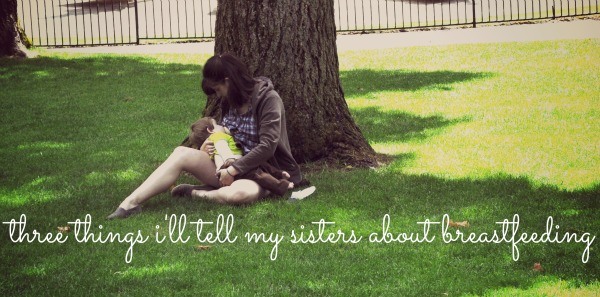 First, sisters of mine, DO YOUR RESEARCH. If you were planning to do a specific activity multiple times each day and night for one month or three months, or six or a year or two or three you would research. You'd read and ask questions. You'd consultant experts and find a mentor. You'd uncover myths and set goals. All those things apply to breastfeeding.
With reading, I'd start here and I would waddle my growing belly to a La Leche League meeting before the baby's arrival. That way, you'll have a contact person for questions and referrals before they ever come up. Oh, and having nursing mamas is pretty fabulous too. You'll find those at La Leche League and they are priceless. Maybe not your first meeting, but don't give up. You learn a ton of valuable information at each meeting and you never know when you'll be the one able to lend a listening ear or encouraging word to another mama. Our experiences with breastfeeding not only build or personal confidence they give us a repertoire of stories to grow the confidence of mothers in each circle we touch. Nervous about your first meeting? Take these lactation cookies and you'll become everyone's best friend 🙂
Second, FIND SUPPORT. As a breastfeeding mama remember that you are nourishing and growing a baby around the clock. You need support or else you'll become weary. I know. I've been there. Don't feel bad when it feels like too much. That's your signal to throw up a red flare and call in the troops.
Set up your support system beforehand and have resources ready when the going gets tough. And it will. It might be mastitis or cracked nipples, low supply or oversupply. It may be a baby who nurses nonstop or navigating the transition back to work while troubleshooting the details of a breast pump. The good news is – with the right support many of these valleys can be managed, most can be overcome! Keep your chin up and draw energy from your support system – they are there to be the wind beneath your wings. Cue singing.
Ok, but really, a support system isn't just a pat on the back and a fresh nursing pad it's a spouse being ready to jump in and prepare meals so you can focus on nursing. It's teaching your sitter how to properly heat and store breast milk. It's hiring a cleaning lady to mop the floors and change bed sheets so you don't have to. It's being transparent with coworkers who care about your commitment to breastfeeding/pumping. It's finding a doctor who supports your goals and refers you to an expert when your questions exceed their field of study. It's having a friend who schedules you a massage and bakes you lactation treats. A well-cared for mama is able to care well for her baby. Take care of yourself by letting others serve you. Easier said than done.
And third, but most important, DO YOUR BEST. No matter what, be proud of what you accomplish. It's a huge responsibility to feed a baby. Like all day, all night kind of huge. Be open to how your relationship with your baby grows and learn as you go. You might surprise yourself. And for sure, your baby will surprise you. After all, they are their own little person.
So, from one big sister to my younger sisters who may someday be mothers I say, "You're a fabulous mama, I'll always believe that and your baby will too. Just love them, feed them however you deem best and remember to enjoy the ride. No experience that takes this much effort is worth forgetting."
P. S. Since I'm the big sis, I'm adding two more short memos. Because I can. 1) Take photos every so often of you and your nursling in action, they're a treasure to look back on. 2) Don't fret when nursing in public, you're way more worried than anyone around you and your baby will sense that nervousness. Just do your thing and know that you're most likely showing much less than the "secret" of our mall friend, Victoria 🙂