Summer is right around the corner which means more and more people are going to be getting outside to enjoy the great weather. If you are a sporty parent who likes to run or jog and you have a small baby, a jogging stroller is a great investment. It lets you hit the open road with the baby in tow whether you are jogging to lose weight or just because you love it.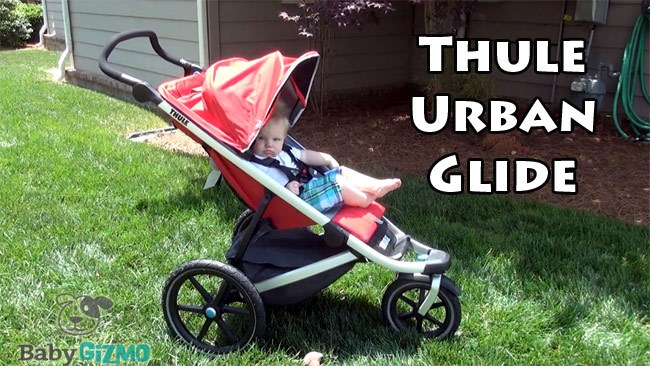 The Thule Urban Glide is a sleek sport stroller ready for urban mobility or running. With one-handed compact fold for storing, maneuverability with a swivel front wheel, ergonomic handlebar and rear suspension, kids are comfortable and parents are ready for a stroll in the park to a power run down the trail.
THULE URBAN GLIDE VIDEO
THULE URBAN GLIDE SEAT
The seat on the Urban Glide is roomy measuring 14″ wide with a 21″ seat back and a measurement of 24″ from back of the seat to the canopy. It has a 75 lb weight capacity and our 10 month old and 5 1/2 year old testers both fit in the seat comfortably. Yes, even the 5 1/2 year old (who is 42 lbs and 43″) fit under the canopy. The seat sports a 5-point, adjustable, padded harness that has a buckle that is easy for parents to do but too tricky for even a 5-year old to master on their own without showing them the "trick."
The seat reclines with an easy, one-handed strap system that provides a deep (but not flat) recline. It's not suitable for newborns but it is great for a baby or toddler to take a nap. The back of the fully reclined seat has a mesh window that allows air to circulate through.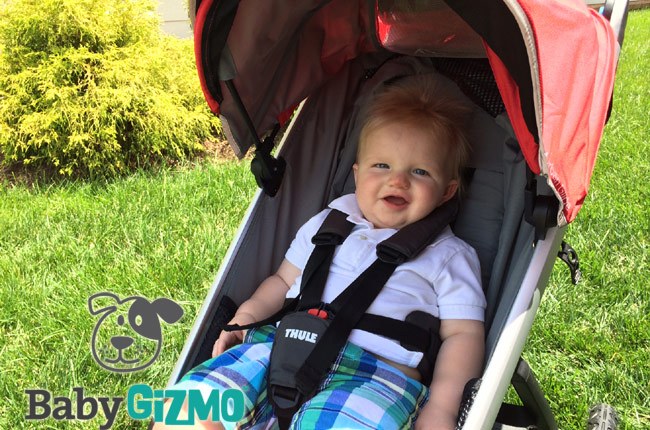 CANOPY
Since a jogging/sport stroller is mostly used outdoors, a full-coverage canopy is key. The Urban Glide "floating" canopy is large and will even allow you to follow the sun by folding it down in front of the baby. There is a peek-a-boo window on top that allows you to see your little rider and has a flap closure that closes with velcro.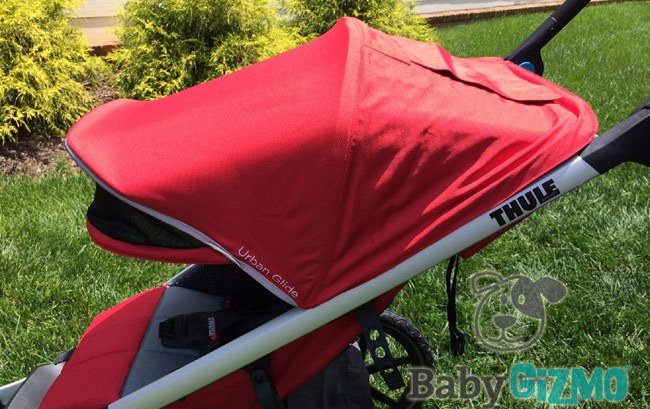 HANDLE BAR
Since not all parents are the same height, we like the adjustable handlebar that adjusts from 39″ to 45″ from ground to handle. While it doesn't telescope out, the adjustment up and down does give enough clearance for a parent with a long stride.
THULE URBAN GLIDE BASKET
The basket under the seat is large and unique because it sports a cover that keeps the contents under wraps. The cover zips open and you can tuck it away when you don't want to use it but we appreciate the fact that it keeps everything in the basket and out of sight.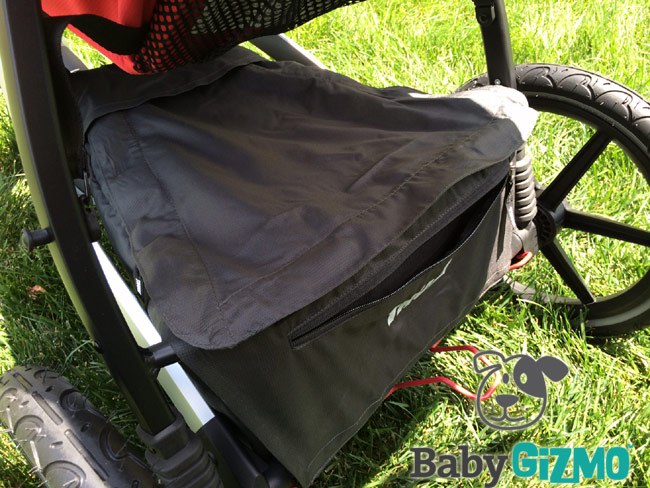 WHEELS
One of the most important features on a jogging stroller (besides the quality of the frame which is fantastic on this stroller!) are the wheels. You want to look for air-filled tires on a jogger and the Urban Glide doesn't disappoint. The 16″ rear, air-filled tires glide along the road and the front 12″ swivel wheel (also air-filled) has the ability to lock straight for jogging. You'll keep it in swivel mode for walking and everyday use. The rear suspension helps to absorb bumps and gives baby a smooth ride.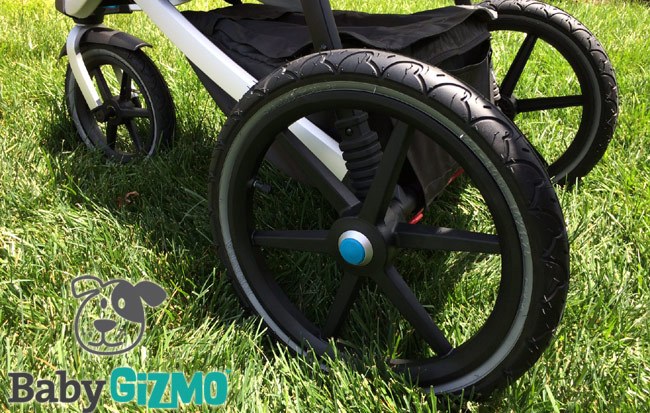 THULE URBAN GLIDE FOLD/UNFOLD
The Thule Urban Glide has an easy, one-handed fold that is done with a lever under the leg rest. You push, twist and the stroller folds down into a standing fold all with one hand. The rear wheels can pop off for a more compact storage and the stroller locks with a manual lock for transport. We'd love to see an auto lock added to the Urban Glide just to make it that much easier for mom/dad.
WRAP-UP
The Urban Glide is a great option if you are looking for a jogging stroller. It retails for $399 which is competitive for a quality jogger and can be purchased at REI on sale right now for $318. To get an up close and personal look at this buggy, watch our Baby Gizmo Video Review above.
OTHER JOGGING STROLLER REVIEWS
Urbini Avi Jogging Stroller Review