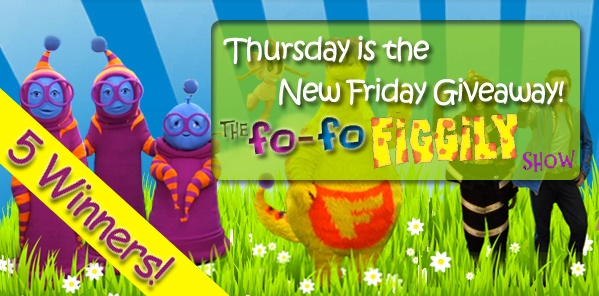 Congratulations to our winners:
Stacie B., Amy H., Jessica D., Ronalee D. and Beth F.
Hey!  It's time for another Baby Gizmo Thursday is the New Friday Giveaway!!!
We just posted our feature on the Fo-Fo Figgily Show this week.  Our kids love these new dvds!
But we got to thinking again.  Maybe we should let a few of our Baby Gizmo friends get to know The Fo-Fo Figgily Show too?  So, of course, what does that mean?  Yep, GIVEAWAY!!
We are picking FIVE winners this time to get to know Fo-Fo and his friends up close and personal.  Each winner will receive a Fo-Fo Figgly Show DVD!

How do you enter, you ask?  It's easy!  Plus, you have the opportunity to get two entries into the giveaway!
1)  All you have to do is leave a comment here on RatedbyMom and tell us why you should win a Fo-Fo Figgily DVD!  That's ONE entry!
2)  And for a SECOND entry all you have to do is leave a comment the Baby Gizmo Facebook Page!
FIVE winners will be chosen at random from all the comments we receive!  This is only a ONE DAY giveaway so you have until  tonight (Thursday, February 10, 2011) at 11:59pm CST to enter. (Giveaway open to US residents only!)
*If you leave a comment here on Baby Gizmo's Blog – RatedbyMom, please make sure you enter your email address correctly in case you are the winner so that we may contact you!