timi & leslie recently announced their convertible diaper bag collection for 2010.  The new convertible diaper bag styles for this year include the Baby Jane, Camilla and Hannah.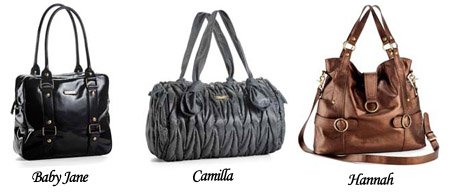 Just as a reminder, the timi & leslie convertible diaper bags include:
a bottle tote
stroller straps and removable shoulder strap
changing pad
wristlet
an easy-access key fob & multiple pockets
waterproof lining
Additional bags included in the 2010 line are the Aurelie, CJ Satchel, Charlie, Genvieve, Marie Antoinette and Marilyn. The unique names of the bags in the timi & leslie line are inspired by close friends of the company, family, colleagues and great women in history.
timi & leslie diaper bags are available at retailers nationwide and retail between $149.99 and $169.99.
SHOP timi & leslie Baby Jane bag
SHOP timi & leslie Camilla bag