When thinking of a title for this post, naming eight tips for breastfeeding in public, I went through the list of horrible comments I've been told or have heard as a breastfeeding mom about the "right" place to feed a baby. Some say the bathroom. Others say in cars. I say whenever you need to, whenever your baby wants to.
The controversy over the issue is what makes most new moms leery about breastfeeding in public. But, breastfeeding in public need not be a major thing. Here are eight tips that I lived by as a new breastfeeding mom that made my experience easy.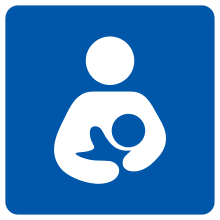 Know your rights! Forty-five states, Washington DC and the Virgin Islands all allow women to nurse in any public or private location. To find out your state's laws, check out this site.
Buy a nursing cover. Bebe Au Lait is a great company that makes nursing covers that are stylish looking, comfortable, lightweight, and easy to use. As a new mom, I lived by my Bebe Au Lait nursing cover. Using it allowed me the chance to become more comfortable with the act of breastfeeding in public
Or, use a large blanket. If you don't want to spend the money on a nursing cover, just bring a large baby blanket on your outings. When nursing, just drape it over your body.
Wear breastfeeding-friendly tops. Cotton, stretchy tops allow for easy access when breastfeeding in public. Layered on top of a nursing tank, you can breastfeed discretely by lifting the top shirt and lowering the bottom shirt. This works without even using a nursing cover or blanket.
Do a test run first. Try breastfeeding in "public" with family and friends using whatever method you'd use while out with strangers (i.e., with a nursing cover, blanket, or with just a nursing tank). Once you get comfortable with this, you'll find it easier to take the plunge into true public breastfeeding.
Feed your baby before they're starving. Having to feed a crying baby with flailing arms and legs in public is hard. Period. So, be sure to pay attention to your baby's hunger cues and feed sooner, rather than later.
Learn to use a baby sling to breastfeed your baby. The Moby Wrap has a kind of wrapping hold called the "Breastfeeding hold." Using this hold, you'll "wear" your baby, while breastfeeding. Other baby wrap companies have similar holds, so be sure to do your homework, watch Youtube videos, and practice, practice, practice until you feel comfortable.
Nurse in locations that are less busy, less full distractions. This is mainly good for your baby and you. It's nice to nurse without all the noise and people.
Breastfeeding moms: How do you comfortably breastfeed in public? What tips would you pass on to new breastfeeding moms?