Crib safety is one of the most important things you can do for your child, yet it is something that is overlooked often. Because it is so important to give your child a safe sleeping place, I want to share some tips with you today on how you can make that happen.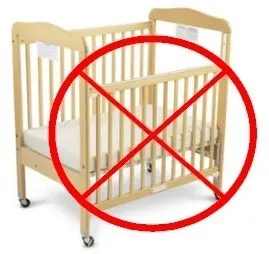 – To prevent suffocation, never place pillows or thick quilts in a baby's sleep environment.
– Make sure there are no gaps larger than two fingers between thte sides of the crib and the mattress.
-Make sure you assemble your crib properly. Follow all instructions and make sure every part is installed correctly.
-Do not use cribs older than 10 years or broken or modified cribs.
– Choose a firm crib mattress, not a soft one.
-The mattress should fit tight against the crib walls.
-Examine your crib often for things like loose parts, splinters, or chipped paint.
-Avoid wrapping the mattress in plastic materials to protect it.
-Never place baby's crib next to a window. Blinds, drapery cords, and window screens all pose hazards to kids.
– Be careful what you hang above the crib. Nothing heavy or dangerous should be hung above the crib because it could fall on your child.
– Don't leave stuffed animals, pillows, or the like inside the crib as this poses a suffocation risk to your child.
– Avoid drop side cribs entirely. The CPSC has banned the sale of traditional drop side cribs as of 2011 because they are at risk of detaching.
-Be ready to modify your child's crib as they grow. Remove mobiles and hanging toys when your baby begins to push up on his hands and knees. As your child starts to stand up your crib mattress will also need to be lowered.