Tis The Season For Moccasins
I think every season is moccasin-appropriate, but with winter coming and chubby little toes getting cold, winter is especially the time for moccasins. The moment you slide your precious little ones' feet in a pair, you'll be hooked.
I've always been a big fan of moccasins and did a jump of joy when they made a huge come back recently. Moccasins pair well with any outfit and are a staple in my little man's wardrobe. If you want to instantly make your kids fashionable, keep reading and put them in a pair!
So where can you get your kid the best pair of moccasins? Here are my picks-
My most favorite moccasins come from Freshly Picked. They come in a variety of beautiful colors and each pair is handmade when you order them. My son has personally test driven these babies and they are stylish, durable, and keep those little feet of his warm! We swoon over the walnut and elk hide mustard colors and already have pairs in a few sizes up so he's set for the future. Freshly Picked just came out with the cutest Poppy and Grey colors that look even better in real life. The nice folks over at Freshly Picked want Baby Gizmo readers to have their very own pair of moccs for their little ones so they are offering you all a 15% discount when you enter the code BABYGIZMO at checkout. Time to go shopping!
Shop Freshly Picked Here. (Don't forget to use the code "BABYGIZMO" for your 15% off discount!)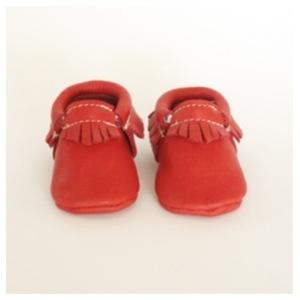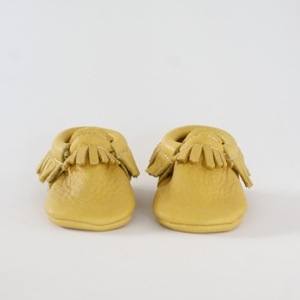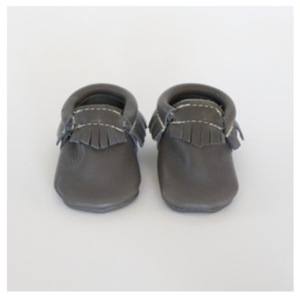 My next pick are Minnetonka moccasins. You can't go wrong with this classic brand. They come in so many different styles, you're bound to find a pair you love. I always try to find ways to match my son and it's not an easy task. There just aren't that many ways a mother and son can dress alike. Minnetonka makes it possible because they make their adult moccasins in baby sizes, too. I recently got us each a pair of the fringe booties and I love that Minnetonka makes matching pairs for everyone in your family. How cute would Christmas pictures be with everyone in their own pair of fringe moccasins? Pretty cute if you ask me. Now getting my husband to go for that is a whole different story… One can dream right?
Shop Minnetonka Moccasins Here
So there you have it. Two great places to get your children's feet warm and styling this winter.
Does anyone in your family where moccasins? Are you planning to pick up a pair for your children this winter? Leave a comment and let me know!