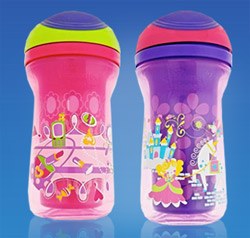 What parent doesn't go mad with a leaky sippy cup?!? Aren't sippy cups designed not to leak even when dropped, shaken or thrown? Yet, time and time again, I find that forgotten sippy cup on the backseat floor of the car with a pool of spoiled milk around it. Yuck!
The point of a sippy cup should be a LEAKPROOF cup that is easy to drink from, easy to hold, easy to clean and again shouldn't LEAK! How hard is that? Obviously not that hard for Tommee Tippee because they have mastered it with their Explora Cup.
We recently had the chance to test out the Explora Cup by Tommee Tippee and when they say it is a "truly spill-proof drinking cup", they are not kidding. We love, love, love it!
My 2 1/2 year old son still drinks from a sippy and that is mostly my fault because I can't stand messes. Sure, he can drink straight from a big kid cup but he can't take that on-the-go and there are many more spills that way with a clumsy 2 year old so we stick with a sippy.
My son loves the new Explora sippy cup. How do I know? He tells me straight out – I love my new sippy cup! He's cool like that. Tells it straight.
We've put this stage 5 cup through the ringer and let me tell you that if you are looking for a new sippy cup, this one is it!
First, since it is stage 5 for 24 months and up, we love that it holds more liquid than the other smaller cups. The Explora holds 9fl oz which means less times when we get in the car and I hear the two year old yell "MORE" as soon as we back out of the driveway.
Second, it truly is spill-proof and leak-proof. My son shook it upside down. Banged it on a table. Threw it across the room. Left it on the floor of the car on the side. The cup withstood it all and didn't leak one…single…drop. Yep, it's that good.
Third, it's easy to clean. Unscrew the lid. Pop out the spill-proof piece and clean. So easy.
Fourth, it's easy to drink from. How annoying is it for a kid to have a hard to suck sippy cup that gives them a drop at a time. My son would never stand for that. I even tried it out for myself and yep, easy to drink.
My son uses his new Tommee Tippee Explora sippy every single day. All day long. He won't let us give him one of our other cups right now and why would I want to. Many of the others leak.
The Tommee Tippee Explora line (yep, there are other stages for the smaller babes!) is available at Target stores nationwide and on Target.com.
If you want a sippy that truly doesn't leak, you need to pick one of these up and try it for yourself.
Take a peek at what our Baby Gizmo testers think of the cup in our video below. Don't worry, it's less than a minute! 🙂
Disclosure: I wrote this review while participating in a blog tour by Mom Central Consulting on behalf of Tommee Tippee Sippy Cups. I received a Tommee Tippee Explora Sippy Cup product as well as a promotional item as a thanks for my participation. As always, all my thoughts, opinions and statements are my own.