Toy Storage Solutions and Ideas
The one thing I find myself constantly looking for is storage solutions for toys. Not for shoes, not for jewelry, not for my own closet… for toys. Never mind the constant change and rotation of toys we have going on- their interests seem to change every other day- I'm running out of space! Then I go and get cool things like the hanging chain that clips stuffed animals. It was awesome from about age 4-8. Now the clips are all broken and there's an obsession with stuffed animals once more. I don't get these kids. I mean, I do get them; they are destructive, messy, creative and their imaginations run like wild horses. I just need some sanity in the form of toy storage and organization.
As my kid's needs change, my storage needs change and that's why I'm always on the hunt for perfect storage solutions.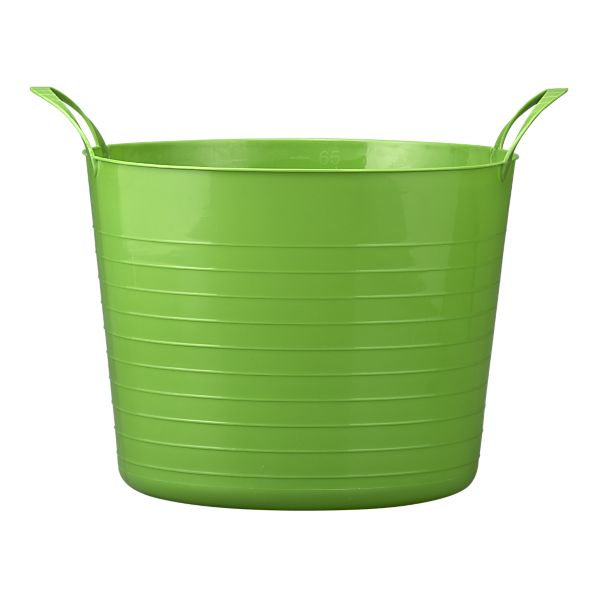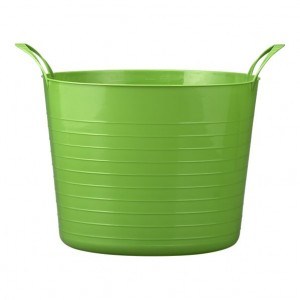 Green Storage Tub at Crate and Barrel
These make great outdoor bins! Perfect for messy toys (bubbles, squirt toys, chalk and balls) but are also nice and soft for inside storage.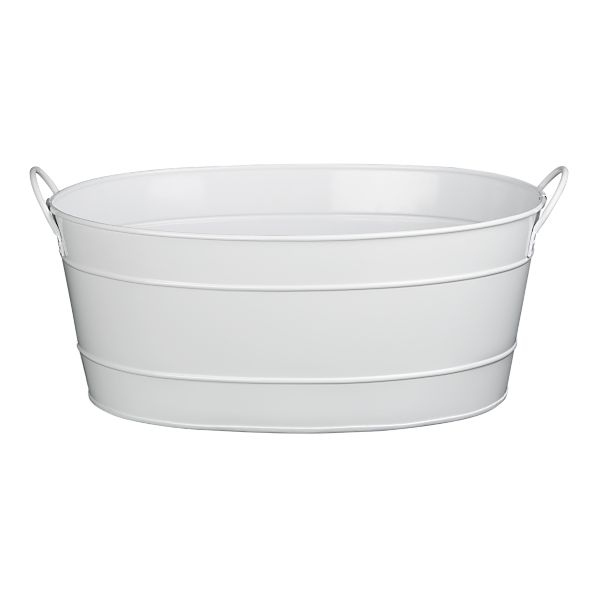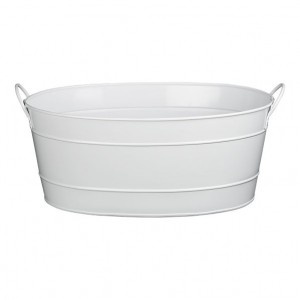 Party Tub at Crate and Barrel
I actually like these more for decorative purposes– like to hold stuffed animals or blankets on the floor of a nursery. These are not soft so I wouldn't suggest them for new walkers and kamikaze toddlers.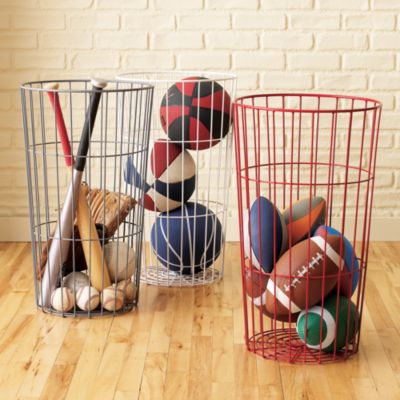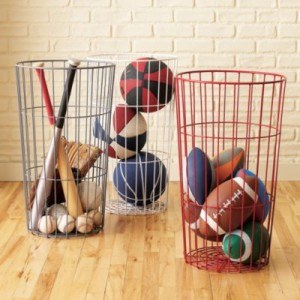 Love love love the look of these! They can hold bats, balls, and stuffed animals… perfect for the older child or pre-teen and makes a great addition to a sports-themed room or playroom.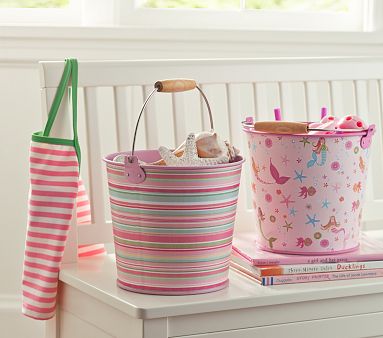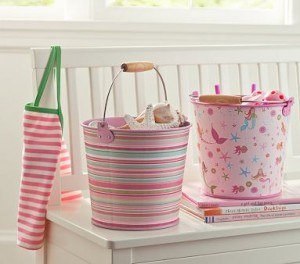 Painted Buckets at Pottery Barn Kids
These are my go-to buckets for shelves. They have an attached rubber piece along the entire bottom of the bucket so it doesn't scratch your furniture. The handles will (and do) scratch furniture though, especially when an uncoordinated child takes the pail in and out of a cubby or shelf. They are fun, easy to transport from room to room and can hold lots of toys.
I've found multiple uses for these (including replacing the ugly towel rack in the kid's bathroom). They can hang play clothes, capes, and art projects. I love the look when used as a chair rail in a playroom! It invited children to hang things up (think clean up time).
This will be my next purchase! I've tried everything when it comes to stuffed animal storage and I just can seem to find a system that keeps them out of sight and out of mind. After 9 years, I'm so sick of looking at stuffed animals all.over.the.place. I want a place for them to hide go but it can also be used as a comfy chair for a kid. Kinda like a bean bag chair.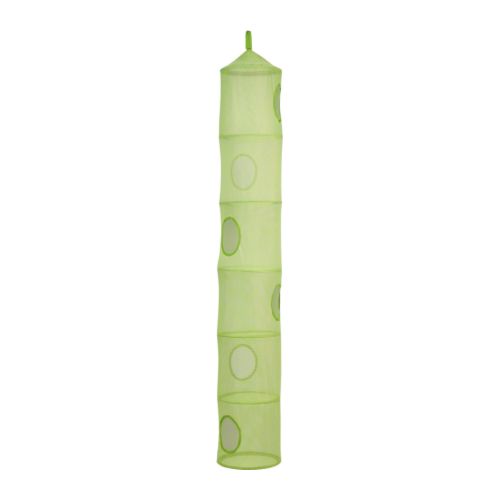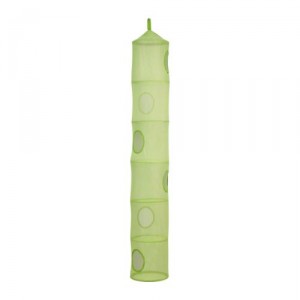 Ikea PS Fangst hanging organizer
The openings on this aren't all that big so it's not the best at storing stuffed animals… small ones work but we use this for balls! The openings are the perfect size (and height) for my three kids to reach their own little basket and grab their smaller (soft) balls for indoor play.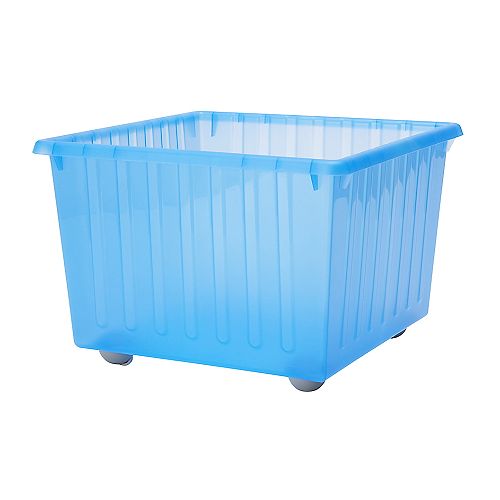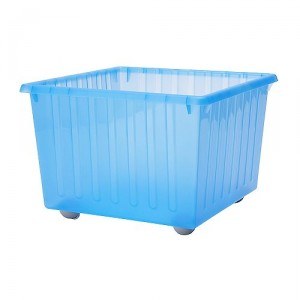 I love these. Like could marry them. We use these all over the house for LEGOs, train tracks, building blocks, you name it. They roll all over the place (which makes it easy for the kids), hold a ton, have lids AND stack! We even got a few extras to keep at Grandma and Grandpa's house. Over there, they store toys in a guest room closet and my kids have to go fetch their toys. Now they can roll the bins to the living room without any help.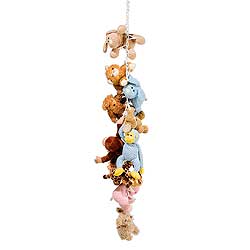 Chain Toy Organizer at One Step Ahead
I have a love/hate relationship with this thing. Like I mentioned above, it was awesome from about age 4-8 for my oldest son. As soon as my 3-year-old got a hold of it, the plastic clips wound up broken on the floor. It was a cool thing to have (and even looked cool when it was full of stuffed animals) but it's more practical for children that don't destroy things.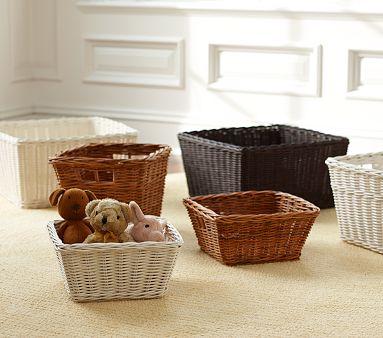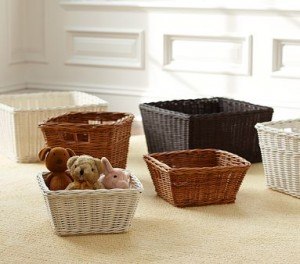 Sabrina Basket Collection at Pottery Barn Kids
I love these baskets. I put them on bookshelves, in cubbies, everywhere. They are perfect for random toys so small toys don't get lost or forgotten about (a toy box is not allowed in this house- it just turns into a nightmare of a toy pit). They go with any decor and are durable; at least they are in this house with three boys.