No matter what theme you have picked, or have in mind, there's always a way to incorporate fun and trendy pieces to complete or add to a specific look. I, honestly, could have 10 more babies just to decorate 10 more nurseries. It's one of my most favorite things to do, like, ever. I'm always on the lookout for ways to change, enhance or redesign my house, especially my boys' rooms. It drives my husband batty but he does compliment me on the finished product.
Here are some of my picks that I'm currently coveting and considering.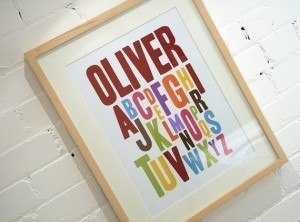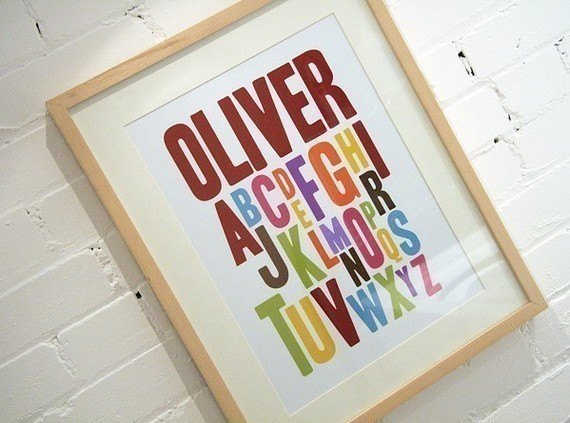 Penny People has a super stylish Alphabet Print. I actually have one of these for my oldest son. He's getting a little too old for an alphabet print in his room so I'm considering getting two more (one for each younger brother) and placing them in the playroom. Maybe mix it up a bit and go with a Number Print? See how I work this? Again, my husband thinks I'm nuts but it's all in the name of design. and happy things.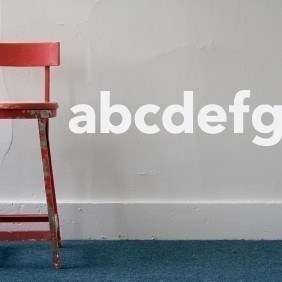 Tasty Suite has a full Lowercase Alphabet vinyl wall set. I'm big in to the vinyl wall art trend. Why? It's easy to incorporate into a theme, cost efficient, adorable and? easy to change! I'm thinking about creating a border affect with the alphabet in one of the rooms. I just can't decide if I want to do a chair rail height or a top border… Wouldn't that be cute for a preschoolers room? or playroom?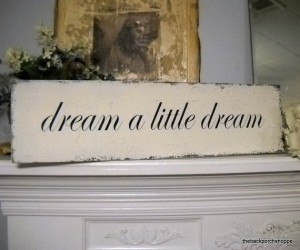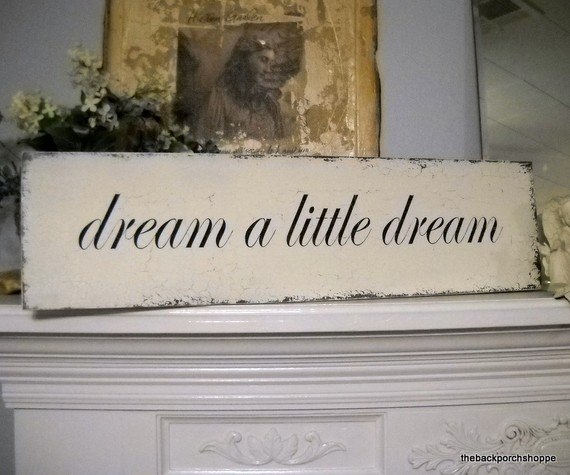 The Back Porch Shoppe has these amazingly sweet signs for a wall, shelf or dresser. I have something very similar in my son's nursery, above his door, that reads Sweet Dreams. I just love this look for little babies. You can easily place one of these on a shelf with books, pictures, keepsakes, anything!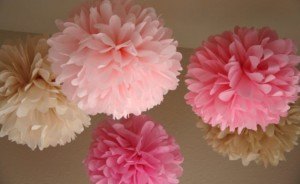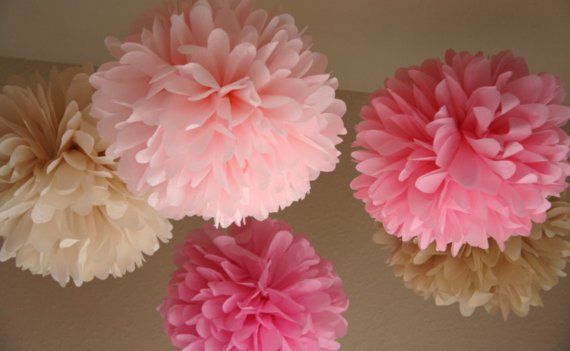 Party Poms has Poms! This is another trend I can't get enough of. If my 3rd was a girl, I had planned on doing various different Poms hanging from the ceiling. I guess I could have worked it into my boys' deco but I went with a different theme. Poms and paper lanterns are super popular right now.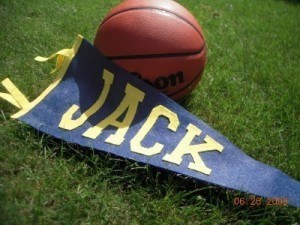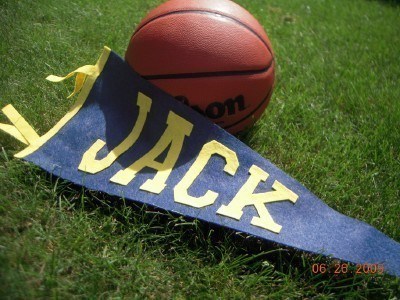 Pennant Race has Personalized Wool Felt Pennants which would be perfect for your little sports fanatic! Imagine a row of these hanging on one wall, or one above your child's bed, or above a shelf next to baseballs, trophies and such.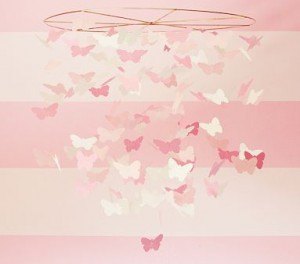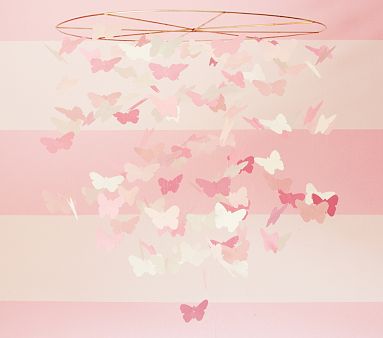 Pottery Barn Kids is my go to place for ceiling mobiles. I'm not a huge fan of traditional crib mobiles and much prefer the look of ceiling mobiles, like the Pink Paper Butterfly Mobile. I love the dainty look, the simple elegance of this one.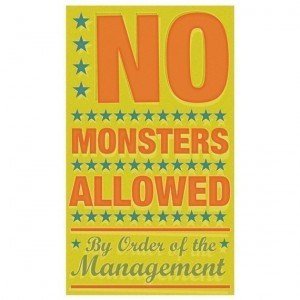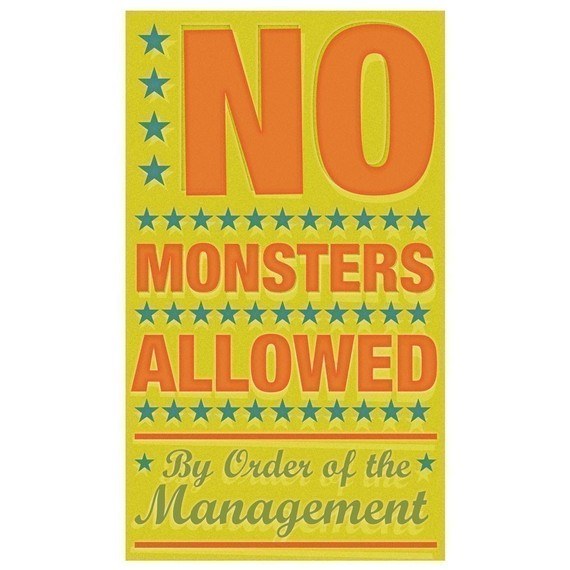 John W Golden on Etsy has awesome signs. Like the No Monsters Allowed sign for a little person that's scared of monsters! Not only is it cute, trendy and would look good in a kid room… there's a purpose! If my little guy forms a fear of monsters in his closet (thank you, Monsters Inc.), you better believe I'm putting one of these on his bedroom door!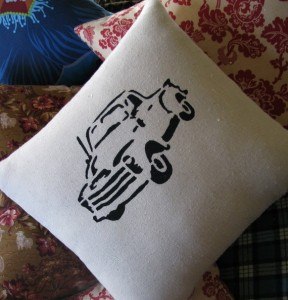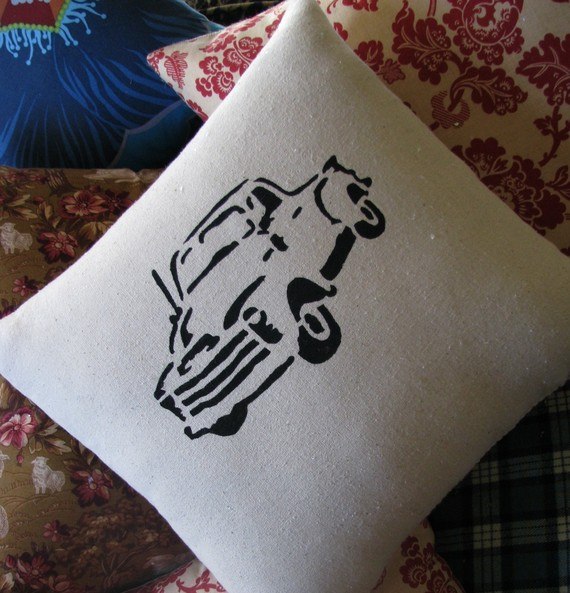 Heidi Devlin on Etsy has word and graphic art pillows. Like this Vintage Truck Pillow! I'm very much into adding a pillow with a pop of color or character to complete a look. I have a little throw pillow on our glider that acts as a lumbar support as well as a decorative touch for the room. It doesn't match the bedding, rather compliments the colors and adds another dimension to the room.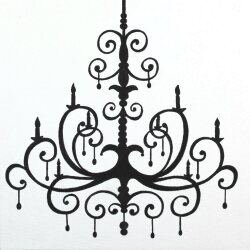 Carousel Designs has Art Canvases! How about the super popular Black Chandelier? This would be a perfect substitution to an actual chandelier which can cost an arm and a leg, or create extra wiring work- also costly.
What is your nursery theme? What are some trendy things you have found or incorporated in to your decor?