Truly Healthy Granola Bars
Some granola bars are more akin to candy bars, right? And there is no way we want our kids munching on a dessert masked as a healthy snack. That just doesn't makes sense for their growing bodies.
So, I've been on the hunt for truly healthy granola bars. Ones that make the kids smile while simultaneously removing the fear of a sugar high and subsequent meltdown. To give you some peace of mind as your pack those granola bar snacks in lunch boxes this week, here is a yummy round up of a few healthy picks!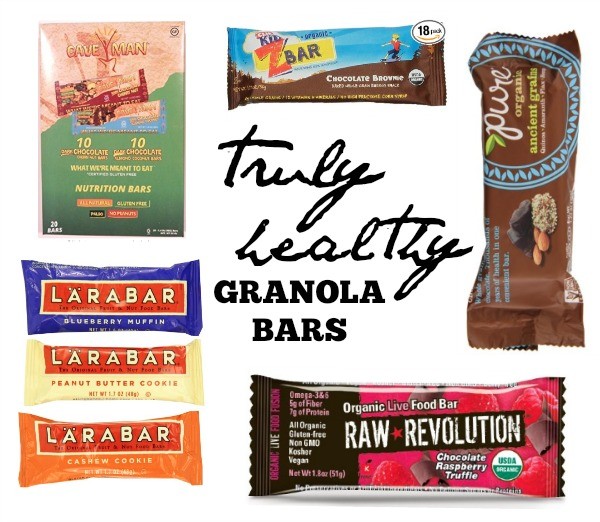 Caveman Nutrition Bars — My top pick, especially the Dark Chocolate Coconut flavor! These bars are gluten free and fit into a Paleo lifestyle well.
Clif Kid Z Bars — I dare your kids to say no to Chocolate Brownie or Iced Oatmeal Cookie. Delicious!
LARABAR — If you've experimented with Whole 30 recently, you know Larabars well. I'm guessing your kids have stolen some bites and fallen in love too! Cashew Cookie, Apple Pie and Coconut Cream Pie are winners at our house. They even come in minis!
Pure Organic Ancient Grains Bars — I'll admit, I haven't tried these, but the the Chocolate Chunk is going to make its way into our pantry very soon. Plus, they're vegan, kosher, organic, gluten free and non-GMO verified. Boom!
Raw Revolution Organic Live Food Bars — Did I say this was a list of granola bars for your kids? Well, I obviously meant mamas too 🙂 Hello Chocolate Raspberry Truffle!
Have you found a truly healthy granola bar that's a winner? Share your favorite in the comments section!