If you've got children, chances are you've got a lot of Dora The Explorer going on in your house. Now, no offense to Dora, but it's not exactly my favorite show or one I would willingly choose to watch if I had the choice. Believe it or not there are actually some kids shows out there that are pretty good. Good enough that parents might find themselves watching them when their children are napping…. Not that I would know. 😉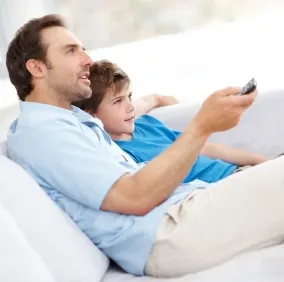 – Gravity Falls. The show revolves around twins Mabel and Dipper who go to spend the Summer with their great Uncle Stan in the mysterious town of Gravity Falls. Strange things happen daily and Mabel and Dipper explore it all. My husband and I are hooked on this show and not ashamed one bit. It's hilarious and entertaining and there have been several occasions that we've watched it together just the two of us.
– Mr Rogers' Neighborhood. Have Netflix or Amazon Prime? Catch the classic old episodes of Mr Rogers' Neighborhood!
– Boy Meets World/Girl Meets World. I know you've all seen and loved Boy Meets World but did you know that they are making Girl Meets World?! Corey and Topanga are back on but this time as the parents. Pretty awesome and definitely worth checking out.
– Ninja Turtles. My husband loved the old school Ninja Turtle cartoons when he was a kid and now he loves watching the new episodes with our son on Nickelodeon! All of the same old characters are on it, they've just been given a "facelift" as we like to say.
– Full House. My son is just getting to the age where he enjoys watching Full House with me and it is so fun to watch the shows again with him! They bring back fun memories for me and they're just as good the second time around.
– Bubble Guppies on Nickelodeon. This show teaches and models school-readiness skills through songs, dances, and lots of laughs. The characters are cute and bubbly!
– Sophia The First. Don't you love it I when they make Disney princesses that are completely bearable?
– Little Mermaid. I don't know anyone who doesn't really like The Little Mermaid movie and the cartoon is just as good but shorter, and each episode has different characters.
– Little Einsteins. This Disney channel show is cute and educational, and emphasizes the importance of teamwork. It's fun for both little ones and the parents!
– Wild Kratts. Outdoorsy, adventurous, bug/animal loving kids will love this show, and you might learn a thing or two yourself!
What kids TV shows do you like the best? Leave us a comment and share your favorites!