We've been taking my daughter to see Santa for the past five years. Usually, we do the thing up properly with a fancy dress, tights, and patent leather shoes—the whole nine yards. This year, though, she wanted to try something a little bit different. She topped off the shoes, tights, and white puffy tulle skirt with…wait for it…an ugly Christmas sweater. Oh yes. However, there's a catch. My daughter requested that everyone wear an ugly Christmas sweater, which is how we found ourselves wandering Chicago's Magnificent Mile in cheap ugly sweaters. (My husband was quite proud that his was a $15 steal from the hardware store.)
Predictably, everyone we know found this to be funny and/adorable, so we've been telling the story a lot. During one telling the day after our adventure, I was informed that there is such a thing as National Ugly Christmas Sweater Day. Furthermore, I was informed that didn't missed it, as it's Friday, December 15 this year. In case you don't already have your family's sweaters picked out (oh, come on—it's no fun if we don't all do it), I've got a round up of some of my favorite ugly Christmas sweaters for the whole family!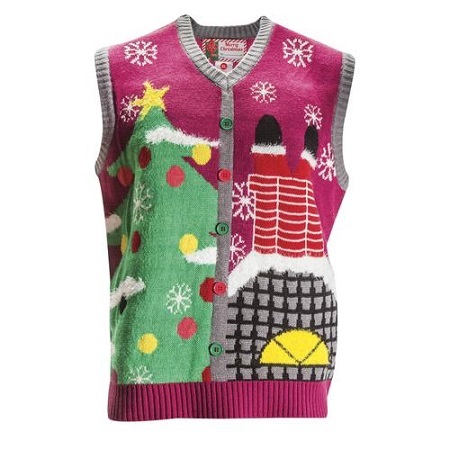 Do you have a Menards near you? Then you, too, have access to a selection of ugly vests, including the one my husband wore for our visit to Santa! My favorite part is that the buttons are there for decoration—the vest is pullover! Sadly, these bad boys aren't available online, so you'll have to make a trip to your local store.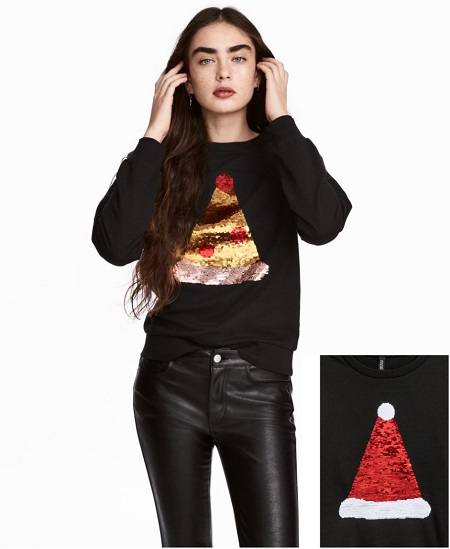 Is it a Santa hat or a pizza slice? You decide. Bonus: by choosing pizza, you can still wear this sweater after holidays!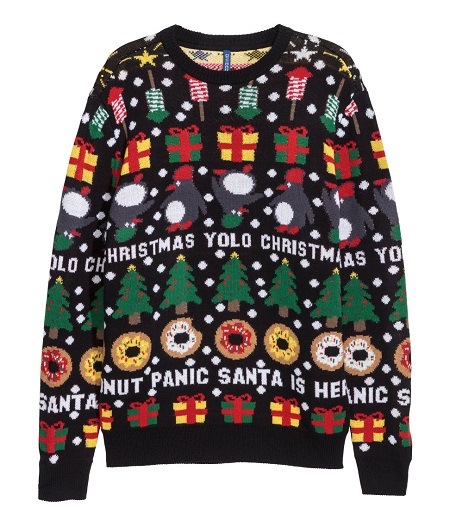 This may be a men's sweater, but it's so ugly I want it for myself! And if this pattern isn't your jam, they also have "Tree Rex" and "Feliz Navidog."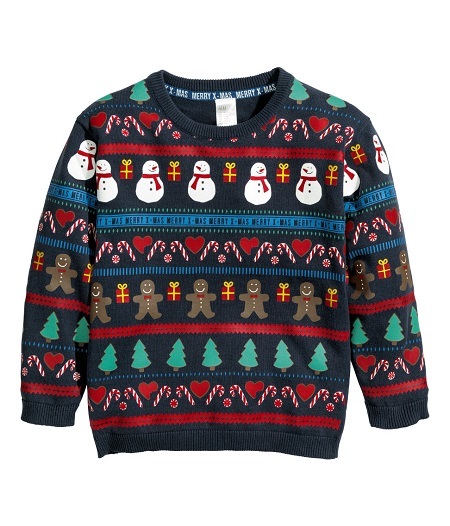 This sweater is available in a huge variety of sizes (0-2 months through 10 years!), so you can dress all the kids in matching ensembles. And did you see the "Merry X-mas" detail inside the collar? Love that. By the way, the "Tree Rex" sweater I mentioned above? It's also available for the littles.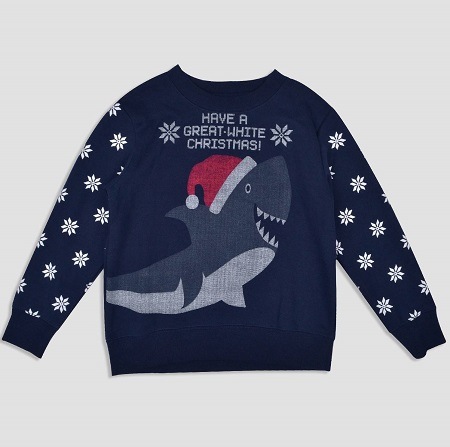 Here's a toddler sweatshirt that's great for little ones who might find an actual sweater too itchy. (I feel ya, kids!)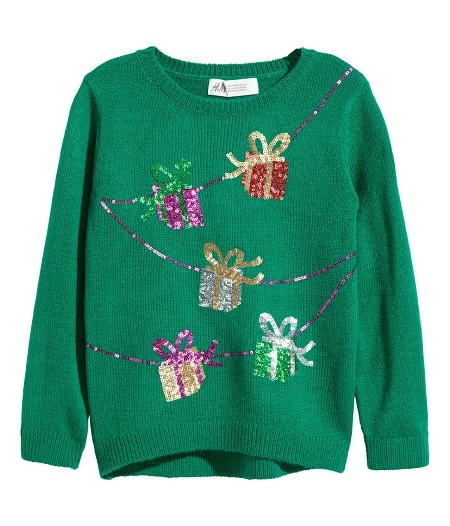 This sweater is available in sizes from 18 months to 10 years. Think of the matching ugly Christmas sweater possibilities!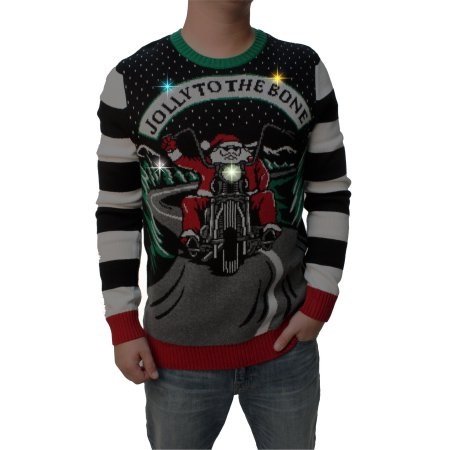 Ever since I found this sweater, I've been trying to find out if my Harley-riding dad would disown me for putting it under the tree for him this year. I mean, it lights up!!!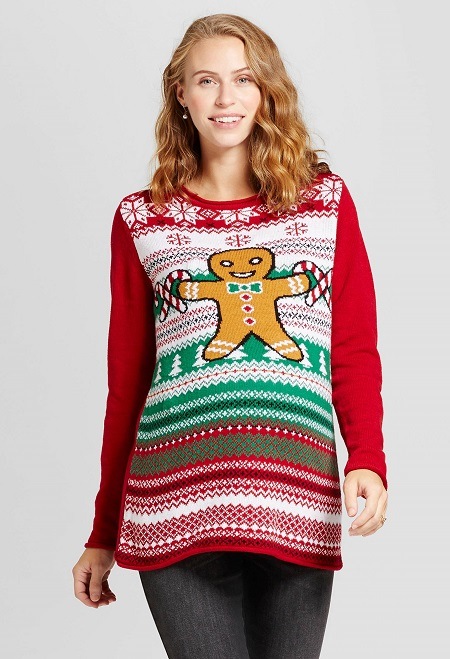 Here's another light-up option, but this one's for all you pregnant mamas out there.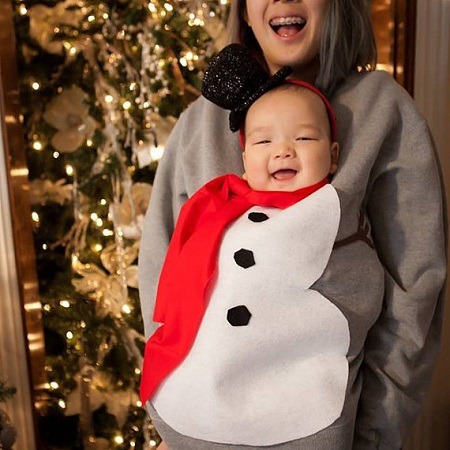 If you've already popped the kid out, this babywearing number is your ugly Christmas sweater solution!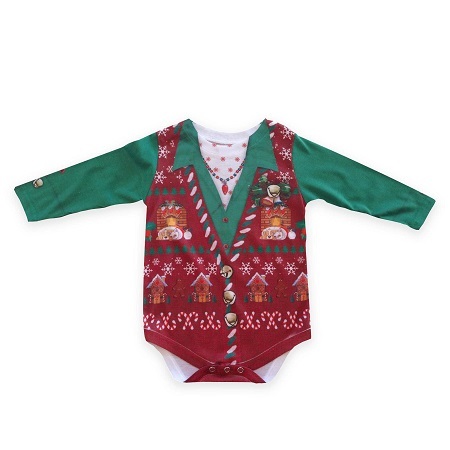 Not planning to babywear through your holiday party? Here's an ugly "sweater" your littlest one can wear all on their own.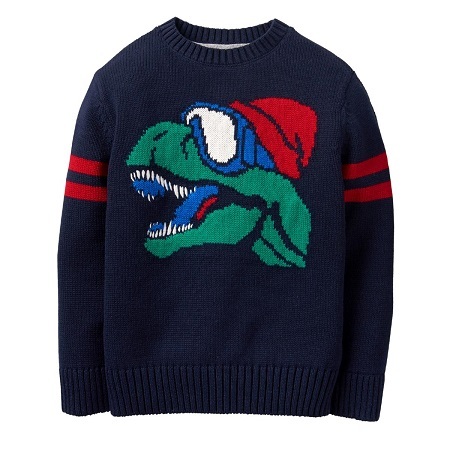 Okay, you got me: This one's not exactly an ugly Christmas sweater. But Ski Rex? That's pretty freakin' awesome.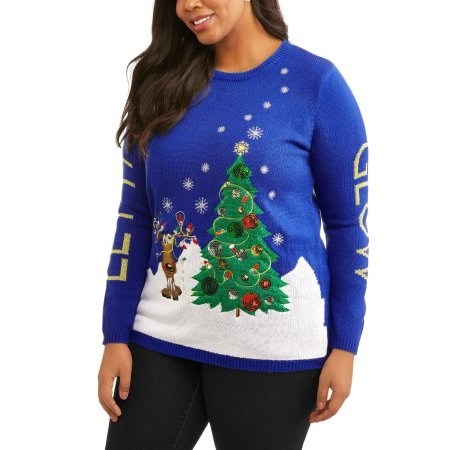 The sweater I wore on our ugly Christmas sweater adventure is sold out online (you can check your local Wal-Mart to see if it's available there), but here's the sweater that came in second when I was shopping.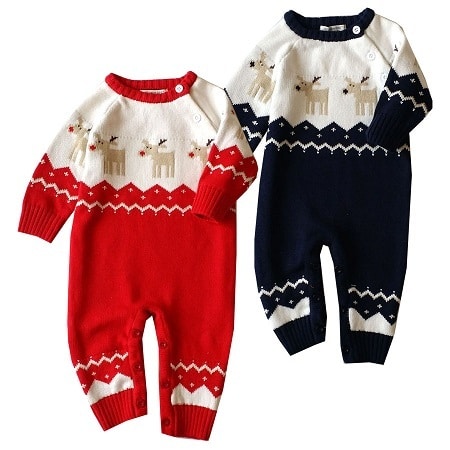 This soft knit romper is so cute that I can't even really call it an ugly sweater. Baby will still fit the Christmas sweater theme, though, so let's call it good. (You can also find a similar pattern in a sweater and in overalls.)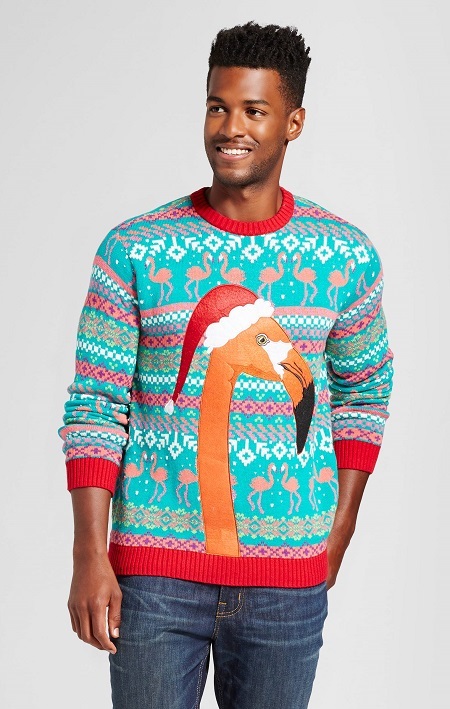 Now this is an ugly Christmas sweater. WOW.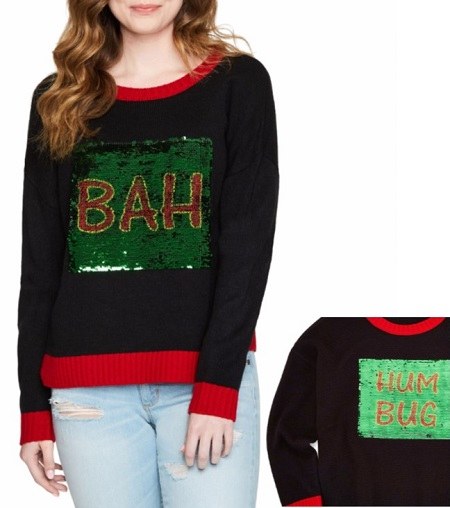 For the ugly Christmas sweater haters out there, I've got your sweater.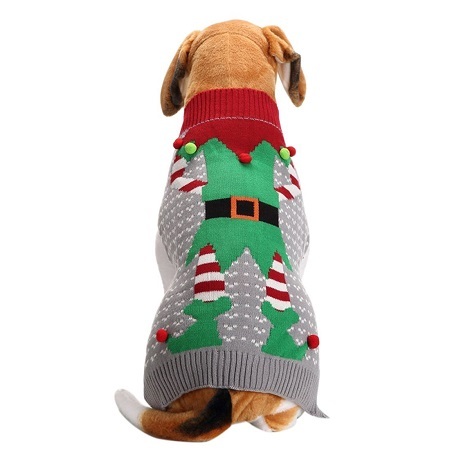 Want to include your pet in all the ugly fun? No problem. Here's a sweater for them!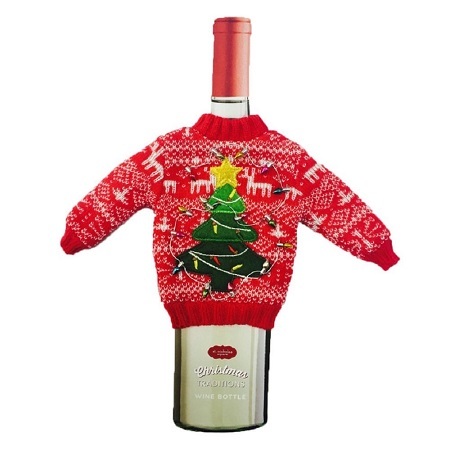 And why should your wine feel left out?! Sweaters for the whole house!
In the event that none of these amazing sweaters spoke to you, you can also check out the official National Ugly Christmas Sweater Day list of retailers. Happy shopping! And please, please, please share your ugly Christmas sweater photos to this blog post on Facebook. (My family will be wearing ours to Star Wars: The Last Jedi on Friday.) Merry merry!
PS: Don't celebrate Christmas? Here's a Hanukkah option for him, for her, for the kids, for the toddlers, and for the babies.