UK Hospital Tells Pregnant Moms to Bring Their Own Formula
A hospital in the UK is telling pregnant moms that they won't be providing formula when they give birth and people are freaking out. Or they don't care. It's pretty one side or the other on this one, with how the world is reacting to a now-viral patient letter.
First, take a moment to read the letter Worcestershire Acute Hospitals NHS Trust sent out that details what they mean when they say they will no longer stock and provide formula for new moms: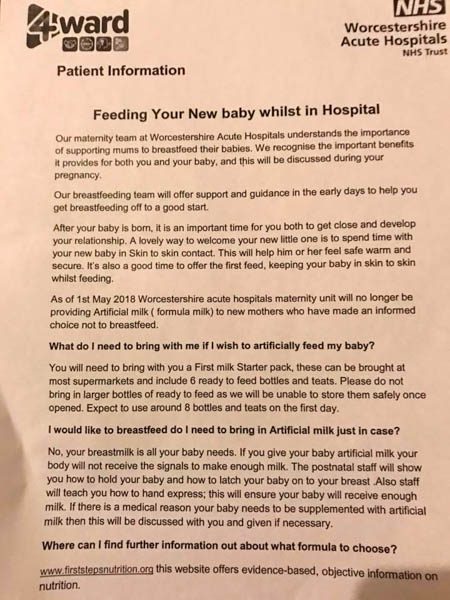 So the National Health Service (NHS) Trust is basically saying these hospitals won't be providing free formula to parents anymore, though mothers are more than welcome to bring their own if they still want/need to formula feed or supplement.
My first reaction after reading their letter was very… American. I got all up in arms at the wording of certain parts and it just didn't sit right with me how much the letter seemed to push breastfeeding while negating the need for formula. I mean, come on, not EVERY baby comes into the world willing to perfectly breastfeed. Not every milk supply comes in right on time and is perfectly ample. Even with constant support, not every mother's mental or physical health can sustain the challenges that breastfeeding creates. And also, can we just all agree that stating formula feeding as "artificially feeding" seemed a little weird? How does one "artificially" feed a child because last time I checked, food is food and nutrients are nutrients so…?
I say my response was very "American" because here in the good ol' US of A, we Americans tend to unconsciously believe that everything can be offensive if we let it be, and that everyone owes us something. (Obviously, I'm speaking in generalities but we all know someone who acts with this attitude so don't deny it.) So to us, the idea of a hospital not stocking and providing at least some formula is ridiculous. It's what they've been doing for years now and it has become expected.
However, if you take a gander at many of the comments that were left on Worcestershire Antenatal's post (and on the 670+ times the post has been shared) many mothers from UK don't see what the fuss is all about. Apparently, hospitals not providing formula and promoting breastfeeding only, is the norm over there! It's mostly women from other countries, like America, that are so upset by the point and tone of this letter. So it made me wonder—why do I just expect my hospitals here in America to buy the formula my baby might use? Why shouldn't I be responsible for bringing my formula if that's my choice or if I want it as a "just in case" measure? I bring my own going away outfit, my own cameras, and my own preferred wipes so why not add a few bottles of formula to the list as well?
Whether you agree with this policy or not, you have to admit that it at least makes you stop and think for a moment.
All in all, while I acknowledge that it's amazing for our hospitals to provide free formula for mothers if they need it, I think the NHS is smart to implement this policy. They don't ban formula from their facilities—they just let you know there won't be any available to you to use unless you bring your own. And while they could have worded the letter more effectively and could have put less pressure on moms to breastfeed, overall, I think hospitals in America should begin following the lead of the NHS.
What do you think? Should all hospitals be required to provide formula in case a new mother wants/needs to use it for her new baby?