UPPAbaby G-Link Double Stroller Review (Video)
After a short delay from the original launch date, the UPPAbaby G-Link double stroller has hit the market. This is the first lightweight, double, side-by-side, umbrella stroller for UPPAbaby and we are all pretty excited about it.
SEAT
The UPPAbaby G-Link seats each have a weight capacity of 55 lbs and measure 12″ wide with an 18″ seatback and a measurement of 26″ from seat back to canopy. An adjustable, 5-point harness with an easy-to-do buckle keeps your little one safe in the seats and the adjustable leg rests keep their little legs comfy. The seats have independent reclines that recline almost flat making the stroller suitable for newborns. The "infant support system" in the seat also was designed for use with newborns with a infant headrest and mesh foot barrier that folds into a pocket under the seat when not in use.
We also love that the seat fabric is all removable for cleaning.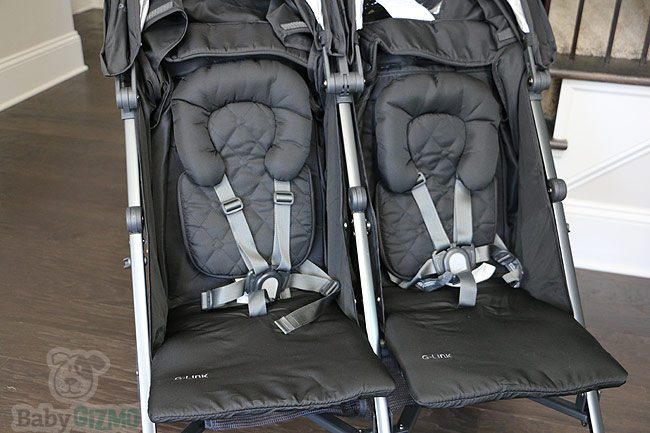 STORAGE
While most umbrella strollers seriously lack on the storage department to accommodate a compact fold, we were impressed with the size of the basket on the G-Link. Now, it is nowhere the size of the giant UPPAbaby Vista basket but we were able to get a large diaper bag down there and in our video we show you how. There is also a cup holder included and small pockets on the back of the canopies for small items such as a wallet, smart phone and/or set of keys.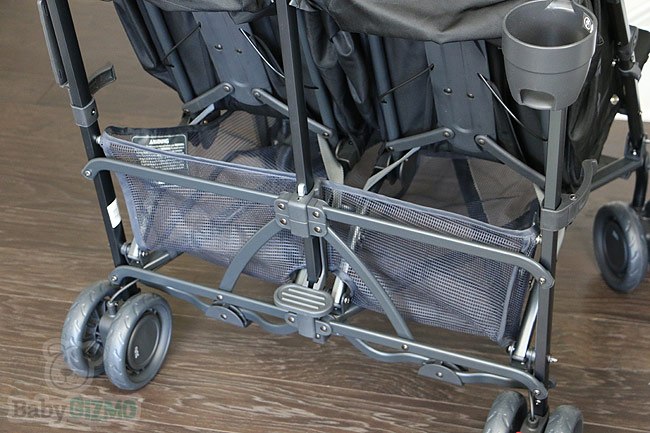 CANOPIES
There are two LARGE, independent canopies on the G-Link. Each canopy is SPF 50+, sports a very big pop-out sun visor and has a peek-a-boo window with a cover with Velcro closure.
HANDLES
The G-Link ergonomic handles aren't adjustable but they are taller at 41″ from ground to handles.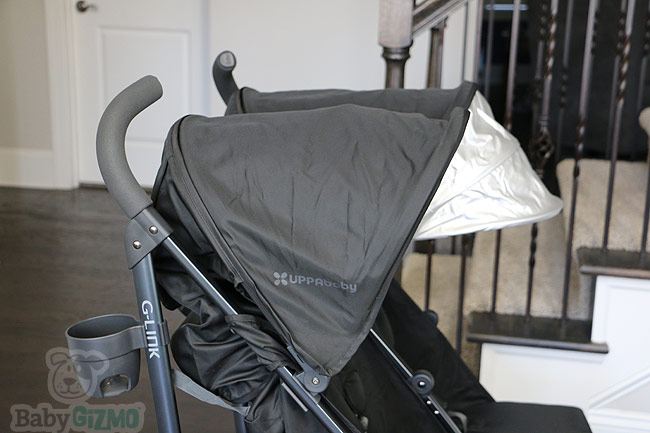 WHEELS
The UPPAbaby G-Link rolls on four sets of 6″ (actually 5.75″) double, hard rubber wheels. One of our favorite features of the G-Link is the fact that UPPAbaby decided NOT to include a 5th and 6th set of wheels. We have found that on other double umbrella strollers with extra wheels in the center, they get in the way of our walking stride. Not on the G-Link. They left the back middle of the frame open (without wheels!) which actually seems to give it better maneuverability and we don't kick the wheels!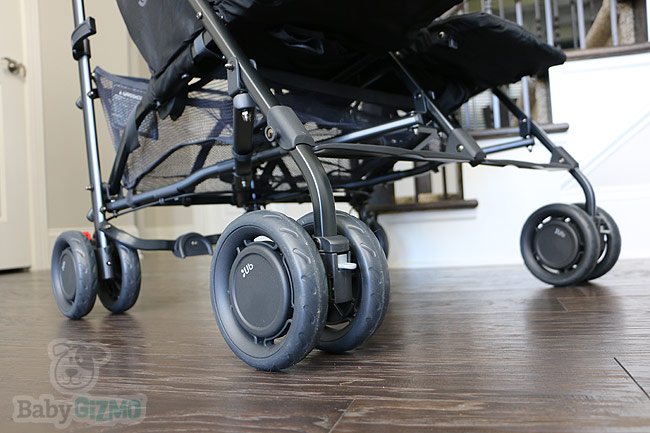 FOLD/UNFOLD
The stroller folds easily and you don't even need any foot action with the fold. There is a gray button and handle between the handlebars that you push, pull and then squeeze the stroller together to fold. Watch our video to see that in action. We love that it has two auto locks, ends in a standing fold, and weighing in at 25 lbs, it's definitely doable. Unfolding the stroller is as simple as unlocking both locks and stepping down on a back pedal to open it up.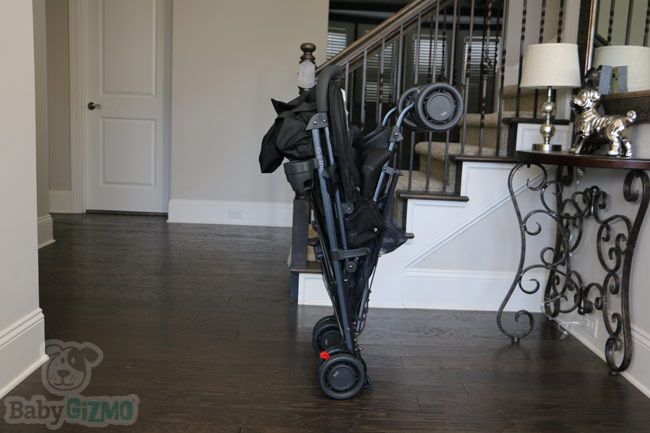 WRAP-UP
The G-Link doesn't accept infant car seats so it isn't a travel system but there are a few accessories sold separately for it. You can purchase additional cup holders, a rain shield, a foot muff (Ganoosh) and a TravelSafe Travel Bag. We really like how the UPPAbaby G-Link turned out. It is easy to push, easy to fold, has large canopies, roomy seats and tall handles. The stroller retails for $499-$529 (depending on the color) and is available now.
SHOP for the UPPAbaby G-Link on Amazon.com.