I love a vacation. Who doesn't? Vacationing with little ones is so different than vacationing before they came along though. It changes everything. Today I want to talk about vacationing with your littles. How to save, how to plan, how to choose your destination, what to pack, and how to survive!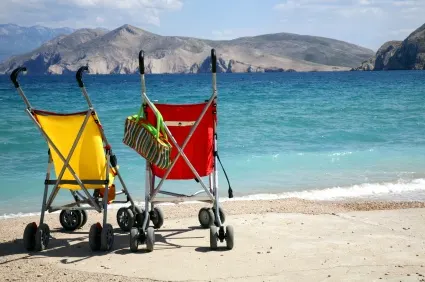 Saving for a vacation-
Saving is always the hardest part. Try setting aside a certain amount of money every month. Instead of getting your daily coffee, put that $5 in your vacation fund. Cut back where you can. Get a big empty jug and start saving all your loose change. Sell your old clothes or unwanted items on ebay or craigslist. Set a goal and give yourself plenty of time to reach it!
How to choose a destination-
When your littles are coming along, the destination may be different than it would if they weren't. With kids your destination might be Disney World, Universal, Hawaii- something more kid friendly. I don't know about you, but in all honesty, that's fine by me! I come from a Disney loving family and we choose Disney World for every vacation we take. When you choose a destination, have each family member contribute destination possibilities. Have everyone make a list of their top three choices so there are plenty of choices to choose from. Let everyone vote on their favorite ideas. If an idea doesn't get chosen, why not have that be your next destination?
How to plan-
Planning is half the fun! I can't express enough how much fun my family and I have had planning our vacations to Disney World. Where will we eat? Where will we stay? What theme parks will we do on what days? When will we swim? What airline should we take? I'm a huge planner and I love it. Get your kids involved in the planning. Ask them what specific things they would like to see and do on their trip- it's their vacation, too afterall!
It's always a good idea to head to the bookstore to look at travel books, too. You can also head to the library or AAA for these resources. Get online and read travel reviews. Check out Trip Advisor. Get your hands on as much information on your destination as you can! It will make planning your trip so much easier, and when you plan- you set yourself up for a successful, amazing trip!
What to pack-
Make sure you pack accordingly. You'll need outfits for each day, enough shoes, socks, and undergarments. Don't forget swim suits, sunscreen, cell phones and chargers, all hair and makeup products, favorite books and toys. The list could go on and on and on. I suggest making your packing list far in advance and adding to it everytime you think of something so you nothing gets left at home!
How to survive-
While vacationing with little ones can be stressful, it shouldn't be. I hope at least that the fun will outweigh the stress. Make sure you plan for naptimes. Give your kids a break whenever they need them. Pack snacks along. Do fun things that the whole family will enjoy. Take lots of photos. Soak up all the memories. This is the trip you've been saving for and planning for and packing for! Make the most of it!!