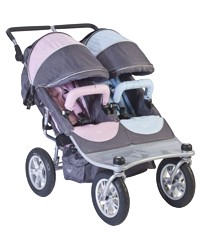 We remember the first time we saw the boy/girl Valco Baby Tri Mode Twin in the gossip magazines!  It was 2005.  It was US Weekly!  The exclusive, side-by-side, blue and pink, double stroller had us wanting a set of boy/girl twins!  There were only a limited quantity of these fabulous strollers so seeing one on the street was unusual. 
Now 6 years later, Valco Baby has announced its newest incarnation of the popular "Boy Meets Girl" Tri Mode EX Twin stroller!  It combines all the functionality of the company's flagship Tri Mode EX Twin in an updated pink and blue package created for today's design-minded parents. The 2011 "Boy Meets Girl" Tri Mode EX Twin is a subtle take on the original side by side pink and blue.  
Valco Baby's new edition offers pink and blue fabric lining against grey fabric on the stroller's seat and canopy extension. In its tradition of marrying style and substance, Valco Baby combines the updated styling of the "Boy Meets Girl" double stroller with all the features that have made the Tri Mode EX Twin a favorite of parents. The "Boy Meets Girl" Tri Mode EX Twin is scheduled to arrive in early March and comes fully accessorized with pink and blue foot muffs, rain cover, tire pump and Valco Baby's Universal Cup Holder. The limited edition Valco stroller retails for $799.99 and can be pre-ordered now at the following "Boy Meets Girl" exclusive retailers. 
They are taking pre-orders on the new Valco Baby "Boy Meets Girl" Tri Mode EX Twin here.
If you want an inside look at the Valco Baby Tri Mode EX Twin, check out our full review (with video, of course!) here.