Valco Baby Trimode Duo X Double Stroller Review
Valco Baby has been quiet for a while but it's not that they haven't been working. On the contrary, they have been working hard on finalizing and perfecting some great baby products that are launching soon and the Trimode Duo X is just the beginning!
The new Valco Baby Trimode Duo X is an upgraded version of the very popular Trimode stroller that we've loved for years. Now it's even better. With larger canopies, upgraded, Tailormade fabrics, a slimmer profile, and an easier (more compact!) fold, this is a double stroller that you need to take notice of.
SEAT
The seats accommodate up to 45 lbs each and measure 12″ wide, with 18″ seat backs and a 26″ measurement from back of seat to top of canopy. The fabric of the seats is upgraded which gives it a softer feel than the previous version. There is a removable, infant headrest, adjustable, padded, 5-point harness and an individual, removable baby bumper bar in each seat. The harness features a new, easier-to-do buckle. We liked the old buckle better. There – I said it. The harder-to-do buckle was better for keeping Houdini kids from escaping. 🙂
There are also new, individual, adjusting footrests that have three positions.
The seats have individual, deep reclines that are easy to do with a one-handed strap-like system. We love that when the seat is reclined, you can lift up the back fabric to expose a full mesh window to allow air to circulate through the seat.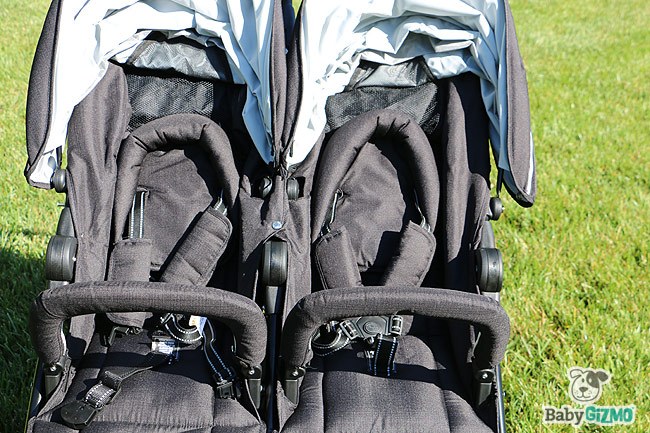 STORAGE
The size of a basket matters on a double stroller. When you are schlepping two kids around, they travel with a bunch of stuff so having a big basket is key. The Duo X doesn't disappoint in the basket size category. We can fit two huge Ju-Ju-Be diaper bags in the basket with no problem and there are mesh side pockets to contain loose baby essentials.
On the back of the seats, there are two small pockets for storage as well.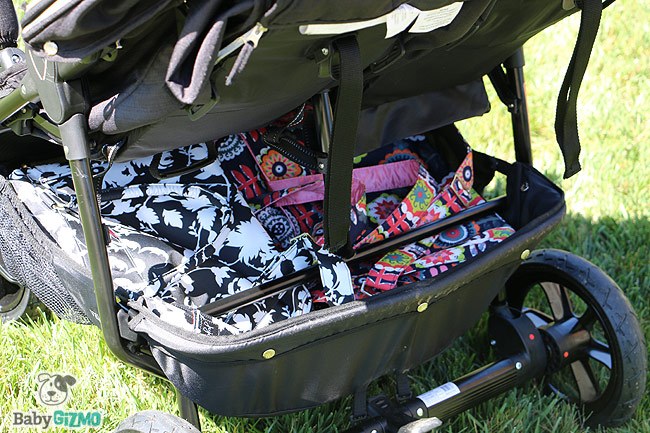 CANOPIES & HANDLEBAR
The stroller sports individual canopies that are HUGE! As in FOUR-PANEL-HUGE! When you don't need all that glorious sun protection, two of the panels zip into the canopy for a great, streamlined look. If you are looking for full coverage, Valco has you covered! Unzip the new additional panels and you basically have paparazzi shields that fold ALL THE WAY TO THE BABY BUMPER BAR! It doesn't get bigger than that, people!
The handlebar is foam covered and adjusts from 30″ from ground to handle to 42″ so it is great for shorter and taller parents.
WHEELS AND BRAKE
The Valco Baby Trimode Duo X rolls on four 12″, air-filled tires. Valco, you must have forgotten the tire pump in my box though. I'm kidding. It doesn't come with it. Next time, Valco, please include the tire pump to make parents' lives easier. 🙂 Moving on…
The wheels on the stroller are robust, quality wheels that handle all-terrain really well and help give the stroller great maneuverability. There is a one step, flip flop friendly brake that locks the stroller into place.
FOLD AND UNFOLD
One of the biggest changes on the Trimode is the new fold. The big, cumbersome clamps are gone and an easier (more compact!) fold is here! All you have to do is lift two levers and it folds into a book fold and the fabric folds in to keep it clean. We love the auto lock that locks the stroller for transport.
The Duo X is a workhorse, double stroller so weight is going to come along with all that quality. The Duo X weighs in around 34 lbs which is standard for a full-size, all-terrain, double stroller.
Unfolding the stroller is easy-peasy. Unlock the auto lock, lift up on the handle bar and give it a shake until it locks open. Watch our Baby Gizmo review for a full tutorial.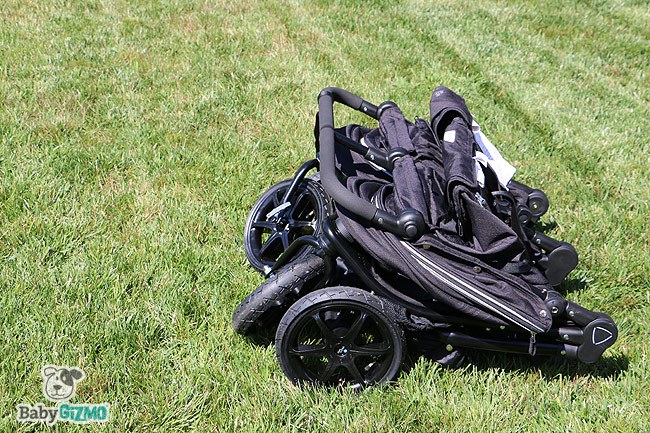 WRAP-UP
The Valco Baby Trimode Duo X has a bunch of accessories sold separately such as car seat adapters to turn it into a travel system (only one seat at a time on this baby), a toddler seat that turns it into a triple, cup holders, bassinet, footmuff, storm cover and more. The stroller retails for $800 and is available now.
BUY THE VALCO BABY TRIMODE DUO X on Amazon.com