As soon as the Christmas decor leaves the stores – POP! – it's all Valentine's Day. For all of January and into February every time we walk into Target it's hearts and love, cupids and romance, red and pink and lace. Gushy valentines, sweet valentines and all sorts of romantic gifts for the one you hold dearest.
For some, Valentine's Day brings a smile to their face. When you're in love, you're IN LOVE and everything that reminds you have that fluttering feeling is a win. For others though, the idea of romance brings about sad grimace.
I'd venture to say that the popularity of Valentine's Day is about a 50/50 with family and friends in my life. Some love it, some hate it. And so, this year, I'm hoping to morph Valentine's Day a little.
Rather than focus on romantic love when discussing Valentine's Day with my kids I want to focus on regular ol' love. The kind that leads us to show kindness and compassion, to find those who are hurting and give them a reason to smile.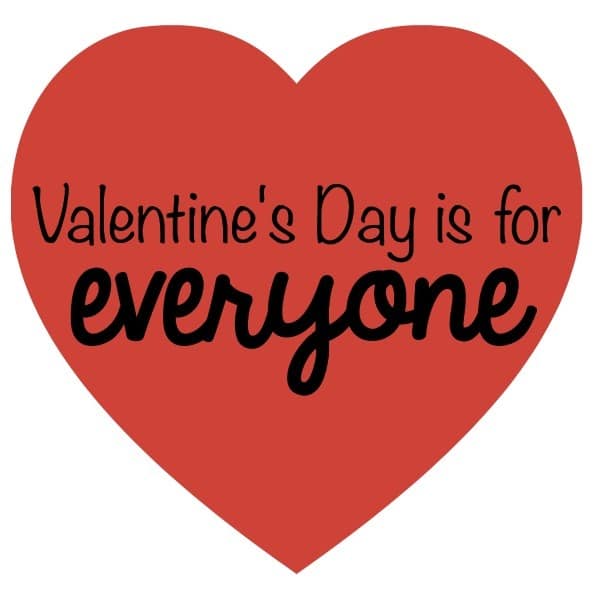 So, pause for a moment, and think. Who in your life isn't lovin' Valentine's Day this year?
Have someone in mind? Great! Me too! Actually, I've got 3 people who stand out …
In our close circle, we've got someone who has recently endured a break-up and is single, someone who is recently divorced and someone who is recently widowed. Each of them is hurting, each of them feels alone, and most of all, each of them is a prime candidate for a dose of extra attention!
Here's a few ideas to show the love this Valentine's Day – because, after all, Valentine's Day is for everyone – no matter their romance status!
Have you kids draw a special picture and mail it off in time to arrive on Valentine's Day
Deliver coffee or a special beverage
Plan a girl's night out for Saturday the 14th – pedicures, drinks and a movie!
Schedule a surprise massage
Order a personalized piece of jewelry or extra sparkle
Hand deliver flowers – Trader Joe's has the best (and cheapest) bouquets
Invite your special someone over for pizza and a movie – we love the heart pizzas from Papa Murphy's
Simply say, "I care about you and I'm here for you"
Do you have someone in your life who could use a pick me up this Valentine's Day? Get it on your to do list to take care of them this year!