Visit: Washed Ashore at the National Zoo
If you live in the metro-Washington, D.C. area or will be visiting between now and September 5, 2016, make time to check out Washed Ashore exhibit at the Smithsonian National Zoological Park and Conservation Biology Institute (otherwise known as the National Zoo). If you haven't heard of Washed Ashore, it's a travelling exhibit featuring sculptures of sea life made entirely of trash recovered from the ocean and other waterways by volunteers. Angela Haseltine Pozzi is the Artistic and Executive Director of the non-profit Washed Ashore and she works with volunteers of all ages who assemble the sculptures under her guidance.

This is the most guilt-inducing art exhibit I have ever seen! The sculptures are beautiful, life-like, stunning, and detailed. And it should not be possible to have sculptures that are all those things while being made from stuff we throw away—improperly, at that. Each time I or my daughter marveled over a detail during our visit ("Look—a Croc!" "Momma, there's a tennis ball!" "Can you find the shovel? The sign says there's a shovel." "The fish has plastic corn in its mouth!"), my heart sank a little bit. All I could do was wonder was why in the world that particular item was lying on a beach somewhere for collection in the first place.
Huh. I'm not really making this sound all that appealing am I? Let me try again. The National Zoo has 17 sculptures on display. Ten of them are on the Olmsted Walk, which is the Zoo's main path. Those are the ones my daughter and I looked for on our first visit to the exhibit; we'll hunt for the ones we didn't find during our next trip to the zoo. Each piece has a sign identifying the sculpture, detailing facts about the creature portrayed and how pollution affects it, and providing a little "search and find" checklist on the bottom. The Zoo had a sign next to each sculpture with information about the piece's sponsor and sharing ways that the Smithsonian's scientists are working to save sea life.

Listening to other people as they examined the sculptures, I heard that people were amazed at the variety of materials used to make each creature. It really is remarkable how one person's vision turns this trash into something beautiful—and in repurposing the garbage, it's removed from the environment and made useful again! I made sure to remind my daughter that all of the pieces were saw were trash that someone cleaned up from the ocean. I reminded her that that's where we go camping during the summer and where she like to make sandcastles. I also pointed out that Nemo and his friends live in the ocean, and fish and animals like the ones in the aquarium we visit do, too. (And the Nemo thing? I know, I know, but context is important, folks. The kid makes and eats gumbo because Princess Tiana does. It works for us.) I wanted her to appreciate the beauty and interest of each piece, but also to remind her of why it exists.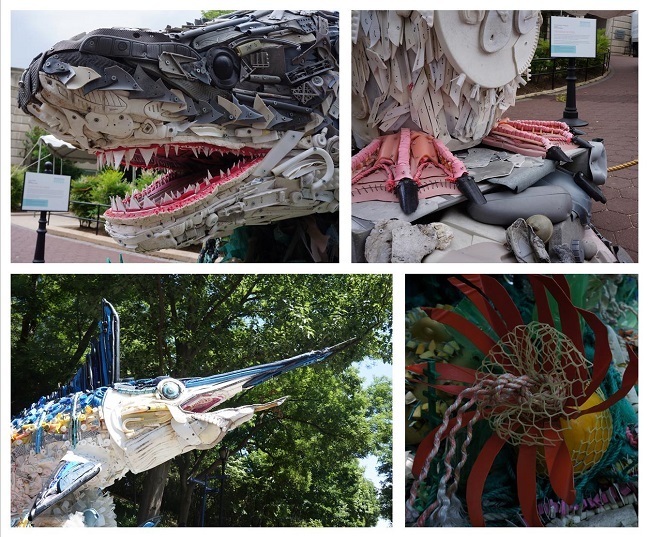 If you're not going to be in the D.C. area in time to see Washed Ashore, you can check it out at The Georgia Aquarium in Atlanta, GA until September 25, 2016, or at the on-going exhibit at the Harbortown Events Center in Bandon, OR. And if you're can't make it to a current exhibition, keep an eye on Washed Ashore's exhibit page for upcoming exhibit locations. In the meantime, check out photos of the sculptures online. And be sure to properly recycle your recyclables and dispose of your trash. If you're out in nature, remember: leave no trace!