Walmart Grocery Pick Up Is Every Parents Dream Come True
My mama dreams have come true in a big way recently.
Someone will grocery shop for me. For free.
Oh yes, you heard me right! Walmart Grocery Pick Up is the real deal and I'm here to sing all sorts of praises over this amazing service available to parents everywhere!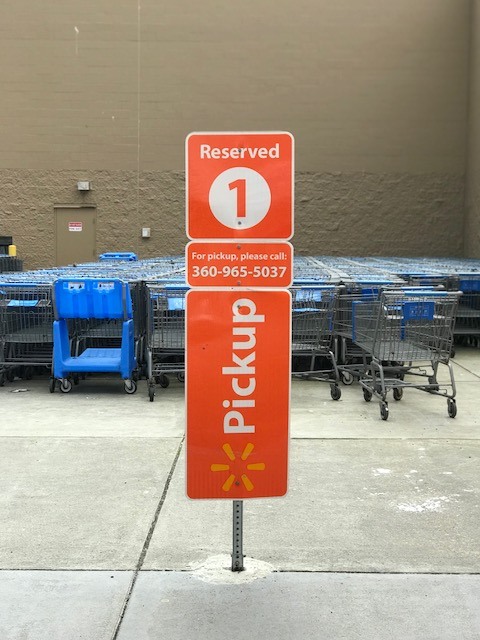 Here's how it works …
Go to Walmart.com or download the Walmart Grocery app.
Search the items on your shopping list and add them to your virtual cart.
Choose a pickup location and time.
Drive to Walmart and park in the reserved Pick Up spots.
Call the phone number on the sign to tell them you've arrived.
Wait mere minutes and a friendly Walmart employee will load your car with everything you ordered.
It sounds too simple, doesn't it? Well, it is simple AND ALL SORTS OF AMAZING. Honestly, why did it take so many years for this system to be invented? I. Will. Never. Know.
No longer do I have to haul all my kiddos through the store. No longer do I have to worry about my son knocking down a bazillion apples or trying to rip open boxes of cereal while we shop. No longer do I have to attempt to fit both kids and groceries in my shopping cart. No longer do I have to wake up the baby from their much needed car nap. No longer do I have to run in the rain with kids and groceries in tow.
Oh Walmart, you really do know how to make parents lives easier.
Now, a couple things to take note of when it comes to Walmart Grocery Pick Up. First, there is a minimum of a $30 purchase with each order. This applied to me the first two times, but now my account is showing no minimum so I guess they waive that for frequent shoppers! Second, when you checkout of the app, you have the choice to allow substitutions or not get an item if something you chose is out of stock. This can be both good and bad. Good in the fact that if you order regular crackers and those are out, you might get the organic version. Bad in the fact that if you needed a particular item for dinner tonight and it's out and you didn't OK a substitution (because something can't be substituted), you're out of luck.
But all that? Tiny beans when it comes to the ease of Walmart Grocery Pick Up. It's truly a blessing that has made my mama life 10x simpler. Just today, I used the app to place my order while I rocked my littlest to sleep at nap time. I schedule pick up at the Walmart my husband passes on his way home. He loved not having to run into the store (because let's face, it's daunting to pop into the store for your spouse's few specific requests) and I loved having my groceries almost magically appear on my countertop.
Thank you Walmart, you're the best!