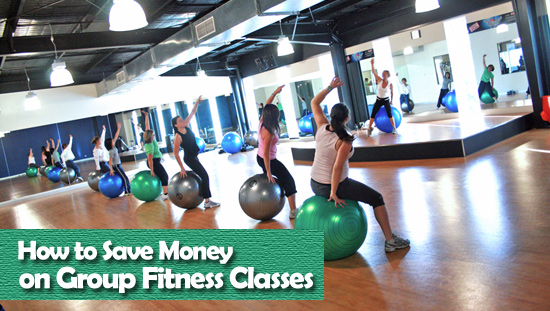 Group fitness classes are a great way to stay motivated and to meet other moms. Sure, working out at home or outdoors is free, but sometimes you just need that extra push to get off the couch. Plus, the instructors can correct your form and offer modifications if you're pregnant or have an injury, so you'll likely get a more effective and safer workout.
The downside? Fitness classes can be pricey. Because smaller fitness studios offer intimate workout settings and highly trained instructors —and equipment is often included—the costs are generally pretty steep. Luckily, there are ways to save money on fitness classes. Here are 10 of them:
1. Join daily deal sites. Many yoga, pilates, barre, spin, and other fitness studios offer package discounts on daily deal sites like Groupon, Living Social, and Amazon Local. You could get a 5- or 10-class package or a 2-week unlimited membership, for example, at a deep discount. These deals are a great way to try out new fitness studios without breaking the bank.
2. Follow your favorite fitness studios on social media. Studios will often post sales and specials on their Facebook or Twitter pages. So if you like a particular studio, be sure to follow all of its social media accounts. My favorite local barre studio just posted a special on Facebook that allowed me to buy 12 classes for $122. That comes out to roughly $10.17 a class—nearly half the regular rate of $20 per class. Score!
3. Try a class for free. Though they don't always advertise it, many studios will allow potential new clients to take a free trial class. Just call them and ask!
4. Tag along with a friend. Fitness studios will sometimes allow existing members to take a friend to class for free. So if your pal is always raving about her yoga class, tell her to keep her ears out for "Bring A Friend" days.
5. Ask about special packages. Many fitness studios offer new-client specials, which give you a month of unlimited classes for a discounted price. Some studios also offer special package rates for women at certain life stages, such as specials for new mommies and for brides-to-be.
6. Never buy single classes. Once you find a fitness studio you like and you decide to keep going, purchase as many classes at a time as you can. Single classes are always the most expensive, and classes get cheaper the more you buy. At my local Pure Barre in Redondo Beach, California, single classes are currently $24, a 10-class package is $200 ($20 per class), a 20-class package is $360 ($18 per class), and a 40-class package is $600 ($15 per class). Just be sure to pay attention to expiration dates: While Pure Barre classes are good for a year after purchase, some studios' classes have faster expiration dates. You don't want to purchase more classes than you can get to in the required time frame!
7. Consider a monthly-unlimited membership. Fitness studios typically offer monthly-unlimited memberships as an alternative to class packages. These memberships can be cheaper than class packages if you visit often enough. To figure out whether a monthly-unlimited membership would be worth it for you, take some time to assess your schedule to determine how many classes you can likely attend per week. If you're pretty certain you can attend at least two or three classes per week, you'll then need to do the math to calculate whether the monthly membership fee would be cheaper than paying for a class package. For example, let's say I can likely attend 10 classes per month at my favorite barre studio. The 10-class package costs $180, or $18 per class. One month unlimited costs $175, or $17.50 per class. Buying the month unlimited would therefore be slightly cheaper for me if I'm pretty sure I can count on my schedule staying the same. But with young children, life can be unpredictable. If my kids get sick or my husband has to work late and I miss a few classes, my per-class rate would shoot up significantly with a monthly membership. Therefore, I usually find it safer to wait for specials on class packages.
8. Sign up for automatic payments. If you're planning to attend a fitness studio for more than a month and decide a monthly-unlimited membership is right for you, consider signing up for automatic payments. Studios typically offer a lower monthly rate when you pay automatically, but you generally need to make at least a three-month commitment. The same monthly-unlimited membership that costs $175 per month at my favorite barre studio costs $150 per month with autopay when you make a three-month commitment. That's a savings of $75 over three months!
9. Make sure a studio's schedule meshes with yours. Group fitness classes are costly enough without having to pay a sitter while you go. So, before you purchase classes at a particular studio, check its schedule online and make sure the classes you want to take are available when your child is in preschool, on your lunch break if you work, after your spouse gets home from work, etc.
10. Consider joining a gym with child care. If your child is not yet in school and you can't work out in the evenings, consider joining a gym that offers on-site child care (most smaller studios don't offer this service.) You'll usually have to pay a small extra monthly fee for the service, but if you go often enough, it's much cheaper than paying a babysitter each time. Click here for a list of some nationwide fitness chains that offer child care.