Mothering is, by nature, a very selfless position. I mean, who else will willingly catch your puke or cheer for your mastering the use of the toilet? Because we are so selfless 90% of the time, we deserve a little somethin' somethin' as thanks for keeping the kids alive. Mother's Day is coming up and here's our chance to get spoiled. But keeping in the nature of being a mother, I've learned to expect gifts on this day to be of the kind where you put on an exaggerated smile to make a big deal over a pot that holds a weed or an oversized, painted shirt you'd never wear out in public. As we head into this next Mother's Day, it's important to set your expectations appropriately for what gifts you'll receive, so you can get that overly happy smile prepared: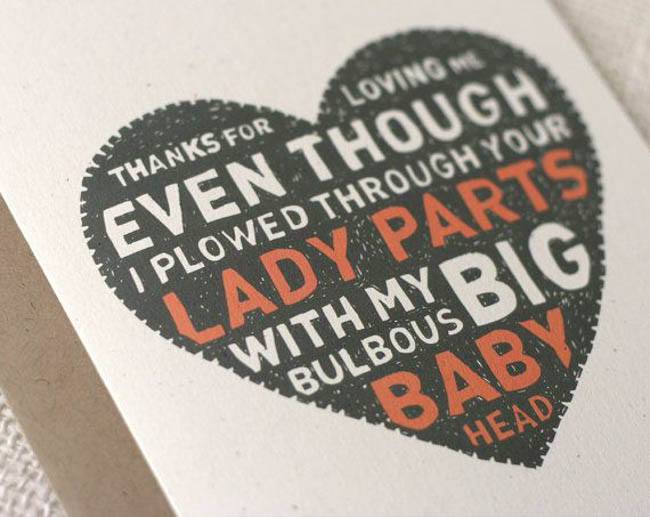 What you really want is to be pampered with a relaxing mani/pedi and deep tissue massage at a nice spa. Instead, your 4 year old will paint your nails. Well, she'll paint mostly the skin around them, and it will be hot pink, then yellow, then black, then orange with glitter. And your massage will be the hubs giving a one-minute shoulder rub that's dripping with the anticipation it will lead to sex.
You want to sleep in late. Instead, you'll get maybe five extra minutes and then the toddler will run in, having taken advantage of the one moment dad is distracted, and she'll jump all over your bed. And your ankles.
You want breakfast in bed, after you get to sleep in. It'd be yummy and quiet and it'll allow you to start the day refreshed. Instead, you might get that breakfast in bed, but it will most likely spill or be cold, and will definitely be delivered earlier than expected. Because reality is never as good as what happens in the movies.
You want that new bag you've been eyeing, or really anything off your Amazon wish list. Instead, you'll get a homemade mug with thick layers of paint on it that will chip off anytime you touch it. This will remind you it won't be dishwasher safe.
You want dinner to be made by someone else. Instead, you will probably end up making the meal, or at least helping to make the second option, or the third, because each kid wants something else.
You want a romantic gesture from your man. Instead, he'll get you sex dice that make you question who they are REALLY for.
You wouldn't mind getting a gift card to your favorite restaurant and a babysitter while you get to have a girl's night out. Instead, you will probably have to take the kids along, pay for the food while most of it ends up on the floor, and the "girls" will not be your friends, but instead are the strangers staring at you from the next booth over.
You want something fun and frivolous; something you'd feel too guilty spending money on yourself but it'd be awesome to receive as a gift. Instead, you'll get something that is practical or has a utility purpose, but has no thoughtfulness. Like a vacuum, or new pots and pans when you hate to cook.
You want a clean house. Instead, you'll find new messes all over with your name on it. Because happy kids are the ones who get to play and explore their world, right?
Most of the Mother's Day gifts we get through the years, while maybe are not what we were hoping for or could really use, are the ones we will look back on and cherish when our kids are long grown and we are missing this crazy stage of life. When we're old, we won't be sitting in our rocking chair, hugging a pedicure or staring at a gift card. Our hands and hearts will be full with the memories and mementos our little family thought would be perfect for us. So this Mother's Day, when you're wishing you could've gotten a girls weekend vacation or the chance to go pee by yourself, and instead are holding a coupon book for chores your kids should already be doing anyways, be encouraged that this is part of what motherhood is really about. And those gifts are actually pretty fantastic.