What We're Doing For Screen Free Week
Screen-Free Week (formerly TV Turn-Off) is an annual celebration where children, families, schools, and communities turn off screens and turn on life. Instead of relying on screens for entertainment, participants read, daydream, explore, enjoy nature, and enjoy spending time with family and friends. source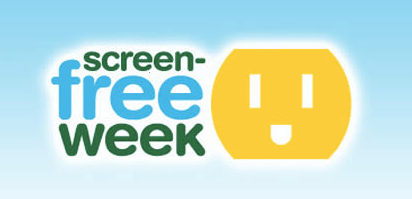 Spearheaded by The Campaign for a Commercial-Free Childhood, Screen-Free Week is a collaboration between parents, teachers, and other individuals who interact with children on a daily basis. With focused effort on redirecting screen time (an average of 32 hours/week for most preschoolers!), we're all hoping to enrich our lives beyond the screens that so often consume our lives.
I'll be the first to admit that I'm a screen girl. I truly believe Screen-Free Week – April 29th-May 5th this year – will be as much for me as it will be for my family. Of course, I'll still be logging in for work, but my time will be very focused – no Facebook wandering and a pause on all my Pinterest dreams. Oh, and my phone will be strictly for phone calls, kind of like it was in my pre-iPhone days.
With the munchkins, I've got a few fun things up my sleeve. We're going to try some new adventures and who knows, perhaps we'll find some new favorite activities! To kick off the week, we're going to have a toddler style ceremony. During our ceremony we'll put a blanket over the TV so it can go to sleep for awhile. Brilliant, I know. I'm all over how little ones comprehend things lately 🙂
Then, for the fun, first on my list is a painting project. Nothing fancy, but my daughter is 2 1/2 and I've yet to let her explore with paint! So, we'll be donning smocks and getting dirty. Or in her case, very purple! We're going to try out a new library story time and explore a park near our new neighborhood and I'm even thinking we'll trek north a bit and visit the Children's Museum in the city up the road. Other than that, it will be a pretty normal week for us – we'll do chores together, cook some favorite meals, and build a fort or two. I'm thinking I'll bust out a new CD to soundtrack our screen-free to – most likely Raffi, because if he doesn't make us want to turn off the television, I don't know what will 🙂
Keep posted on Scree-Free Week details on the official website and Facebook page!