What You Need to Know About the New Box Tops for Education App
Have you heard? The Box Tops for Education Program is changing! The program is ending its current program of clipping labels, then sending them to school, where someone audits them to make sure they're not expired (and that they're actually Box Tops labels), then sending them to Box Tops where they're redeemed for 10 cents each for your school. Whew. Now how will your school earn money? There's an app for that! Download the new Box Tops for Education app on your phone and just scan your receipt. The app will find all the eligible products on your receipt and credit your school for them.
So, here are the old box tops (which are still being accepted):
And here are the new box tops, reminding you to scan your receipt using the Box Tops for Education app: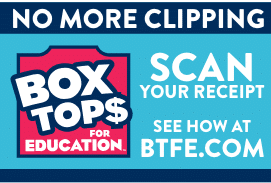 To get the app, go to your device's app store, search for the Box Tops for Education app, and download it. To get started, you can choose to sign up with an app-specific email/password combo or use Facebook or Google. You'll have a chance to review the privacy policy, terms, and official rules, and then you'll go on a quick tour of the app. The home page shows you how much your school has earned for the year so far, as well as what your lifetime earnings are (fabulous for the competitive among us!). It also lists products and deals that have bonus box tops offers. The receipt scan button is easy to find and next to it is the button to go to the products listing so you'll always know exactly which products will earn box tops.
What's not to love? Well, for one, you only have 14 days from the date of purchase to scan your receipt before your "box tops" expire. My daughter's school used to have a school-wide contest to see who could bring in the most box tops, with a class and grade-level winner. People would hang on to their box tops for months to bring them in for the contest. So not only is the redemption time way shorter (it used to be months), community-building events like those contests are a thing of the past now. UPDATE 9/13/19: A new update to the app now allows you assign your earnings to a particular classroom, so it looks like friendly competitions could be back on the table!
You know how else the community is likely to be impacted by this change? A decrease in non-school community participation in the program. There are several little old church ladies who love to save their box tops and give them to the kids at church. I'm sure there are other community members who do the same, and chances are that these folks—particularly non-smart-phone-users—are likely to lose this connection to their local school communities with the new program.
Local PTOs lose out on the chance to connect with potential volunteers, as well. While being the Box Tops Person was viewed as a thankless job (there are memes), it was one of the jobs that could be done at home, and which required a relatively low time commitment from parents who wanted to help support their child's school. Anything that takes away a chance for schools and parents to connect, even in a small way, is a negative in my book.
And while we're on the subject of connection, this new app may offer a bit too much of it between you as the box top collector and General Mills as the app developer. While the three issues above bothered me, this was my biggest concern: privacy. If I'm scanning my receipts, am I giving General Mills access to everything I just bought? Yes, I am. And they tell you so right up front in their privacy policy. Participants in their programs directly provide "information, including (but not limited to)" the following: name, email address, postal address, username or password, phone number, age or birthdate, gender, demographic information, credit card or other payment information, marital status and number of children, contact information of family members or others, purchasing information and behaviors (for example, by using the Box Tops for Education App to scan your grocery receipt to us), other information about you, your family, your school, or others (such as interests or product preferences), other information you affirmatively allow a third-party service (such as Facebook) to provide to us". That's a lot of information for 10 cents, and I didn't even get into the fine print. It's going to make some people—like me and my family—think twice before we participate in the new Box Tops for Education program.