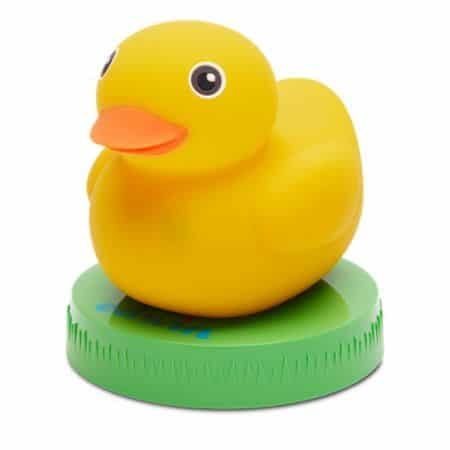 Do not be fooled. Edwin may look like your average, regular rubber duck, but oh no, he is so much more. At $99.99, my first question as: what is so special about this duck?!
I'm not even going to walk you in slowly: let's just jump right in instead. Here are some of the many hats (or feathers) Edwin wears.
He is fully waterproof- throw him in the tub, drown him, he'll pop right back up!
He is rechargeable. Why is that important you may ask?
He connects to your iPad or phone and your child can use him to play games, listen to songs and stories, without even touching the screen.This is great for practising hand, eye coordination of little ones!
He works as bluetooth speaker, so, for example, your child can listen to songs and stories in the bathtub to keep them busy, or you can put on white noise to help your little one sleep.
He works as a thermometer for your child's bath.
He is a nightlight. Oh yes, your little one can take this duck to bed and feel comforted.
And what about smaller kids? Let them throw him around or even suck on Edwin, as the website describes him as extremely durable and made of BPA-free soft silicone.
Are you as shocked as I was? As soon as we opened the box, my 5 and 3 year old thought he was the cutest thing. Add to that his little heart lighting up and his "Quacks!" and it was love.
You can use bluetooth to pair as many devices as you wish to little Edwin, but only one works at a time.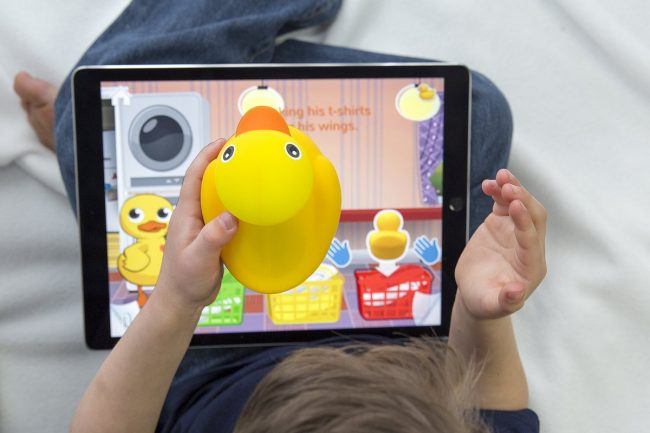 There are currently three Edwin apps: Edwin the Duck, Edwin's Sleepy Time and Edwin's Bath Time. The makers are constantly updating and improving the apps.
The kids love using Edwin to play games, taking him into the tub, and especially the nightlight. He is soft and comforting to them with his friendly face and light-up heart.  Keep in mind he's not as light weight as a normal rubber duck given that he has a speaker fitted inside him, but he is still very easy and fun for kids to play with.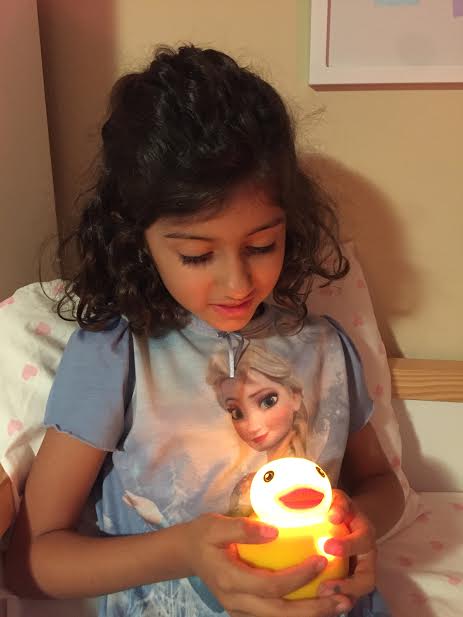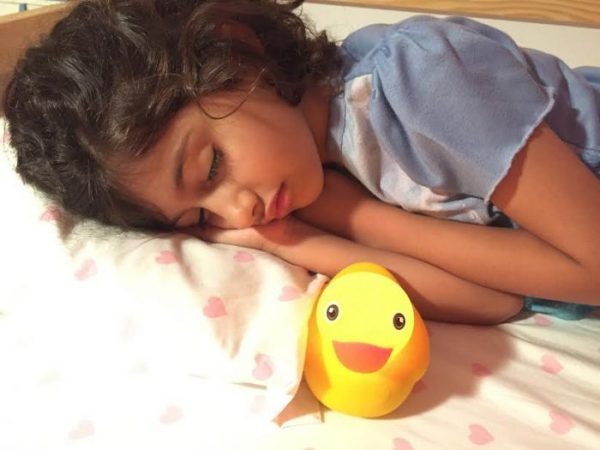 As the parent, my favorite features are the thermometer, bluetooth speaker and nightlight. The bluetooth speaker is so much fun (we even paired it to Netflix!) but keep in mind it is slightly muffled because the duck is completely covered in silicone. It's great to be able to link your iTunes or any audio books with Edwin so your child can listen to them as they bathe.
I am expecting baby number 3 soon, and I'm looking forward to having this with him from birth. We can pair Edwin with our phones and run white noise or lullabies to help baby sleep, and once baby boy starts teething, I will feel comfortable letting him gnaw on it. This is truly a toy/speaker/teether/thermometer/nightlight that grows over the years with your child. It would make a great new baby gift for a family!
BUY Edwin the Duck HERE
This post was sponsored by Target. As always, all thoughts, opinions and statements are our own.