I started cloth diapering my daughter at 7 months old, and given that she is now 26 months, I have a lot of different diaper brands in my collection. I wrote about my favorite brand, Bottombumpers, here. When I was pregnant with my son, the thought of diapering a newborn who pooped 100 times a day seemed daunting, so I bought a few variations- pockets, all-in-ones, prefolds and covers and wanted to see what worked best.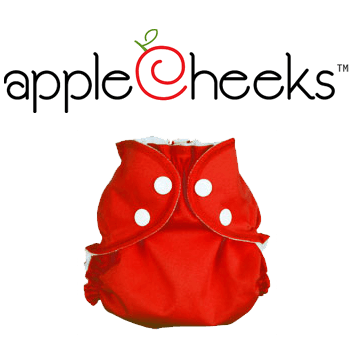 This has led me to find another brand that I truly love! Applecheeks is an envelope cover- a pocket diaper that is sold without any inserts. What this means (for anyone who is at the beginning stages like I was) is that the diaper has a waterproof colorful exterior, and the inside has a butter soft microfleece layer, that has a wide opening for you to stuff in some kind of prefold or soaker to absorb the pee/poop.
Again, if you are new to cloth diapering, you may be thinking- why the hassle of stuffing something into a diaper when you can buy an all-in-one? Well, pockets are great at absorbing the moisture away from your baby into the soaker, so the microfleece top layer feels dry and soft, which is very important, especially for a newborn. It means less tears and a more comfortable sleep.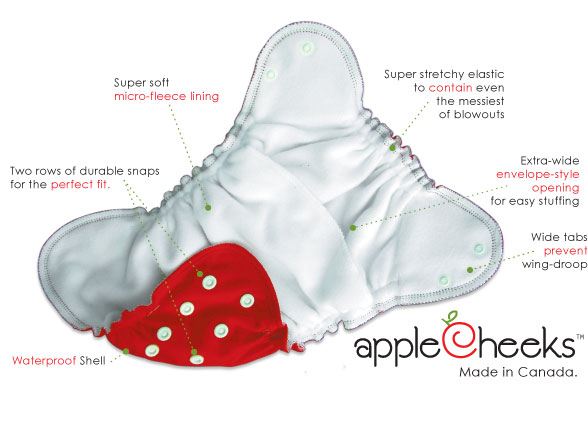 With an Applecheeks diaper you are able to use it as either a pocket by stuffing an insert inside, or as a cover by using your favorite fitted or prefold on your baby and then closing the Applecheeks over it.
Why do I love this diaper? My main reason is the fit- they come in two sizes: size one is for babies up to 20lbs, and size two fits babies of 18lbs to 40lbs. When diapering a newborn you generally have two options- a one size which ends up giving a more "puffier" butt, or a size small which your baby will quickly outgrow. I love that the size 1 goes up to roughly 20lbs and still fit so well.
When I put these on my kids, I know we won't have leaks because the elastic at the waist and legs is snug. I can also tailor the diaper for heavy wetting night-time use, or less wet daytime use. Next, the microfleece top layer really IS butter soft, and we love that against our children's delicate skin. And finally, unlike a pocket diaper (hence the name, envelope cover), you don't need to remove the insert before putting it in the wash, it will just come right out itself!
The covers retail for $19.00, come in a range of beautiful colors, and they look great on your baby. Applecheeks currently has 15,000 fans on Facebook, so go over and "like" them and see what all the fuss is about. I'm sure you won't regret it!