*This is a sponsored post by The Cheski Sock Company. Thanks for supporting Baby Gizmo.
There are so many "whys" that you'll ask yourself when you become a parent. Some have pretty simple answers and some just don't. One question you may ask yourself every time you are backtracking your steps in the mall for the lost sock, or digging around in the crib for where it went is, "Why can't they make baby socks that actually stay on?!"
When my kids were little, looking for lost socks was part of my daily routine. Those little buggers fell off (or more likely were pulled off!) everywhere we went. Whether we'd be shopping, babywearing or just hanging out at home, I'd look down, and more likely than not, the baby would only have one sock on. It's like the baby was mocking me when I turned around by pulling off one sock and tossing it. Or in other instances, there were no socks on the baby even though I knew I had just put a pair on her.
When I heard about the Cheski Sock Company and their baby socks that are designed to stay on, I knew we had to try them! The Cheski Baby Socks were designed not to be kicked off or slide off of baby feet. Seriously, where were these when my babies were little?!?
When our baby model tried them out, it's like we won the baby sock lottery! These socks actually do what they say – they stay on!! I do have to say that our model was a bit frustrated at first that she couldn't immediately pull the socks off, but that is what makes the socks so great!
The Cheski Socks have a knee sock design which are taller than many others to not only keep baby shins warm but also keep them up and over the calves so they stay put. The extra wide top elastic keeps the socks in place but we are happy that they don't squeeze the baby's legs. It's a perfect balance!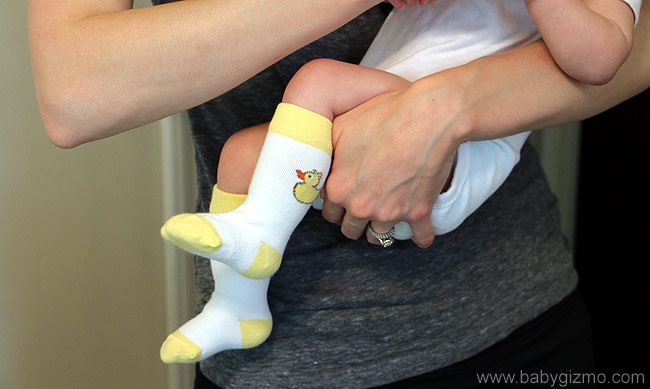 They are made of a cotton blend so we found them super soft for baby's skin and the extra room in the toes is great for natural shrinkage in the laundry and to prevent them from sliding.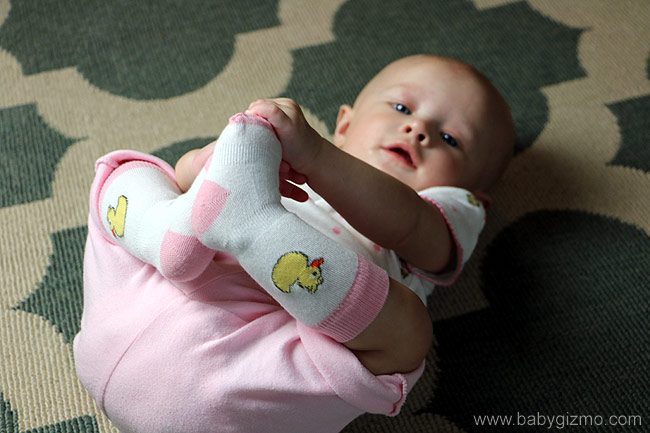 The Cheski Socks are designed for newborn to 6 months old and are available in five colors, two options with adorable ducks and our favorite option, the Navy Jolly Roger Knee Socks with skull and bones on it. If you are looking for baby socks that truly stay on, the Cheski Socks are it!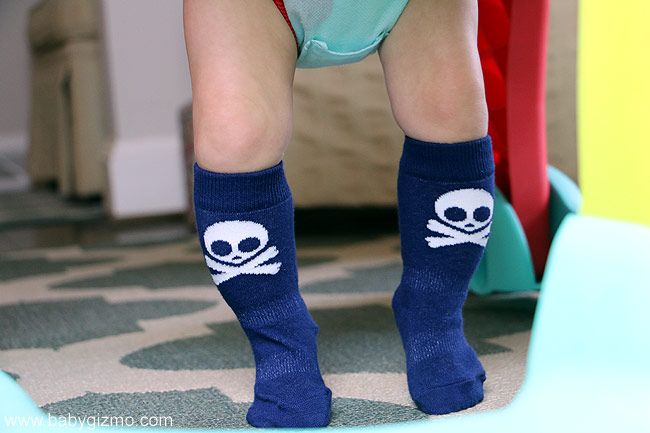 We love these socks so much that we are excited to let you know that we have an exclusive coupon code for our Baby Gizmo readers! You will get 20% off all orders on www.cheskisockcompany.com by using the code "GIZMO20". Happy Shopping!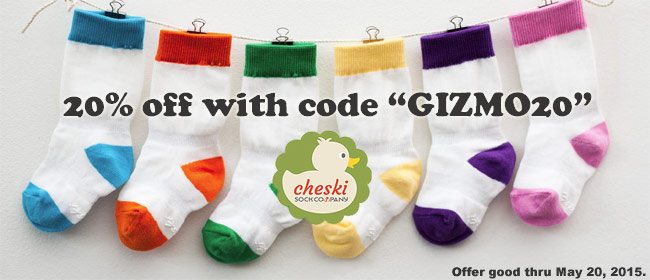 *Disclosure: This post was sponsored by Cheski Sock Company. As always, all thoughts, opinions and statements are our own. We would never tell you about products that we just didn't like.