The Bee's approaching 18 months and like most 1st time moms, I worry about his development more than I should. Being that he's exhibited slight delays (and that's of course my "expert" opinion) I wanted to make sure that we were doing whatever we could to help him "catch up." Especially in the speech department! So here are some things we're doing in our house that have been helping.
Book Time
I moved our book reading time from right before bed to during the day. My reasoning was, by the end of the day, he's tired and ready for bed, so books probably don't hold much of an educational interest. I've gotten a more positive response towards books these days! My favorites are the Fisher Price Little People flap books. These fun books hold a little surprise under every flap. They're also pretty sturdy! But there are a LOT of words to be found in these books, so we focus on one page of a book for a few days, then move on to another page (well, as much as we can; sometimes The Bee wants to just flip through the book and lift every flap!).
Introduce something new every week or so
One thing that I tend to find interesting is that with some of our daily words he doesn't speak them, but he understands what we're talking about (examples: mealtimes, sippy, snack). That I know is pretty normal, but the other side of that is that whenever we've introduced something new, he's more inclined to learn the word faster. For example, in our family, we tend to call every adult "auntie" and "uncle", but he doesn't see many adults other than us (his parents) and his grandparents. Recently, though, we've had a couple of guy visitors come over so we've been saying, "Say hi to uncle!" to The Bee. Imagine our surprise that after two weeks of using the word "Uncle," he started using it! I likened his ability to pick up the word faster to when I bring a new toy in to the house. The Bee pays more attention to the "new" item for a bit longer than he would one of the older toys.
Doing what works, even if it's a little odd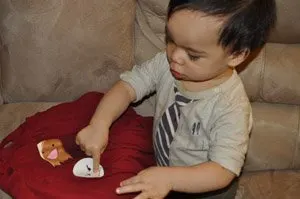 If you find something or an activity that peaks your child's interest when it has to do with word association, use it to your advantage! For example, I wear a lot of shirts with cute stuff on it, from incognito penguins to silly farm animals and everything in between. I noticed how much The Bee would focus on what was on my shirts every time I'd pick him up in my arms after a day at work. Being away from him for so long each day tends to make him extra, um, clingy- so every attempt to set him down would just result in him acting like a monkey and he clings on for dear life. So I decided to make use of his "undivided attention" and started using my shirts as another way to introduce words to him. We started off with "Circle" as that was what he was most attracted to on my shirts. I'd sit him in my lap and every time he pointed to a circle, I'd say "Circle! You found the circle!" A week later, he finally said "Cir-ka!" And now, when I ask him to point out a circle, he can point to them.
Just remember, every child's "Wordy Journey" is different. The Bee's gone from about 5 words to about 15 words in the past two months since I started making these changes and just recently he's strung together his first sentence. On the other hand, one child who's one month younger than him can identify body parts and has a vocabulary of over 30 words (yeah, I have a hard time not comparing! Can't help it!). Just keep at it and we'll all soon have little talkers around us!