The other day my son and I were in Target and I thought I was looking pretty good. I had real clothes on, meaning I wasn't wearing yoga pants and a sweat shirt, and I had lipstick on. I was feeling great. Halfway through my shopping trip after I had encountered a ton of people, I realized I had my son's breakfast food smeared ALL over the back of my hair. Fabulous. So much for looking great right? Things like this happen to me often, and I'm sure some of you can relate. Today I thought it would be fun to compile a "You know you're a mom when…" list. I hope it will bring a smile to your day and maybe some of these things have even happened to you before!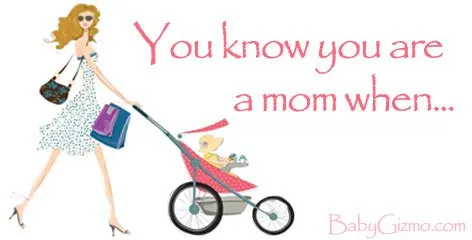 You know you're a mom when…
-A trip to the bathroom includes an audience.
– Instead of running away from vomit, you run towards it.
– Going grocery shopping by yourself feels like a vacation and going on a family vacation feels like work.
– Taking a shower and putting on a bra means getting ready.
– You realize you're watching another episode of Dora the Explorer. By yourself.
– Picking up another human to smell their butt is totally normal.
– When you start singing songs from Yo Gabba Gabba while you're making dinner.
– When waking up at 7 am is considered sleeping in.
– When you start writing grocery lists and maybe even checks in crayons because that's all you can find.
– You don't own a purse anymore because all you have are diaper bags.
– You can successfully cook dinner, put on make up, get ready, and vacuum one handed because you're carrying your baby in the other.
– You haven't worn a clean shirt in a month because your child wipes his hands, blows his nose on, and spits up on you daily.
– You have your child's favorite books memorized because you read them so often.
– When you realize you go to the playground more days then you shower.
– You can't remember what the words "personal space" mean.
– You can't remember the last time you ate a meal while it was still hot.
-You wish there was drive through EVERYTHING.
-You realize you can do 20 things all at the same time.
-You can change a diaper in the pitch dark.
-You spend more on carpet cleaning products than make up.
-You haven't slept in a decade.
-You drink five cups of coffee a day.
-You would rather have someone help you with the laundry than anything else in the world.
-You've convinced your children that vacuuming is a game.
-You carry spare lollipops in your purse.
There are about a hundred other things I could continue to add to this list but instead, I'll let YOU do it. Leave a comment and add your own! We would love to hear them.