In our house, the second child syndrome is running rampant. There are days where I have to pause and say to myself, "Excuse me mother of the year, have you even FED the baby today?" Busy schedules combined with an infant with few teeth means that I often do not have the time to sit down with child 2 and place microscopic morsels of lovingly prepared food in his mouth. So, what is the magical product that has kept my baby tracking appropriately on the growth charts despite his frazzled mother?
The Yummi Pouch reusable food pouch!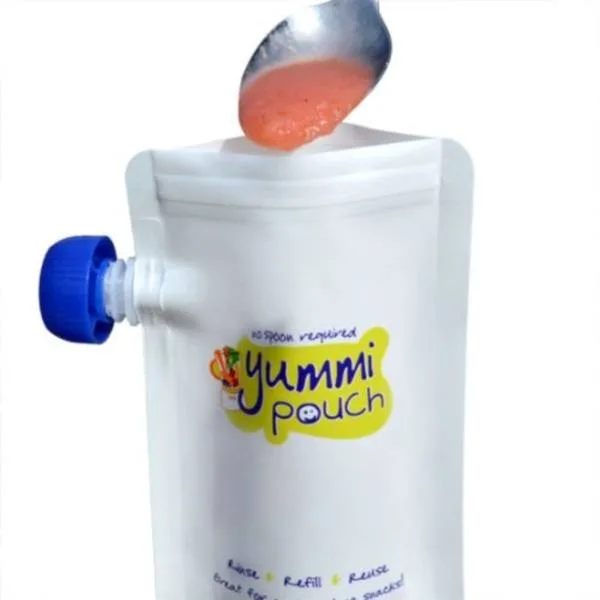 SCS (second child syndrome) had me spending way too much money on prepackaged pouch food so, after a couple of months, I decided to invest in refillable pouches. I chose Yummi Pouch over other brands for a combination of reasons.
They are BPA, phthalate, and PVC free. You know, all the yucky toxin stuff that no one wants their kid putting in their mouth.
The zip top is REALLY strong. I tested this. Testing is also known as "accidentally forgot there were pouches in the bottom of my diaper bag before I dropped in my wallet, an apple, an orange, and a large water bottle." Not a drop came out of the pouches. They are actually a little hard to open so child fingers would have a tough time prying them open.
The bottom props open so it stands upright when filling.
They all look the same. Sometimes pizazz on a child product is welcome. Sometimes it is absolutely not welcome. Because the Yummi Pouches all have the same exterior I will not have the three year old screaming that she wants applesauce from a lemur pouch rather than a spaceship pouch.
They are both dishwasher and freezer safe. Enough said.
You can write on the exterior with a dry erase marker so you know what is in each pouch and what date you filled it. I was skeptical about this feature as I assumed the writing would wipe off as soon as it was touched. Something about this magical pouch actually keeps the writing on there, even after little hands paw all over it. The writing did come off in the dishwasher.
The pouches come with lids, but a super-secret bonus perk of these pouches is that the lids of some brands of premade pouches fit on the Yummi Pouches! I save the lids of any premade pouches that are the same rounded shape as the Yummi Pouch lids and several brands have fit perfectly. It can never hurt to have extra lids!
The only downside of the pouches that I have found is that they are a little tough to clean out. After I run them through the dishwasher I usually have to rinse out a bit of food that remains stuck in the seams of the pouch.
The standard pack of Yummi Pouches comes with six pouches and lids. There is also a started set option that comes with the same six pouches, but adds double ended dry erase markers and a filling pitcher.
These pouches are a great addition to our kitchen. They are easy to use, easy to clean, and have kept the SCS at bay!