When I was six years old we moved into a house my parent's built. My mom was the kind of mom who wanted my sisters and I to have a say in our room's design and thus, I got to choose the wallpaper for my and my sister's upstair space.
Of course I gravitated to bears dressed in ballerina outfits to complement our light pink bunk beds! And my sister agreed! So, we grew up, surrounded by dancing bears in pastel tutus. It was our little girl dream come true!
By the time we moved out of that house, wallpaper had taken a back seat to sponge painting and murals when it came to wall decor trends, but in recent years, wallpaper has made a comeback in a big way.
Dancing bears aren't really the rage, but modern prints are, and I honestly can't think of a more fun way to spruce up a child's nursery or room than with a pop of vibrant color or a hip scene.
Take a peek at these amazing wallpaper options and you'll know exactly what I'm talking about. Have you wallpapered your child's room? Would you consider it?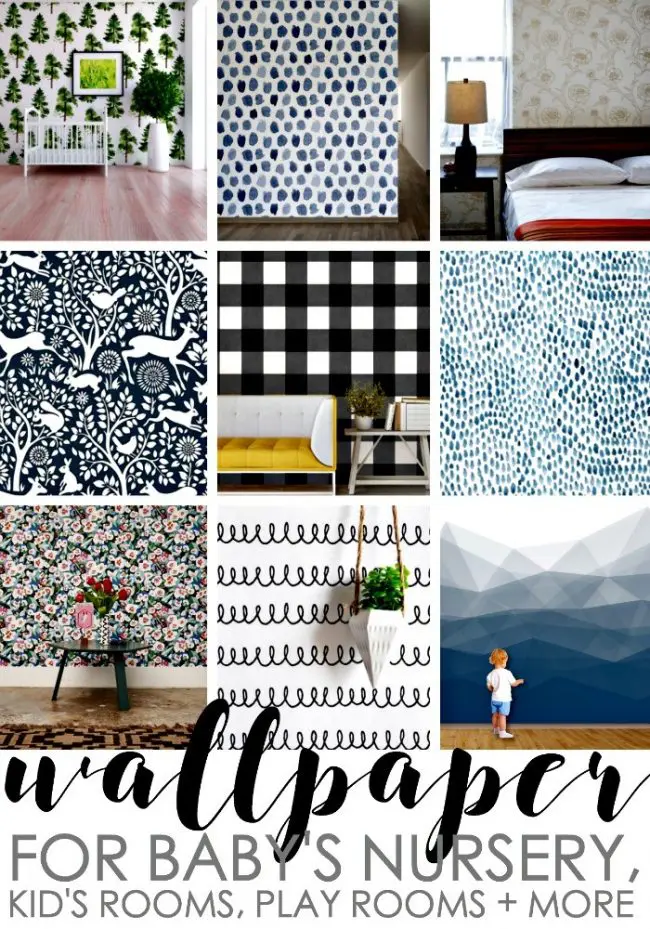 Cedar from B Darling — This print is potentially my favorite. My boys have a forest/adventure themed room and I think a pop of trees would make the perfect accent wall.
Outside the Lines from Walls Need Love — Fresh, fun, and artsy. A great pattern that will really brighten up a wall and fit many room themes.
Peonies Foiled from Wayfair — My daughter adores gold accents which means she would love this print as much as I do
Forest Friends from Steve's Blinds and Wallpaper — Available in a number of colors, this pattern would be such a fun "I Spy" for little ones.
Buffalo Plaid from Target — Pop a white or bright colored crib against a buffalo plaid wall and you've got instant style!
Multi Floral from Chasing Paper — These flowers make me want to design my own mama room! Absolute perfection for a little girl's cheery space.
Doodle Squiggly from The Lovely Wall — Talk about a neutral at its very best!
Blue Ombre Mountains from Rocky Mountain Decals — I love the idea of a HUGE scene versus a pattern.