It has been pretty cold lately; single digits at night and teen degrees during the day. That means I wake up and can barely bring myself to leave my warm bed. But, with munchkins whispering about their hungry bellies, I must. So, I've turned to my trusty crockpot to provide a quick, warm meal to start off our day.
I seriously can't tell you how wonderful it is to climb down the stairs and smell a hot breakfast – so, my friends, here is a week of crockpot breakfasts for you to try! Enjoy … and stay warm!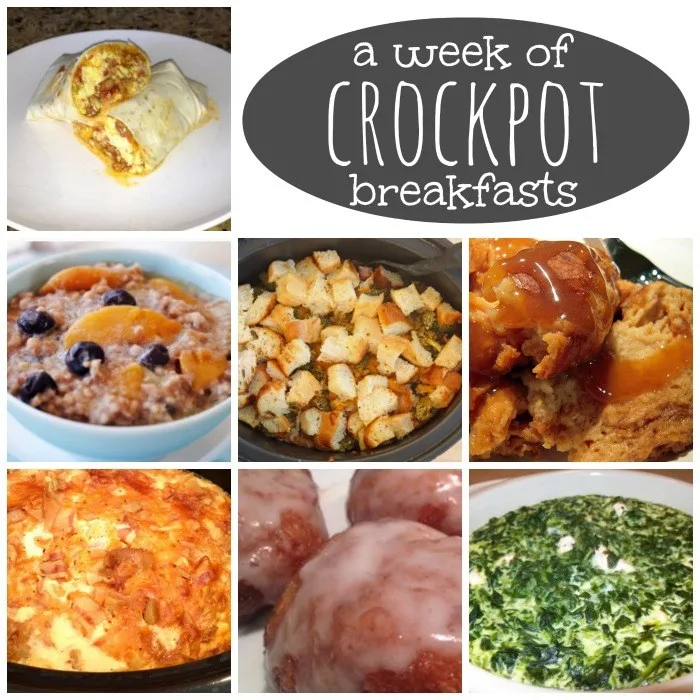 New Mexican Chorizo Crockpot Breakfast Burrito | I love a hearty breakfast and this is packed full of protein and perfect for on the go mornings.
Crockpot Peach Blueberry Oatmeal | A taste of summer … in the winter!
Crockpot Breakfast Bake | Instead of the broccoli, I julienned a variety of veggies because we've entered the phase of needing to hide veggies in order to consume them :/
Crockpot Creme Brulee French Toast | What a treat! Super sweet and moist – I didn't even need the caramel drizzle!
Crockpot Cinnamon Rolls | Ohmygoodness – there's nothing better than warm cinnamon rolls melting in your mouth. A taste of heaven!
Crockpot Crustless Spinach and Feta Quiche | Need to boost your iron? Boom! Spinach quiche is the perfect breakfast!
Do you have a favorite breakfast recipe that is prepared in the crockpot? We'd love to try some this winter so please share them!